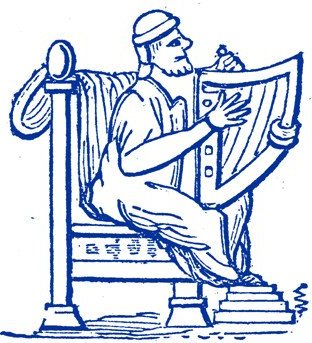 This web page is a free source for new editions of two Latin motets by Johann Christoph Pepusch or John Christopher Pepusch or, more often, simply Dr Pepusch.

Details of the sources are given in each motet's 'full score' edition in the PDFs at the bottom of this page.

First, some context for the composer and for the Academy of Ancient Music.

Born 1667, died 1752, Dr Pepusch enjoyed a long life, encompassing a wide range of interests: composer, theatre musician, Master of the Musick for the Duke of Chandos, prime mover in the Academy of Ancient Music, antiquarian, bibliophile, educator, Fellow of the Royal Society … a lengthy list!

Pepusch was born 18 years before Handel, effectively placing him a generation earlier. There was no competition between them, apart perhaps from a slight awkwardness when The Beggar's Opera (overture and arrangements by Pepusch) decimated the marketplace for the 'proper' operas of Handel and others!
I like the Pepusch/Handel anecdote told by Sir John Hawkins:

About the year 1722 Signora Margarita de l'Épine, having quitted the stage with a large sum of money, Dr. Pepusch married her, and went to reside in Boswell-court, Carey-street. Her mother also lived with him. The house where they dwelt was sufficiently noted by a parrot, which was used to be set out at the window, and had been taught to sing the air Non e si vago e bello, in [Handel's] Julius Caesar.

A brief biography of Pepusch can be found on the webpage 'Pepusch Organ Voluntary in C' on this site,
here
.
Further brief biographical details are listed in this PDF:
The two motets by Pepusch, Beatus vir and Laetatus sum, are available at the bottom of this page as free PDF downloads, each in two versions:

(i) 'full score' – a version with source details, critical commentary, keyboard reduction/accompaniment, etc.,

(ii) 'choral score' – a basic four-part version (meaning fewer pages for choristers, no background information, no keyboard reduction/accompaniment).
A third motet, Te aeternum Patrem, listed in Grove as surviving in the Library of Congress seems not to be such.
On inquiring about it in March 1990 through Diane Ward of the BBC Music Library, Professor Donald Frederick Cook, University of Newfoundland, kindly explained that in fact it 'is a short fragment (one page only) of what appears to be a section for solo trio from a complete setting of the Te Deum for which no music is known to have survived. This fragment is found in manuscript US-Wc M.196 P41 which is a [manuscript] of two Pepusch concertos formerly from the library of John Alcock (d.1806).'

I first edited both these motets a long time ago: Beatus vir in 1969, Laetatus sum in 1970, and I have taken this opportunity to typeset the editions and update the associated commentaries.

Both motets surely belong to Pepusch's time with the Academy of Ancient Music and most likely date from between 1726 and 1734.

Pepusch was employed from around 1717 in the recently established 'concert' at Cannons of James Brydges, Earl of Carnarvon and was appointed 'Master of the Musick' at Cannons in 1719 when Brydges became the first Duke of Chandos. He was involved with music-making for the Duke at least up to 1725.

However, neither motet is listed in the extensive catalogue of music in the Duke's library, signed off by Pepusch in 1720 (see Bibliography: Baker). Nor do they fit with the ethos at Cannons suggested by the music in that catalogue.
Pepusch was one of the founding fathers of the Academy of Vocal Musick which met for the first time on 7 January 1726, a date mistakenly recorded on Pepusch's memorial in Charterhouse as 1710 and subsequently repeated by Hawkins and others (see Bibliography: Hawkins; Doane).

RH pic: Portrait of Dr Pepusch from Hawkins' History.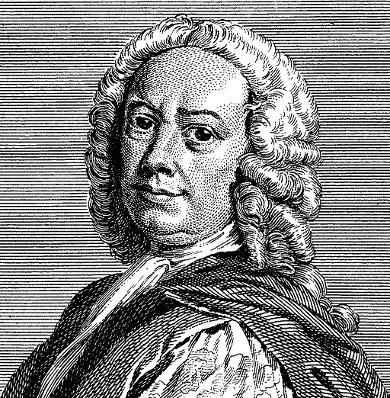 The venue for the January 1726 meeting was the large room at the Crown and Anchor tavern on London's Strand, which long remained the Academy's regular home for its weekly meetings.
Thirteen musicians, plus 'The Children of St Paul's Cathedral', were listed at that first meeting. Apart from the good Doctor Pepusch, they were mostly named as Mr plus Surname; some are obvious, others are represented here by best likely guesses:
Rev. Sampson Estwick (1656-1739)
Thomas Baker (1686-1745)
Mr Husband -

George Carleton (d. 1746)
Francis Hughes (d.1744)
James Chelsum (d.1743)

John Freeman (c.1666-1736)

Charles King (1687-1748)

Bernard Gates (1686-1773)

Samuel Weeley (d.1743)

Dr Pepusch (1667-1752)

Maurice Greene (1696–1755)
John Ernest Galliard (1687–1749)
composer, cathedral singer, minor canon at St Paul's;
bass, Priest/Gentleman of the Chapel Royal from 1714;
Clearly not Charles Husbands (c.1670-1692) former Chapel Royal boy (1682-87), nor his elder brother William, organist at Christ Church, Oxford, until 1690. He seems to have died in 1709. Unlikely to be Benjamin Husband (1672-1756), actor, thought to be in Ireland at this time.
bass, Priest/Gentleman of the Chapel Royal from 1713;


alto, Gentleman of the Chapel Royal from 1708;
tenor, Gentleman of the Chapel Royal from 1718;

bass, Gentleman of the Chapel Royal from 1702;

composer, Master of the Choristers, St Paul's from 1707;

bass, Master of the Choristers of the Chapel Royal;

bass, Gentleman of the Chapel Royal from 1709, sang in St Paul's Choir;

composer, organist of St Paul's Cathedral;


German-born composer, oboist, theatre musician, Steffani pupil in Hanover.
Durham Cathedral Library has a music manuscript MS Mus. E15 with a very relevant annotation by Rev. Sampson Estwick, recorded in Brian Cosby's Catalogue (Oxford, 1986):

A Musick Meeting being held at ye Crown Tavern near St Clement's Mr Galliard at ye head of it, & cheifly for Grave ancient Vocall Musick. Wee begann it wth ye following Song of Lucas De Marenzio [Dolorosi martir from his First Book of Madrigals, 1580]
Membership of the new Academy soon grew: including, two months later, Giovanni Bononcini (1670–1747), Francesco Geminiani (1687-1762) and Nicola Haym (1678-1729), while the name of William Croft (1678-1727), composer and organist of Westminster Abbey, appeared in mid-May.
Importantly, one of the early members was Henry Needler (c.1685-1760), Accountant-general of the Excise, 'a gentleman not of the profession of music'. But, paraphrasing Hawkins, Needler was distinguished for his skill and performance as a prolific copyist (it was he who transcribed the main source of Pepusch's motet Beatus vir), an excellent violinist ('very fine and delicate') and an admirer of Corelli's music.

'Mr. Needler was one of that association which gave rise to the establishment of the Academy of Ancient Music, and being a zealous friend to the institution, attended constantly on the nights of performance, and played the principal violin part. The toils of business he alleviated by the study of music, and in his leisure hours employed himself in putting into score the works of the most celebrated Italian masters, with a view to improve himself, and enrich the stores of the academy.'

RH pic: Henry Needler - portrait from Hawkins' History.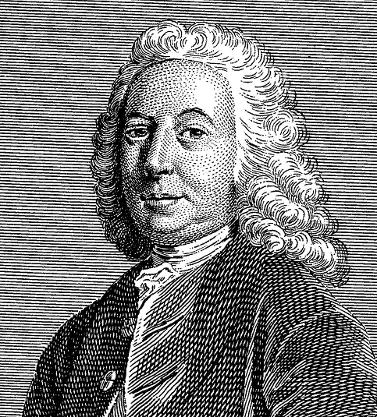 Ambition was great for this new Academy, modelled as it was on the great literary-philosophical-artistic academies of Italy (or perhaps, given Pepusch's fascination for Greek music theory, on the earliest 'groves of Academe' in Athens).

An invitation, duly accepted (June 1727), was sent to the Italian composer Agostino Steffani (1654-1728) to become the Academy's President – purely a figure-head gesture as he never set foot in England.
Then came The Great Academy Scandal.

Maurice Greene introduced a madrigal La vita caduca by Bononcini to the Academy.

All fine and well – until a challenge of plagiarism reared its head.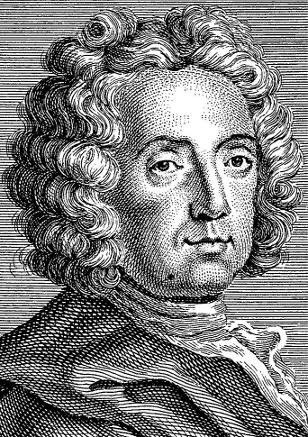 Was this really written by Bononcini?

One or more of the Academicians thought they recognised it as a work by Antonio Lotti (1666–1740). Could that be so?

Sure enough, in 1728, following an exchange of letters with Lotti and other composers (Fux, Gasparini, etc.), the madrigal was confirmed as the work of Lotti and not Bononcini after all.

Bononcini was ostracised and Maurice Greene, mistaken and embarrassed, eventually withdrew from the Academy, taking the St Paul's choirboys with him and setting up, along with Bononcini, the Apollo Academy, in the great Apollo Room at the Devil's Tavern on Fleet Street.

Many years later Handel was quoted as having said that 'Dr Greene has gone to the Devil' (Greene didn't receive his Cambridge doctorate until 1730).
LH pic: Portrait of Bononcini (shown here as a mirror image) from Hawkins' History.

In 1731 the Academy formally confirmed its name as the Academy of Ancient Music. 'Ancient' was defined in the Academy's minutes of 26 May 1731 as 'such as lived before ye end of the Sixteenth Century' ('sixteenth' was a correction for the original word 'fifteenth').

There was also an instruction 'That Mr. Galliard and Mr. Needler do make a Catalogue of all the Musick & put the Library in order.'

For reason or reasons unknown, in 1734, Bernard Gates left the Academy, taking the Chapel Royal choirboys with him.

After a season without trebles (it's assumed the existence of arrangements of some Pepusch 'Chandos' anthems for TTB voices is explained by this absence of trebles), the Academy, in Hawkins' words, became a 'seminary for the instruction of youth in the principles of music, and the laws of harmony'.

Joseph Doane, writing in 1794 (see Bibliography: Doane), noted that it was

'determined to educate four boys at the expense of the Academy, under the direction of Dr. Pepusch, who were to be instructed in English, Grammar, Writing and Arithmetic, and to be taught to sing, accompany on the harpsichord, and to compose; for which Dr. Pepusch was to receive 50 Guineas per Annum, £20 of which was intended to pay an Assistant under the Doctor, to take constant care of the Boys, £8 was designed for their Schooling, and the remaining £24. 10s. 0d. for contingent expenses.

'In order to support this additional expense, the number of Academicians was increased to 80, and at the same time their annual Subscription was raised to One Guinea and an Half; it being at the same time determined that if any Surplus may remain it should form a Fund for the encouragement of such Boys as should remain 7 Years in the Academy, and behave well.'

Pepusch continued in that role right up to his death in 1752.

Meanwhile, there was a satirical swipe at the Academy of Ancient Music in a pamphlet published in London and dated 12 February 1733 entitled Harmony in an Uproar: a letter to F-d-k H-d-l, Esq; M-r of the O-a H-e in the Hay Market, from Hurlothrumbo Johnson, Esq., but not by Samuel Johnson (1691-1773) 'from Cheshire' whose opera Hurlothrumbro, 'a farrago of nonsense' ran for 30 nights in the Haymarket in April 1729.

The author was revealed when the pamphlet was republished in Vol.2 of The Miscellaneous Works of the late Dr. Arbuthnot, Glasgow, 1751.
But now the blanks, or most of them, in the title have been filled out!
RH pic: Dr Arbuthnot, portrait by Godfrey Kneller.

Dr John Arbuthnot (1667-1735), a physician, satirist and member of the Scriblerus Club, was a friend of Jonathan Swift, Alexander Pope and the Duke of Chandos.

Hawkins described him as 'not only a passionate lover of music, but was well skilled in the science: an anthem of his composition, As pants the hart, is to be found in the books of the chapel royal'. Dr Arbuthnot 'was well able to converse with [Handel] on his art'.

In the competition between opera companies, Dr Arbuthnot was very much on the side of Handel.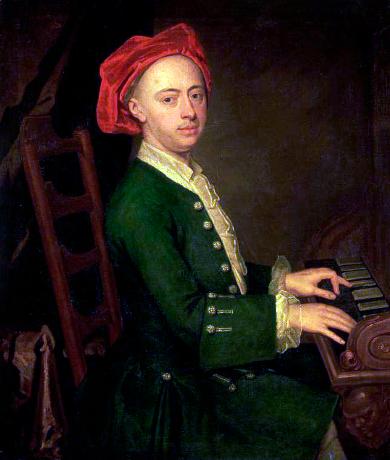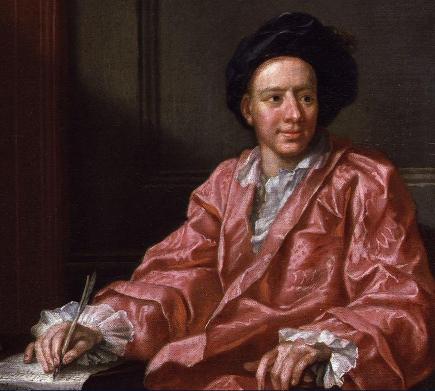 LH pic: Handel, his 'Chandos' portrait by James Thornhill, c.1720.

Above pic: Maurice Greene, detail from painting by Francis Hayman of Greene with librettist John Hoadly and score of their pastoral Phoebe, 1747.

In the following condensed extract, Doctors Pushpin and Blue are surely none other than Pepusch and Maurice Greene.

In the third paragraph, the Society of Gropers and Hummers is of course the Academy of Ancient Music; 'your' composition refers to Handel's composition, while the 'venerable President' is Dr Pepusch himself.
… Now, Sir, you may think this Usage very severe — But to shew you upon what a weak Foundation you build your Pretences to support an Opera; I'll prove by Twenty-Five substantial Reasons, that you're no Composer, nor know no more of Musick than you do of Algebra. You may look grave at this Assertion, but hear me, and confute me.
First then. Sir, — Have you taken your Degrees? Boh! ---- ha, ha, ha! Are you a Doctor, Sir? ha, ha! a fine Composer indeed, and not a Graduate; fie, fie, you might as well pretend to be a Judge, without having been ever call'd to the Bar; or pretend to be a Bishop, and not a Christian. Why Doctor Pushpin and Doctor Blue laugh at you, and scorn to keep you Company; and they have vow'd to me, that it is scarcely possible to imagine how much better they compos'd after the Commencement Gown was thrown over their Shoulders than before; it was as if a musical ----- had laid Hands upon them, and inspired them with the Enthusiasm of Harmony. …
… As for that indefatigable Society, the Gropers into Antique Musick, and Hummers of Madrigals, they swoon at the Sight of any Piece modern, particularly of your Composition, excepting the Performances of their venerable President, whose Works bear such vast Resemblance to the regular Gravity of the Ancients, that when dress'd up in Cobwebs, and powder'd with Dust, the Philarmonick Spiders could dwell on them, and in them, to Eternity. …
Despite such satirical comments and despite the Academy's name, its repertoire in the first two decades of existence included a range of contemporary music, including Handel's.

However, it is the Academy's remarkable interest (unique for its time) in music from earlier years, from Tallis, Morley and Byrd to Italian music, including Marenzio, Gesualdo, and, above all, Palestrina, which sets it apart.

Pepusch's Beatus vir and Laetatus sum were most likely written for the weekly meetings of the Academy; they accord perfectly with his study of sixteenth and early seventeenth century music, the modes and solmisation by hexachords.

Beatus vir, in the Phrygian mode, corresponds to Pepusch stating that the key of E 'is as it were dedicated and appropriated to Church Musick … making what is composed in it the most Solemn, and therefore the Italians call it TUONO di CHIESA,' (attrib. Pepusch, Treatise on Harmony, London 1730).

So far, no performances of Laetatus sum have come to light, but Beatus vir is listed in three of the Academy's surviving 'word books' or programmes for Thursday 'publick nights' when members could bring two guests each: 19 December 1734, 5 May 1757 and 30 April 1761. These were given in the Academy's meeting place, the Crown and Anchor tavern.

Beatus vir was also listed in The Words of such Pieces as are most usually performed by The Academy of Ancient Music, London, 1761, and in the second edition, 1768).
Two Academy of Ancient Music programmes, 'Motets, Madrigals and other Pieces':
Thursday 19 December 1734
Part the First
Victoria Ascendens Christus, motet
Marenzio Perche di Pioggia il Ciel, madrigal
Palestrina Illumina oculos meos, motet
Lorenzani Anthem to the Virgin Mary,

with instruments

Part the Second
Pepusch Beatus vir, motet
Farmer Cease now thy mourning, madrigal
Palestrina Elegerunt Apostoli, motet
Colonna Psalm, with instruments

Part the Third
Unknown Senex Puerum portabat,

motet 'from Dr Pepusch's Library'
Morley Where art thou, madrigal
Palestrina Angelus Domini descendit, motet
Carissimi The Judgement of Solomon,

'in the manner of an oratorio'
Byrd Non nobis, Domine, canon for three voices

Part the First
Lassus
Parce mihi, Domine
, motet
Lotti Confitebor tibi, Domine,

psalm with instruments

Part the Second
Pepusch
Beatus vir
, motet
Handel My song shall be always,

'Chandos' anthem with instruments
Part the Third
Purcell O give thanks unto the Lord,

anthem with instruments
Negri Gloria in excelsis Deo,

hymn with instruments
Byrd
Non nobis, Domine
, canon
Source for 19 December 1734: Leeds Central Library, Stacks R 780.73 AC12 and Hogwood – see Bibliography
Source for 5 May 1757: Leeds Central Library as above and McVeigh – see Bibliography

These two specimen programmes highlight the evening's division into three parts; also the longstanding tradition of ending with Non nobis, Domine which then, and for many years later, was attributed to the suitably 'ancient' composer William Byrd.
Philip Brett (see Bibliography) has refuted that attribution, noting that the Non nobis canon was well-known in the 17th century without being associated with Byrd. Brett identified the first known attribution to Byrd as the one in Pepusch's Treatise on Harmony, 1730. Pepusch, in turn, would have based his attribution on the 29 canons, including Non nobis, ascribed to a W.B. or Wm.B., in a vellum-bound manuscript in his considerable library. Brett has suggested that W.B. might be William Bathe, a contemporary of Byrd. The volume is now in the British Library, Add. MS 31391.
Non nobis, Domine plays a significant role in Pepusch's Laetatus sum, making it particularly relevant to performance by the Academy.

The PDF on the right consists of the title page and Chapter 10 of A Short Treatise on Harmony, first published anonymously in 1730, but widely credited as by Dr Pepusch. The prime mover for the publication was said to be James Hamilton (1686-1744), Earl of Abercorn, a pupil of Pepusch and a patron of the Academy.
If not actually by Pepusch, the volume certainly reflects his teaching. The Earl may simply have corrected Pepusch's use of English! The second edition of 1731 is said to have been revised by Pepusch.
Chapter 10 is entitled 'Of Canons, Fugues, and Imitations'. The chapter is the one in which William Byrd is credited as the composer of Non nobis, Domine.
Details of the sources and editorial commentaries for both motets are provided in the 'full score' versions (see PDFs below), but it is interesting that the British Library source for Beatus vir, GB-Lbl Add. MS 5054, copied by none other than Henry Needler, contains the four-part motet Vobis datum est by Costanzo Porta (1528-1601) 'which may equally well be sung backwards, upside down with a change of clefs'. A transcript is in Hawkins' A General History Vol. I, pp. 39-41 where the author refers to Pepusch's solution of the puzzle and gives a more detailed account of it.

Pepusch Motet: Beatus vir, edited by David Byers

Pepusch Motet: Laetatus sum, edited by David Byers

Laetatus sum was given its first performances in 'modern' times at a lunchtime recital in the chapel of Royal Holloway College, 18 November 1970, by the Croft Consort, conductor John Lambert.

A further performance was given at St Ninian's Presbyterian Church, Golders Green, London, 10 January 1971, Croft Consort.
Both motets were performed in concerts in:

Harty Room, Queen's University, Belfast, 19 April 1971, New Belmont Consort, conductor David Byers;

Duke's Hall, Royal Academy of Music, London, 14 July 1971

with Diana Hart (soprano), Ann Sladen (alto), Malcolm Pike (tenor) and Stewart Haslett (bass);

Burgh House, Hampstead Music Club, London, 4 November 1971, Belmont Consort, conductor David Byers;

Harty Room, Queen's University, Belfast, 20 March 1976, New Belmont Consort, conductor David Byers.
The first broadcast performance of Beatus vir was given on BBC Radio 3, 9 October 1972 by the New Belmont Consort, conductor David Byers.
Baker, C. H. Collins and Baker, Muriel I. The Life and Circumstances of James Brydges, First Duke of Chandos,

Patron of the Liberal Arts, (Oxford 1949).
Brett, Philip. 'Did Byrd write "Non nobis, Domine"?'
The Musical Times
, Vol.113, No.1555, Sept., 1972.
British Library Add. Ms. 11732,
Original documents relative to the first establishment of the Academy of Vocal Musick
, … (also available online at https://web.stanford.edu/~ichriss/HRD/1726-31%20Academy%20of%20Vocal%20Music.htm)
Burney, Charles.
A General History of Music
, 4 vols. London 1776, 1782, 1789.
Cook, Donald Frederick. The Life and Works of Johann Christoph Pepusch, 1667–1752, diss.,

Univ.of London, King's College, 1982.
Crosby, Brian. A Catalogue of Durham Cathedral Music Manuscripts, Oxford 1986.


Dixwell, J. The Words of Such Pieces, as are Most Usually Performed by the Academy of Ancient Music,

London n.p.,1761, 1768 (second edition).
Doane, Joseph. A Musical Directory for the Year 1794, … A History of the Academy of Ancient Music, London, 1794.
Reprinted in Hogwood (see below).
Eggington, Tim. The Advancement of Music in Enlightenment England: Benjamin Cooke and

the Academy of Ancient Music, Boydell Press, 2014.
Hawkins, Sir John.
A General History of the Science and Practice of Music
, 5 vols. London, 1776.
Hawkins, John. An account of the institution and progress of the Academy of Ancient Music, London 1770.

Reprinted in Hogwood (see below)
Hogwood, Christopher. "'Gropers into Antique Musick' or 'A very ancient and respectable Society'?

Historical Views of the Academy of Ancient Music".

Coll'astuzia, col giudizio: Essays in Honor of Neal Zaslaw, ed. Cliff Eisen, Ann Arbor, MI, 2009.
Johnstone, H. Diack. "Westminster Abbey and the Academy of Ancient Music: A Library Once Lost and

Now Partially Recovered." Music & Letters 95, 2014.
King, A. Hyatt.
Some British Collectors of Music c.l600-1960
, Cambridge 1963.
McVeigh, Simon.
Concert Life in London from Mozart to Haydn
, Cambridge 1993.
Oliphant, Thomas. A Brief Account of the Madrigal Society from Its Institution in 1741, up to the Present Period,

London 1835.
Talbot, Michael.
Martino Bitti's twenty-four sonatas for violin and basso continuo: an introduction, 2013
(accessed online 05.02.2019 – see http://www.editionhh.co.uk/extras/Talbot_Bitti.pdf)
Williams, John Graham.
The life, work and influence of J.C. Pepusch
, diss., Univ. of York, 1975.
Words of the Music Performed by the Academy of Ancient Music (1733-1791)

Leeds Central Library, Stacks R 780.73 AC12