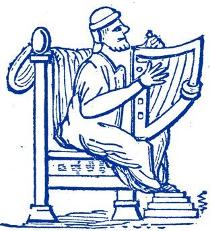 This webpage is about my edition of an oboe sonata (or two!) in B flat major by William Babell (1688-1723), virtuoso harpsichordist, organist, violinist, composer and arranger.

After some pub quiz facts, there's an introduction, followed by two PDFs providing information about the background, the sources and a critical commentary for the edition.

Biographical facts about Babell are interwoven within the extensive PDF notes.

If you'd like copies of the sonatas, also as PDFs - full score and two parts (oboe and basso continuo) - please contact me through this website (see top of page).
Some facts for the pub quiz:

In 1707-08 William Babell played second violin in the band of London's Queen's Theatre.
Between 1710 and 1714 the Debenture Books of signed receipts by some of the royal servants for their livery allowance, paid from the Great Wardrobe, record payments to William Babel (sometimes Babell).

Musicians' liveries were due annually on St Andrew's Day (30 November).
In 1714, on the accession of George I, Babell became a member of the King's Private Music.
In December 1714, the catalogue for the following month's sale of the extensive music collection of 'musical small-coal man' Thomas Britton included: No.102 – 12 concertos by Dr. Pepusch, young Mr. Babel, [and] Vivaldi.
Shortly after his marriage on 18 February 1718, Babell was appointed organist of All Hallows, Bread Street, London.
The Weekly Journal, Saturday 28 September 1723:
On Monday Morning last died Mr. William Babel at Cambery [Canonbury] House near Islington; and on Thursday Night he was interr'd, according to his earnest Desire, at Allhallows Breadstreet, of which Place he was Organist, and at the time of Interment there was a Psalm sung with the Organ, suitable to the Occasion, by the Charity Children of that Parish. Scarce ever was any Man, as we are inform'd, more famous for the Harpsicord than himself: He hath wrote Instructions* for that Musical Instrument in three Languages, which have gain'd him Applause in many Parts of Europe: He belong'd to the King's Chapel, as also to the new Chapel by Lamb's Conduit.

* Presumably his three keyboard collections of opera aria arrangements, published in 1709, 1711 and 1717.
My 2020 edition of the unascribed 'Hautboi Solo' manuscript from the Royal Academy of Music and the Sonata in B flat major, Part 2, No.10, by William Babell (1688-1723) has had a lengthy gestation.

I came across the 'Hautboi Solo' while a student at the Royal Academy of Music (RAM).

At that time I was researching music by Pepusch, specifically some of his anthems written for the Duke of Chandos at Cannons, along with his organ
Voluntary in C
, the motet
Beatus vir
and some solo cantatas.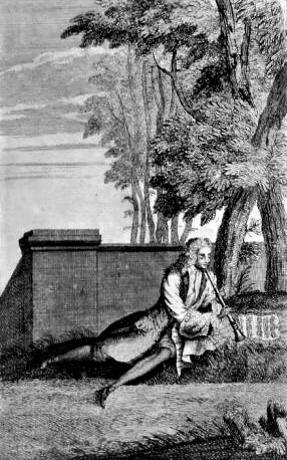 In parallel with that, I was also exploring early oboe repertoire, in part for my sister Elaine Mills, née Byers (1954-2015) who was about to study with Terence MacDonagh (1908-1986) at the Royal College of Music.
Blinkered by my then Pepusch enthusiasms, I rashly believed this 'Hautboi Solo' might be an oboe sonata by Dr. P. himself. As such, my first unpublished edition received a BBC broadcast on 28 February 1971 by the oboist Derek Bell (later of the Chieftains) with Havelock Nelson, piano. The Radio Times listing was 'Pepusch, arr. Byers, Sonata for oboe and piano'.

A public performance, also crediting Pepusch, was given in Belfast Central Library on 29 December 1970 by Ian Frost, oboe, with David Byers (DB), harpsichord, and Catherine Bunting, cello.
LH: The illustration of an hautboist is by John Smith (c.1652-c.1742). It is the frontispiece of Instructions upon the Hautboy, in a more Familiar Method than any extant … by Peter Prelleur (c.1705-1741), sold as a separate edition but also part of Prelleur's extensive The Modern Musick-Master, or The Universal Musician, London 1731.
In London I used more discretion and historical correctness for performances at Royal Holloway College (18 November 1970) and St Ninian's Church, Golders Green (10 January 1971), crediting the composer as 'Anon'.

The performers were Sandra Mackay, oboe, DB, organ, and Christopher May, cello.

Similar discretion continued for a Pepusch concert in the Duke's Hall, RAM, on 14 July 1971 when the sonata by 'Anon' was again played by Sandra Mackay, with DB, harpsichord, and Michael Edwards, cello (later of ELO, the Electric Light Orchestra; he died in a tragic accident in 2010).
Around this time, I acquired photocopies of the two volumes or 'parts' of William Babell's posthumously published 24 Solos (Walsh & Hare, London c.1725) from the British Museum Library. Nowadays the Solos are readily available to purchase in facsimile editions and are also easily accessible online through the IMSLP website.

Much to my surprise, I discovered that the first three of the RAM 'Hautboi Solo' movements corresponded closely with the first three of Babell's Sonata X in 'Part the Second'. The RAM fourth movement was closely replicated as the finale of Sonata XII in the same Part. It was a rewarding moment when the RAM's library card index for its MS 90 was then updated accordingly. And at least Babell had been a pupil of Dr Pepusch!

For many more details, please read the following two PDFs. The first one contains more background information, details of the sources and editorial notes (pages i-vii of the Preface); the second one provides a critical commentary and some discussion about the likely (or unlikely?) borrowings in this music (pages viii-xiii of the Preface).

The PDF on the right provides a list of sightings for both William Babell and the leading oboist in London at that time, Jean Christian Kytch.
Many spellings are left as they appeared in the newspapers.

Below are Charles Burney's dismissive remarks on William Babell's harpsichord performances and publications (History of Music, Vol.4, pp.648-649 (1789)):