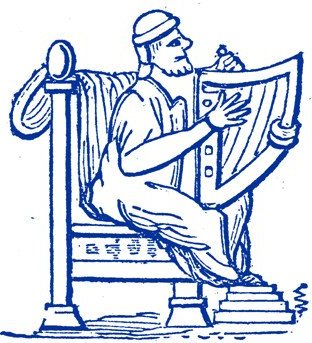 David Byers
on the String Quartet in E minor (1934),
by Ina Boyle (1889-1967)


Ina Boyle (Selina Adelaide Philippa Boyle) in her latter years lived reclusively at Bushey Park, near Enniskerry, Co. Wicklow, the family home in which she was born. Her father, Rev. William F. Boyle, a Church of Ireland clergyman in Enniskerry for 68 years, loved antique furniture and made violins as his hobby. He died in 1951, aged 91. Her mother, Phillipa Arabella, had died in April 1932 and her only sister Phyllis died in 1938. The house, a fine example of a late Georgian gentleman's residence, dating from c.1815, is "set within a well-wooded demesne" (National Inventory of Architectural Heritage).

In addition to her initial studies with Dr Charles H. Kitson, Dr Percy Buck and Dr G.H.P. Hewson in Dublin, Ina Boyle had taken composition lessons by correspondence with her cousin-in-law Charles Wood (on St Patrick's Day 1898 Wood had married a niece of Ina's mother, Charlotte Georgina Wills-Sandford (1875-1940), a Co Roscommon girl at the RCM and most likely a student of Wood's).
From 1923 and throughout the 1930s Ina also travelled to London for occasional composition lessons with Vaughan Williams who visited Bushey Park for a day in 1938.
Ina Boyle's output includes solo songs, accompanied and unaccompanied choral works, orchestral music including a symphony with contralto soloist (a setting of words by Edith Sitwell), chamber music including the E minor String Quartet, an opera and three ballets. See also the Ina Boyle website
here
.
Ita Beausang, writing in
The Journal of Music
in July 2012, has drawn attention to the "Honourable Mention" – one place short of a Bronze medal – awarded to Ina Boyle at the 1948 London Olympics for her
Lament for Bion
in the Olympics arts awards (which, sadly, were subsequently discontinued).
The 10 minute
Lament
was written in 1944-45 for tenor and string quartet or string orchestra and sets words from the third century BC., translated from the Greek by John Maxwell Edmonds.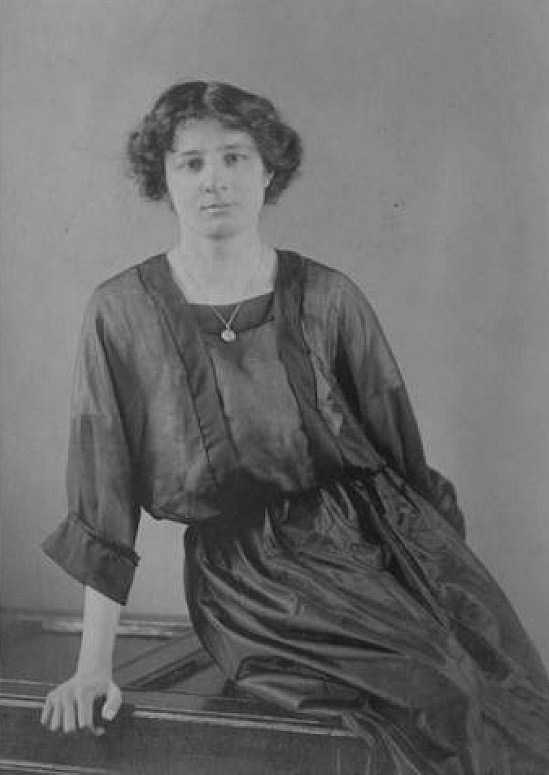 There's a nice description of Ina Boyle in Sun Too Fast by Sheila Powerscourt, published by Geoffrey Bles, London, in 1974:
Ina's build remained thin and frail through her fifties and sixties and seventies; her movements were always quick and nervous; and she talked in a rush, as if her ideas had stayed unspoken a long time. Nor did her appearance vary. Those brown eyes behind pince-nez had an expression of kindness and concern in them. Otherwise, because of her ageing hair which she looped up rather untidily, and the neutral shade of her ankle-length skirt that was longer on one side than the other, and her colourless Shetland pullover, the general tone of things was grey. All the more vivid was a green straw hat put on for anything out-of-doors …

During the war … Ina was once found listening through headphones on a cat's whisker crystal set to one of her compositions being performed in London. … There were a few performances of her music at Anne Macnaghten's concerts and, very occasionally, broadcasts from Raidió Teilifís Éireann of part of her song cycle for tenor and string quartet … Most of her music was unpublished and unplayed …

In an appreciation written for Trinity College Dublin in 1974 (Dolmen Press), the composer Elizabeth Maconchy described Ina Boyle's style:

Her music is predominantly quiet and serious, never brilliant, though it has its moments of wit or passion. In idiom it is closest perhaps to Vaughan Williams in his early middle period - but it is not just a pale reflection of his style; her music always speaks with a personal tone of voice, which at its best can express deep feeling by simple means.

Charles Wood, Armagh-born composer, teacher and Ina Boyle's cousin-in-law, had been a prolific writer of string quartets.

So too was Stanford but, apart from Hamilton Harty's Opp.1 and 5, early works described recently by Andrew Clements as "fluent if unremarkable works, indebted mostly to Mendelssohn's chamber music, though with a melodic charm of their own", the only other string quartets of note with an Irish connection from that era, apart from Ina Boyle's sole example, are those of Norman Hay, Elizabeth Maconchy and Frederick May.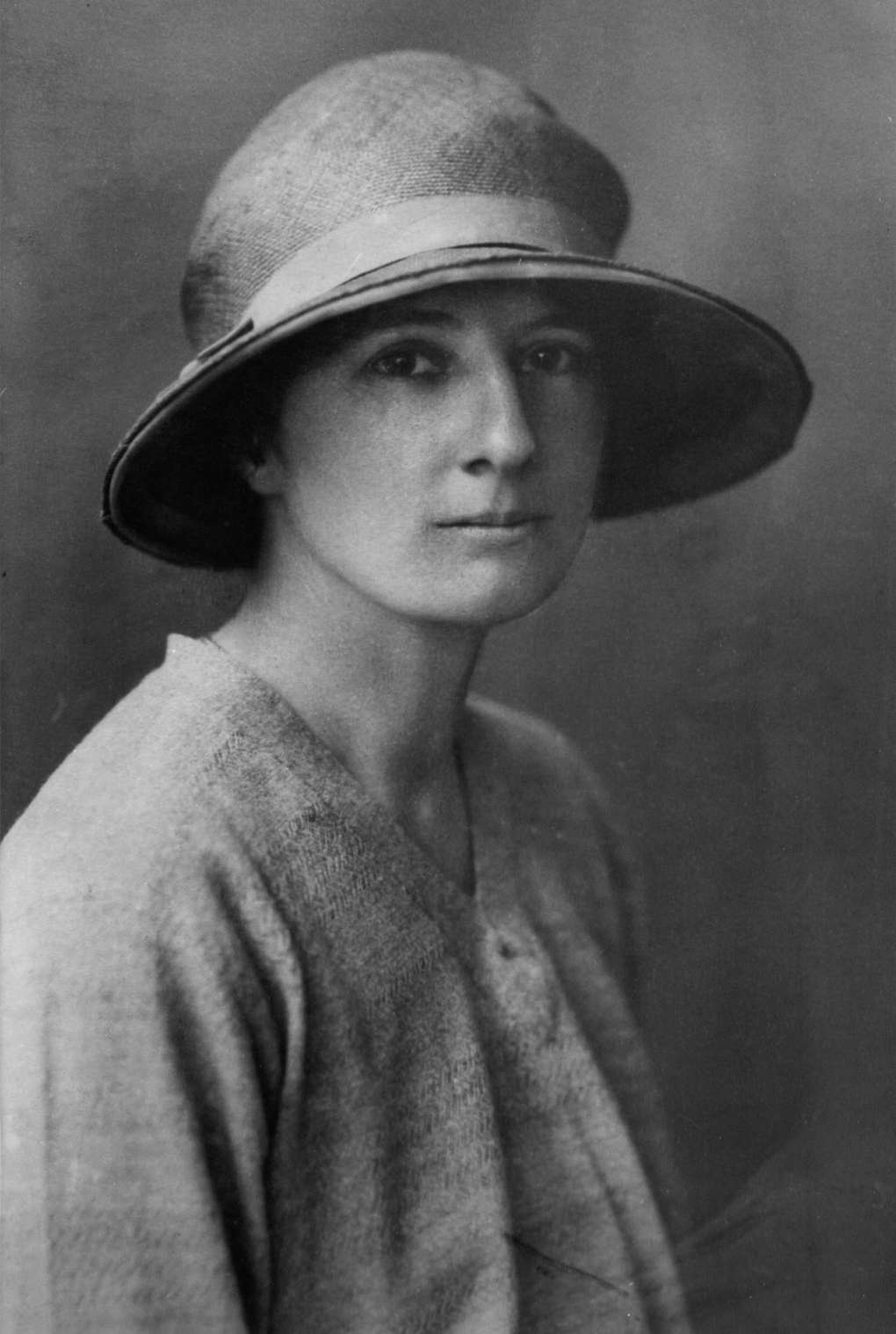 Norman Hay's Quartet was much earlier – from 1918 and published by the Carnegie Trust in 1920 (which also published Ina Boyle's orchestral work The Magic Harp in 1921).

Elizabeth Maconchy, a close friend of both Ina Boyle and Anne Macnaghten and also a pupil of Charles Wood and Vaughan Williams, wrote the first of her thirteen quartets in 1933, premièred that year by the Macnaghten Quartet during the third series of Macnaghten-Lemare concerts.

Frederick May's Quartet in C minor was written in 1936 following his return to Dublin from Vienna, but not performed until 1948.
Anne Macnaghten (1908-2000) was the youngest daughter of Sir Malcolm Macnaghten, a Northern Ireland politician and High Court judge. The family home, designed by Sir Charles Lanyon in 1846, was Dundarave House in Bushmills, Co Antrim.

Anne had violin lessons from Jelly d'Arányi and then studied at the Leipzig Conservatoire. Her concert début was in Dublin in 1930 and her all-women string quartet gave its first concert in London in 1932.

In December 1931, Anne Macnaghten, Iris Lemare and Elisabeth Lutyens, launched the Macnaghten-Lemare Concerts (which became the Lemare Concerts from 1934 to 1937, then the Macnaghten Concerts and eventually the New Macnaghten Concerts).

Over many decades, through to 1994 but excluding the period 1938-1953 inclusive, the series focussed on the work of young or little-known, mainly British, contemporary composers, including Britten and Elizabeth Maconchy, but also Irish composer Frederick May.

Trinity College Dublin holds a recording of Ina Boyle's Quartet made by the Macnaghten Quartet (presumably a private one made for the composer) which has been copied for the Contemporary Music Centre's Audiovisual Archive. The members of the Quartet on this recording were Anne Macnaghten and Elise Desprez (violins), Phyllis Chapman (viola) and Olive Richardson (cello).
The full score and parts of Ina Boyle's String Quartet, all in the composer's hand, are held in the Manuscripts Department of Trinity College Library, Dublin, and listed as No.4133 in the Catalogue of Manuscripts.

Ina Boyle's String Quartet in E minor has been typeset and edited by David Byers. The first performance of this edition was given by the Callino Quartet in the Black Box Theatre, Dundalk Institute of Technology, on 4 February 2011. A performance in the Hugh Lane Gallery, Dublin, two days later, was recorded for broadcast by RTÉ Lyric FM.

The manuscript full score has been the primary source for this edition, but a number of additional dynamic markings have been incorporated, without comment, from the manuscript parts. Obvious errors have also been corrected without comment and any editorial additions are shown within square brackets.

The metronome markings are editorial additions, but they have been based on the tempi heard in the Macnaghten Quartet's recording.

The Quartet is dedicated "To Anne Macnaghten" and simply entitled "Quartet in E minor".

The composer's name is given as "I. Boyle" and, at the top right hand corner of the first page, her address is also given: "Bushey Park / Enniskerry / Co. Wicklow".

In the top left hand corner of the first page is written: "Final revised score Dec 1934 / Parts made from this copy. / Further revised Aug. 1937 / & parts & original made to / correspond".
This is followed by:
"Time required: 27 minutes (10 + 10 + 7)".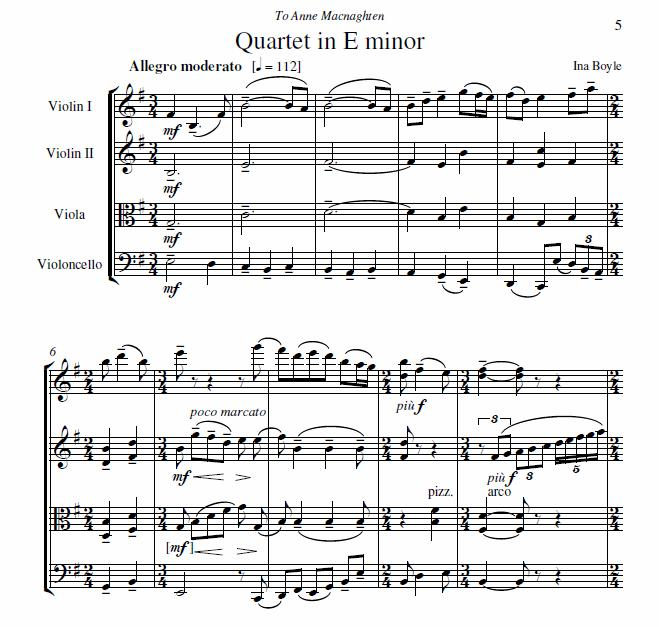 That line has been crossed out and two new pencilled lines added: "6½, 8½, 3½ Anne's times / 7, 9, 4 actual times".

The score bears an official stamp: "Trinity College Library Dublin / Manuscripts Department / Not to be reproduced / without permission".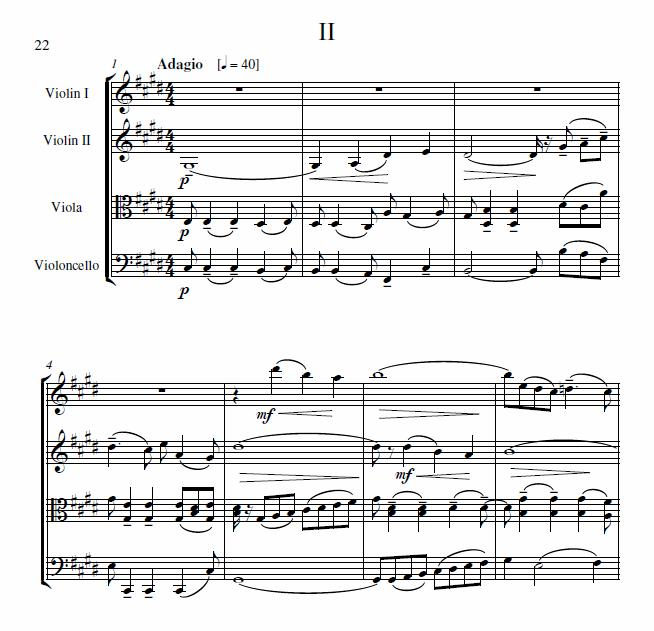 At the end of the first movement is a pencilled duration of 6.35. At the end of the second movement is 8.30 and the final movement has a similar timing of 3.35.

These will be "Anne's times" and correspond to the recording mentioned above.

The last page of the score has a further note: "May – November 1934".

This is followed by a pencilled note: "Revised December [1934] and March 1935"
In bar 83 of the third movement, the pizz. markings have been added in pencil to the parts, apparently by the performers, and that indeed is how they play the passage in the recording.

The viola pizz. in bar 97 has no authority other than the recording itself.
Also in the third movement, when bars 14-16 are recapitulated as bars 142-144, the three bars of cello have been omitted in the manuscript score, parts and recording. This appears to be an oversight rather than a conscious thinning-out of the texture. The missing bars have now been restored, though clearly distinguished by square brackets.

Sincere and grateful thanks are due to Trinity College, Dublin, for making the composer's original manuscript available for this edition.
David Byers, Belfast, 8 November 2010.

Above: The Callino Quartet which gave the first performance of this edition of Ina Boyle's Quartet in February 2011.