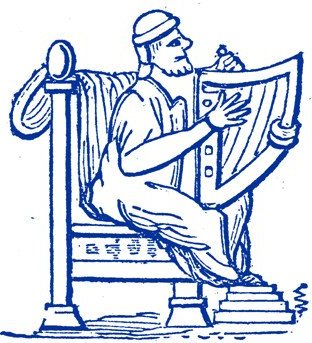 This is a page about the Northern Irish composer Brian Thompson.

His brother Robin asked me to sort out the many manuscript books belonging to Brian.
The intention is to deposit these with the Public Record Office of Northern Ireland.
A biographical note, based on the 1980 edition of the International Who's Who in Music, precedes a PDF catalogue of those manuscripts and PDFs of three scores.


The note above is in Brian's manuscript book A5 (see Catalogue PDF below). The book begins with notes about Copland's Piano Variations and Bach's Fugue in C sharp minor. The note by Brian is on the outer cover and refers to himself as 'a sort of composer' and how Vaughan Williams once described Mahler as a passable imitation of a composer. He then states deprecatingly 'I am not even a "passable imitation" of a composer!!'

Brian Raymond Thompson was born on 9 April 1939 in Belfast, Northern Ireland.

His early schooling was at Brackenber School, Belfast (1945-49), at Headfort School, Kells, Co. Meath (1949-52), and then at Leighton Park School, Reading, Berkshire (1952-57) with a scholarship.
Brian's third-level education began with his studies at the Royal Academy of Music (RAM) in London (1957-60). There he gained his LRAM (Licentiate of the RAM) in 1959 and his GRSM (Graduate of the Royal Schools of Music) in 1960.

While at the RAM he was awarded the Harry Farjeon Prize for Harmony (1958) and the Henry R. Eyers Prize for Aural Training (1960). In 1960 he gained his FRCO (Fellow of the Royal College of Organists).

RH pic: 'Title page' of the Organ Sonata (1959)

Post-graduate studies began with a year at Keble College, Oxford (1960-61), where one of Brian's lecturers allegedly 'invaded his personal space' and so he simply left.

Then followed a year at the University of London's Institute of Education (1961-62), gaining his MTC (Music Teacher's Certificate) in 1963.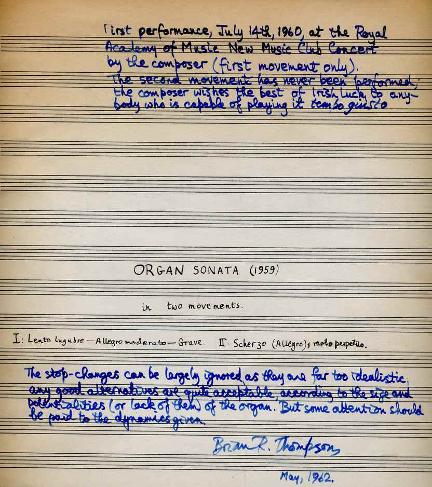 Across the years 1962-66 Brian worked as a music teacher in London and Drogheda, before he was appointed Director of Music in 1966 at Portora Royal School in Enniskillen.

One of the works he wrote at Portora was a Study in D minor (1967) for piano, originally entitled
In Memoriam Portorae
.
Interestingly, his manuscript book fair copy (A.10) includes a melodic and harmonic analysis of the piece.
'I was perhaps not consciously aware of the possibilities of this tonal ambiguity when the first melodic idea of the Study in D minor occurred to me in 1967 – watching the autumn storms sweeping in over Lough Erne from the Atlantic (I was teaching at Portora Royal School at the time).'

He also notes that 'No apology is made for the fact that this work was inspired by two other works in D minor: Brahms's First Piano Concerto … and Sibelius's Sixth Symphony, much of which is in the Dorian mode …'
In October 1995, Brian Thompson added, 'I shall never have any regrets about having written this piece. Apart from its obvious references to Nature "red in tooth and claw", it accords perfectly well with my pessimistic outlook on life – not to mention a general disillusionment with the human race (of which I happen to be a member), which (if anything) increases as the years go by.'
He left Portora in 1968 to study for his MA (Master of Arts) at Queen's University, Belfast.
The PDF on the right is the score of Brian's String Quartet 1968-69.

During some of these years, Ian Stoupe was one of Brian's friends. Ian has kindly supplied the following memoir:
I knew Brian Thompson when he was in his early twenties, and living in his parent's house, a fine example of the domestic architecture of Charles Francis Annesley Voysey on the Malone Road which was the most leafy part of the city of Belfast. The house's name was
Dallas
. I have no idea why it was thus named. The subsequent television soap opera of that name certainly had nothing to do with it.
Brian lived there with his parents and brother and sister, both younger. By some engineering miracle, their father had hoisted a grand piano up to the third floor of
Dallas
and that was Brian's practice room.
I remember in those early days he was always experimenting. He had a rudimentary tape recorder. He also had two versions, by different organists, of the well-known Toccata and Fugue in D minor by Bach. He superimposed one on the other and crowed with delight when, after about 20 bars, one of the players was at least 100 yards ahead of the other.
Brian was always experimenting in music. His stated amusement was 'playing symphonies on the piano' and he did this, reading from the full orchestral score.
I had a rather flashy sports car at the time, an MG. It had discordant air-blown horns (a youthful bit of exhibitionism). One evening, with Brian as my passenger, I had occasion to sound off. 'Ah' said my passenger 'E and F sharp'. Perfect pitch accompanied his other enormous musical gifts.
Brian was never much interested in the things of this world. But he had an amazing memory for dates and facts. He was, I think, a savant. I have all his Christmas and birthday cards (our birthdays were adjacent) and they are full of interest, often quoting musical ideas, fully written out in staves and dates galore on all composers.
He was a most remarkable man who hid his light under an enormous bushel, who was shy and retiring by nature but who could demonstrate his talents in company in the most amusing ways. For example, one of his party tricks was to hum and whistle simultaneously both parts of Bach's two-part invention in F. Try that!

In 1969 Brian Thompson was appointed as a music teacher at Loreto Convent in Coleraine, remaining there until 1974. Thereafter he taught piano, organ and harmony on a freelance basis. He also served as the accompanist at the Coleraine and Portstewart Music Festivals (1976-82).

Organ Recital

Holy Trinity Church, Portrush
11 August 1982

Brian Thompson, organ

Bach Fugue in E flat, St Anne, BWV 552
Hindemith Organ Sonata No.2 – first movement
Dowland My Lady Hunsdon's Fancy (transc. Peter Warlock)
Karg-Elert Chorale-Improvisation on 'O Gott, du frommer Gott'
Bach Fantasia in C major, BWV 572
The PDF below contains the original programme notes written by Brian Thompson for the organ recital advertised in the panel on the left.

Adrian Anderson, organist of Ballywillan Presbyterian Church, recalled Brian's Portstewart years, 1969-2016:

I studied organ with Brian in Holy Trinity Church, Portrush, soon after his arrival on the North Coast. The Summer Recitals at Ballywillan Presbyterian Church started in 1975. Brian was organ soloist at the inaugural recital and in the following four years, playing many of the major organ works of J S Bach.

His great passion however was orchestral music. Playing symphonies on the piano, from or more often without the orchestral score he would hum or whistle parts that eluded his ten fingers. His aural sense and memory were amazing.

He had a childlike delight in sharing his musical knowledge with others, never making them feel in any way inferior.

Brian's happiest years in Portstewart were spent at Victoria Terrace as a lodger with Ruby Martin. Here Brian enjoyed home comforts, company, relished excellent cuisine and absorbed cooking skills which proved very useful in later years when living alone.

Brian's mode of transport, an automatic car, changed to a bicycle when driving became difficult. He was a familiar sight in the triangle area with a large frame, woolly hat and feet in the 'ten to two' position propelling himself along with his heels on the pedals. Motorists in general were sympathetic, giving him a wide berth. Delightfully eccentric, he would park his bicycle against a shop window and bark instructions – 'Stay there, Don't move!'

People like Brian are hard to find. He is greatly missed.
In the 1980 International Who's Who in Music, from whence most of this information has come (apart from the memories of Ian Stoupe and Adrian Anderson), Brian mentions that his hobbies included cycling, cookery, photography, weather statistics and, yes, playing symphonies on the piano. He also listed three important public performances:

the Piano Preludes 1961-63, broadcast on the BBC Northern Ireland Home Service, 1965;
his Study in D Minor 1967, broadcast on BBC Radio Ulster, 1971
and his First Symphony, The Long Hot Summer, played by the Ulster Orchestra, conductor Raymond Warren,
in the Harty Room at Queen's University, 28 April 1971.
The complete listing of that Ulster Orchestra concert is included in the PDF catalogue below.
Brian has an autism spectrum disorder and currently lives in Cultra, Co Down.
Pic below is of Brian Thompson at Herring Pond, Portstewart, c.2010, courtesy of Adrian Anderson.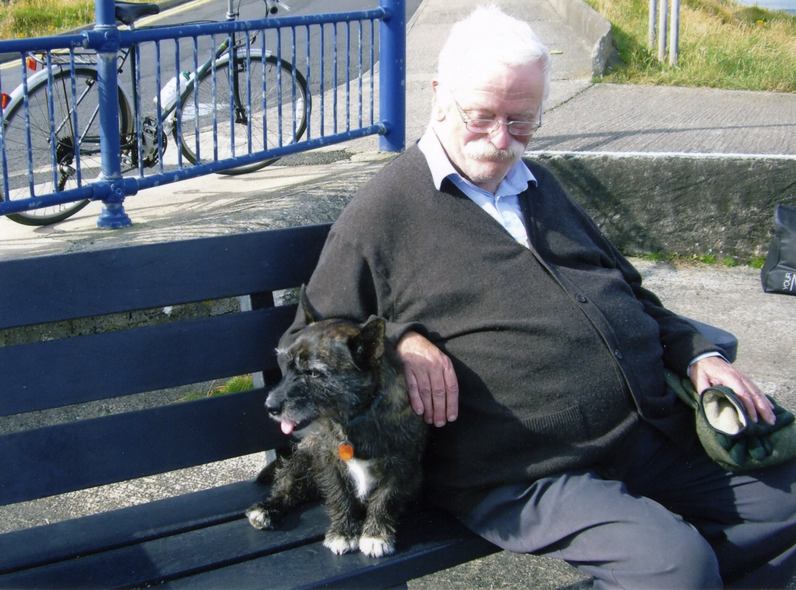 This is an attempted chronological listing of works by Brian R. Thompson:

Organ Sonata. 1959
Piano Sonata in F minor. Piano solo 1960 (only first movement survives)
Piano Preludes 1961-63
Deep C. Piano solo 1963-68
Symphony in D minor. 'Started 1963'. Was it ever finished?
Scherzo. Piano solo 1965-67
Organ Sonatina in A minor. 1966 (only fourth movement, fugue, survives)
In Memoriam Portorae (Study in D minor). Piano solo 1967
String Quartet in 2 flats. 1968-69 (only photocopied score survives – plus the parts)
Symphonic Essay or Symphony No.1,
The Long Hot Summer, formerly The Rong of Summur. 1969
Symphony No.2 in G. 1970-71. Seemingly incomplete, with some MS volumes missing.
Symphony No.3 in F. 1970-74. Seemingly incomplete, with some MS volumes missing.
Symphony No.4 in C minor. 1972-77. Seemingly incomplete, with some MS volumes missing.
Clarinet and Organ piece. 1977
Fantasia in C minor, The Wind. Piano solo 1978-1983-1999
The PDF on the right is a catalogue listing the currently known surviving manuscript books containing works and sketches by Brian:

Below are scanned copies of Brian's scores for Deep C (including a pic of its cover), the Clarinet and Organ piece, his analysis of the Study in D minor and then the Study itself.