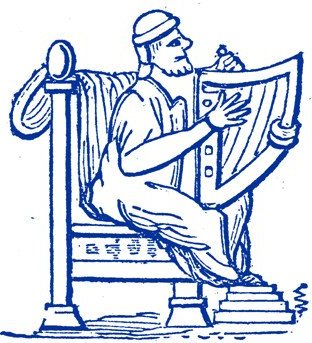 David Byers on Tom Cooke's
Peleus and Thetis
overture and its use of traditional Irish dance tunes.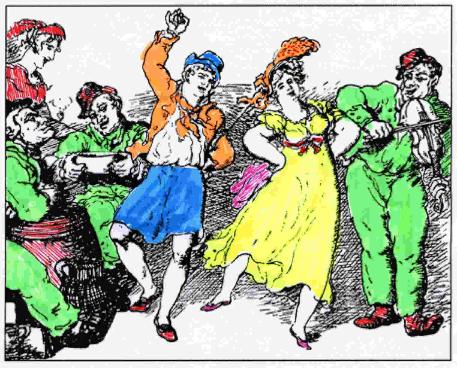 It was quite by accident that, many years ago, around 1969/70, in the wonderful domed Reading Room of the British Museum I came across
The Favorite Overture to Peleus and Thetis As Perform'd with Universal Applause at the Theatre ROYAL Crow Street
[Dublin].
I arranged it for wind quintet for a 1971 St Patrick's Night concert in Belfast's Lyric Theatre and then drastically revised it the following year in Liège as
Thingummyjig
(see
Compositions – Chamber Music
and also
Programme Notes
).
The overture seemed ideally suited for that St Patrick's night event: a slow introduction leading to a too honestly entitled
Medley
consisting of what appeared to be traditional Irish dance tunes.
No suggestion of sonata form, variation or attempt to combine melodies or recapitulate the tune he'd first thought of. Academics would describe the form as simply ABCDE.

It was by one, T. Cooke, and had been published in a version for piano in Dublin by [Maurice] Hime's Musical Circulating Library, 34 College Green, Dublin.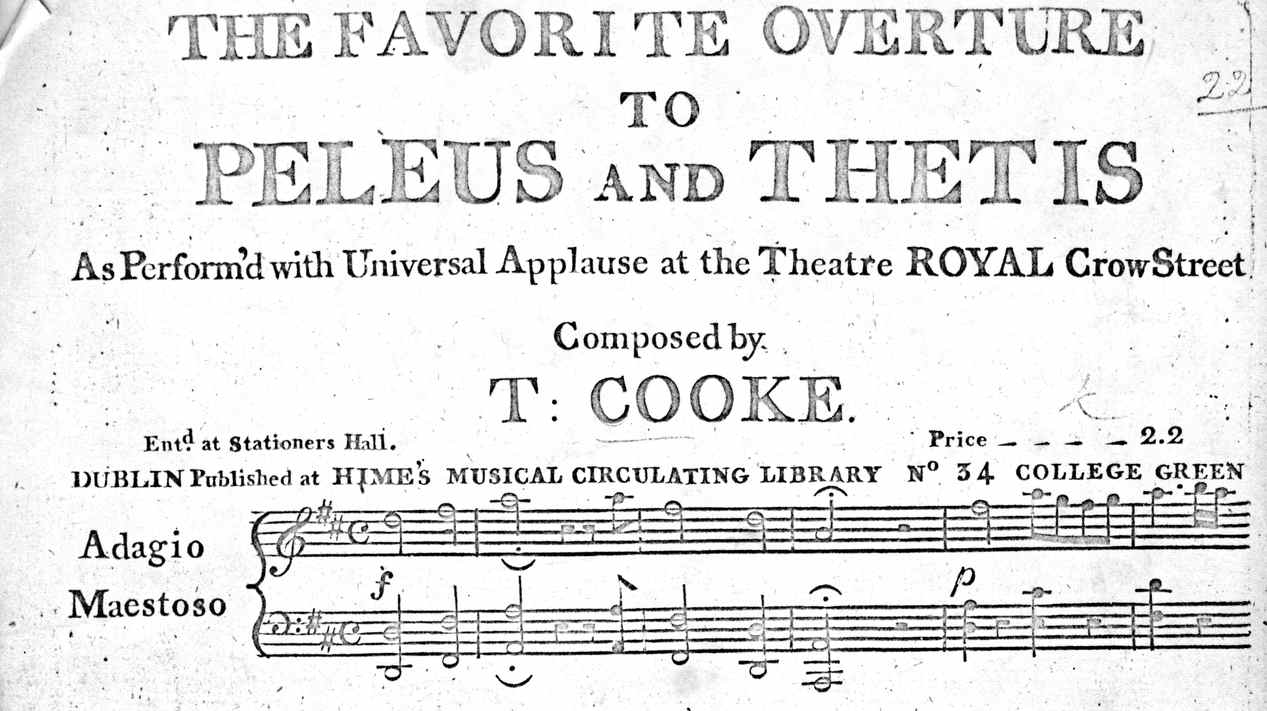 The British Library gives Hime's publication of Cooke's overture as probably 1802, while
New Grove
dates
Peleus and Thetis
itself, incorrectly, to c.1797.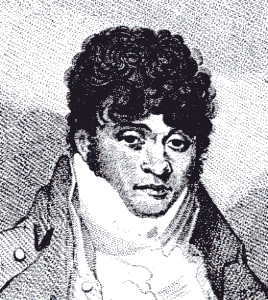 Hime's Musical Circulating Library in Dublin also published Cooke's
The New Orphan Boy, a favourite ballad, with an accompaniment for the harp, or piano forte, as sung by Mrs Creswell in Peleus & Thetis
.
"Mrs Cresswell [sic] from the Dublin stage … sings very sweetly, is an interesting figure, and seems to possess more merit as an actress than belongs in general to professed singers." (
The Monthly Mirror
, November 1803, detailing Covent Garden performances that month.)
That ballad publication is attributed in the British Library catalogue to c.1797 – perhaps based on the incorrect performance date given in
Grove
.
LH pic: Tom Cooke (from
Walker's Hibernian Magazine
, April 1805).
The first performances of
Peleus and Thetis
I am most grateful to Prof. John C. Greene who confirmed that Cooke's work is listed in his comprehensive
Theatre in Dublin, 1745-1820, A Calendar of Performances
(Lehigh University Press, 2011, Vol.5).
The work was first performed at the Crow Street Theatre on 6 January 1802 and its full title was
The Marriage of Peleus and Thetis; or, Harlequin Paris
.
It was advertised in
George Faulkner's The Dublin Journal
on Tuesday 5 January 1802:
Theatre-Royal [Crow Street]

THIS PRESENT TUESDAY, 5th of Jan.
1802, the Comedy of

SPEED THE PLOUGH [Thomas Morton]
…

Tomorrow the Tragedy of DOUGLAS … [Rev. John Home]
Douglas – Mr Holman
Lady Randolph – Mrs Galindo

To which will be added a New and Splendid Pantomime, prepared under the direction of Mr Male, called, The Marriage of
PELEUS and THETIS; or HARLEQUIN PARIS.

The Music and Overture composed by Mr. T. Cooke.

A similar advertisement appeared in that day's
Freeman's Journal
.
But better still was the advertisement in the
Freeman's Journal
on Thursday 7 January 1802:
Theatre-Royal

This Evening, Jan.7. will be presented

THE MAID OF THE MILL. [Samuel Arnold / Isaac Bickerstaff]

To which will be added a new and splendid Pantomime,
prepared under the direction of Mr. Male, called

THE MARRIAGE OF PELEUS AND THETIS; Or
HARLEQUIN PARIS.
With new Music, Scenery, Machinery, &c.

The Plot is carried on through an extensive succession of
Scenery, the principal of which are – A Grand Banquet of
the Gods, by Mr. Phillippe Zafforini – Mount Parnassus
and Mount Ida, by Mr. Chalmers – Grand Colonnade in the
Garden of Versailles, with Fountains playing, &c, &c, by
Mr. Phillippe Zafforini – View of Guild Hall, or Town
Hall in Paris, in which are seen at a distance Pont Mary, and
the Wooden Bridge, by Mr. Phillippe Zafforini – View of
London, taken from Blackfriar's-bridge, by Mr. Chalmers
– A Laboratory, in which will be exhibited a Piece of Me-
chanism of a Petit Harlequin, who will take a Flight into
the Area of the Audience – A View of College-green, Dub-
lin, by Mr Chalmers – The New Custom-house, by Mr.
Chalmers – A Tower on the Sea, which changes to a Plea-
sure Boat – A Stone Mason's Yard, with an Animated Gla-
diator – The Cavern of Discord – To conclude with a magni-
ficent Representation of the Temple of Peace, by Mr.
Phillippe Zafforini.
-----

Tomorrow, the Tragedy of
KING HENRY IV.
How does an overture of Irish dance tunes relate to that rich scenario?
And where in the "splendid pantomime" would Mrs Creswell as Venus have sung the ballad
The New Orphan Boy
?
George Male (?-1815) was a dancer, actor, provider of machines and a contriver of pantomimes, often associated with Drury Lane. He also worked at the Royal Circus and, on 29 May 1800, Male "danced Harlequin in
Harlequin Highlander
, a serio-comic Scotch pantomime. On 11 April 1803 the Royal Circus bill said that Male, along with Honour and Collet, was responsible for the machinery and pantomimical tricks for
The Rival Statues
, and later that month Male danced in
Louisa of Lombardy
, a musical spectacle." (Highfill)
Phillippo or Filippo Zafforini was a painter of miniatures and a scene painter – as was J. Chalmers.
Crow Street's scene painters "were said to have been unrivalled", states John Thomas Gilbert in
A History of the City of Dublin
, Vol.2 (1854).
Gilbert described the Crow Street Theatre thus:
Occupying the space between Fownes's-street and Crow-street, the Theatre was approached from Dame-street and Temple-bar by four narrow, inconvenient avenues. The exterior of the edifice was singularly rude and unsightly, an irregular mass of brick defying all symmetry, and divested of any architectural ornament that should distinguish it as a public building. The interior of the Theatre, which was semi-circular, consisted of a stage, orchestra, pit, boxes, lattices, middle and upper gallery, besides the usual apartment annexed to the stage and box lobby. The house was capable of containing about 2,000 persons, and was so well constructed, it was said, that those in the remotest part could distinctly hear and see the performance. The pit was entered through a subterraneous passage, and the approach to the gallery was by a narrow staircase.

Subsequent source references in this feature to the
Dublin Evening Post
(DEP) and Faulkner's Dublin Journal (FDJ) are from Prof. Greene's
Theatre in Dublin
.
Peleus and Thetis
was well-received by the critics, though the DEP (7 Jan) thought it was at least 20 minutes too long – something which was remedied the following evening. The songs, glees, chorusses, recitatives, pantomime airs and a new medley overture, "reflect the highest credit on the genius of Mr. T. Cooke".
Advertisements in the
Freeman's Journal
, DEP and FDJ show that at least 15 further performances of
Peleus and Thetis
followed those on 5 and 7 January 1802, including a penultimate performance which certainly wasn't!
Friday 8 Jan – "The afterpiece having been much curtailed, went off with much better effect and exactness." (DEP);
Saturday 9 Jan; Monday 11 Jan;
Tuesday 12 Jan – "To conclude with a new and brilliant allegorical Transparent Temple, representing the Arts,

Sciences and Commerce crowned by Peace, Plenty and Happiness" (FDJ – second half of sentence added in FDJ two days later!);

Thursday 14 Jan; Saturday 16 Jan; Monday 18 Jan; advertised for Wednesday 20 Jan but not performed;
Saturday 23 Jan – "last time but one this season";
Thursday 28 Jan – "PAS DE DEUX by Signor Angelini and Miss H. Adams. A Broad Sword Hornpipe by Miss Adams";
Thursday 4 Feb;
Tuesday 9 Feb – in a Benefit for the Three MISSES ADAMS – "The Evening's Amusements to conclude with the splendid

Pantomime of PELEUS and THETIS. In which Miss Adams will Dance the favorite BROAD SWORD HORNPIPE; and Miss S. Adams will Dance a PAS SEUL to the Air of St. Patrick's Day, in the Character of an Irish Country Girl";

Thursday 11 Feb (with the Pas de Deux and Broad Sword Hornpipe again); Thursday 25 Feb;
Thursday 4 Mar (ditto re Pas de Deux, etc.); Saturday 6 Mar;

It seems a reasonable guess that the piano piece by T. Cooke, published by Hime's c.1802,
–
The Favorite New Hornpipe danced by Miss Adams
–
was the

Broad Sword Hornpipe

mentioned in some of these advertisements.
But who was the dancer Signor Angelini?
The PDF on the right offers an attempt to find the answer.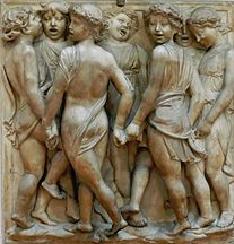 Thomas Simpson Cooke (1783-1848)

Mr. T. Cooke was Thomas Simpson Cooke, apparently born in Dublin's Crow Street in July 1783 according to the
Hibernian Magazine
, April 1805 (Walsh, Opera [2]). He was the son of a well-known oboe player, Bartlett Cooke.
Thomas's son, known as Grattan Cooke (1808-1889), also became a distinguished oboist in London (see below).
Tom, as he was known, studied composition with Tommaso Giordani (c.1733-1806), who'd lived in Dublin for many years and had been associated with the Crow Street Theatre from 1788.

Incorporating Irish airs and dance tunes into theatre music ran hand in glove with the political tensions of the time, in parallel with the growing interest in traditional music – witness Edward Bunting's first collection of 1796.
In 1786 Longman and Broderip in London published Giordani's
The much admired Overture and Irish Medley to the Entertainment of The Isle of Saints, or the Landing of St Patrick, for the Piano Forte or Harpsichord
.
Cooke, with his medley overture to
Peleus and Thetis
, was simply following a well-established tradition.
LH pic: Title page of Tommaso Giordani's Op.3, though some of his works were published in different cities with conflicting opus numbers.

The young Tom Cooke is said to have been appointed leader of the Crow Street orchestra in 1797 when he was just 14 or 15. However, 1797 was a crucial year in the Crow Street Theatre's history. It was the last year of Richard Daly's management. The theatre reopened under new management, that of Frederick Jones, on 29 January 1798.

The orchestra leader mentioned then (1798) was not Cooke, but a Mr Bianchi who had certainly been the leader in 1796 and who should not be confused with the composer Francesco Bianchi, then working at the King's Theatre, London.

T.J. Walsh identifies the Dublin leader as J. Bianchi who in February 1801 was suffering from a "long and dangerous illness" (
Saunders' Newsletter
, 16 February 1801) and who died at Neuilly, near Paris, in August 1802 (Walsh, Opera [2]).
It seems most likely that Cooke probably deputised during Bianchi's illness and at some time, probably late in 1801, was appointed to the leader position. Cooke was definitely mentioned as the leader of the orchestra in an advertisement in the
Freeman's Journal
, 6 November 1802 (Walsh, Opera [2]).
Late in 1805, Tom Cooke married the singer Fanny Howells (c.1785-1824) who had already sung in several seasons at Covent Garden. This was the birth of their son, the oboist known as Grattan Cooke:

The Times
, Thursday 29 September 1808
Mrs. Cooke, of the Dublin theatre, was delivered of a fine boy on Wednesday se'ennight [meaning Wednesday, seven nights before: so 21 September]. The child has been christened by the name of Henry Angelo Michael. Mr. Grattan [Henry Grattan, the Irish politician] and Madame Catalan[i] [the singer] stood sponsors.
Cooke's biographical details are well covered in Hogan (see Bibliography) and in
New Grove
. Tom Cooke died in 1848, a renowned figure in London's musical life.
The composer George Macfarren (1813-1887) recalled that Cooke "was scarcely less noted as a wit than as a musician and thus all the musical jokes of his time were characteristically fathered on him".

This PDF has a good anecdote about Cooke as a witness in a copyright case.

More than a wit, Tom Cooke was nothing if not versatile. Michael Kelly (1762-1826) the Irish tenor who was a friend of Mozart and who sang in the first performance of
The Marriage of Figaro
, referred, in his memoirs, to his friend Cooke as having 'versatility and genius … [which] cannot be too highly appreciated' (Kelly).
At various times, Cooke enjoyed a reputation as a child prodigy, a composer, a music-seller with a shop in Dublin, a principal tenor at the Drury Lane Theatre in London for nearly 20 years, an important singing teacher, an orchestral leader and conductor (including concerts for the Philharmonic Society in London), musical manager of London's Vauxhall Gardens and a one-man band.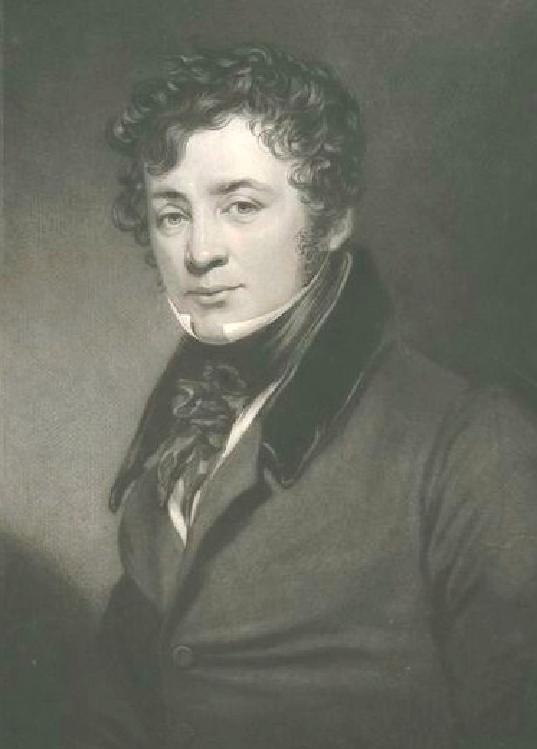 Above: Thomas Simpson Cooke c.1839

For one of his benefit nights at Drury Lane, Cooke played on the flute, oboe, clarinet, horn and bassoon, plus the violin, cello, double bass and piano! Years earlier, in 1803, he had shown off in the same manner in Dublin, this time on flute, clarinet, trumpet, violin, viola, cello, pedal harp and piano.

John Wilson Croker (1780-1857) described "the modest and diffident Mr Tom Cooke, who played on eight different instruments for his own benefit. I am sure it was neither benefit or pleasure to anyone else. This person writes new overtures to all the operas which are imported to our stage, beginning generally with chords, and ending with an Irish jig, and this he calls composition." (Walsh Opera [2])

Others came to his defence, but there's no doubt that Croker's description fits Cooke's overture to
Peleus and Thetis
, a pantomime afterpiece, performed as a foil to the main work of the evening.
RH pic: Tom Cooke as Lord William in Stephen Storace's opera The Haunted Tower. Storace had created the role in 1789 for the Irish tenor Michael Kelly. This engraving is dated 1 November 1813.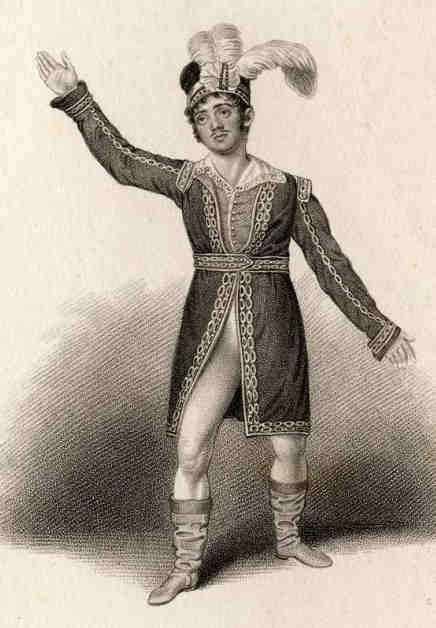 Many of Cooke
'
s songs and piano arrangements were published in the 19th century, including in 1821 his

A grand Irish Medley Overture for the Piano Forte

.

For interest
'
s sake, a score of Cooke's

The favorite National Air of St. PATRICK'S DAY as performed at the Theatre Royal Dublin, Arranged as a Rondo for the Harp or PianoForte by T.Cooke. Dublin

(Goulding, London, c.1810) is available to view online

here

, courtesy of the National Archive of Irish Composers.
An audio recording of a performance by Clíona Doris is also available from the same site by opening its
Performance
link.
Brief Digression re
Peleus and Thetis
In the 18th century, apart from William Boyce's
Peleus and Thetis
, dating from the late 1730s, and another setting of the same text by William Hayes ten years later, there was another
Peleus
dating from seven years before Cooke's pantomime. The 1795
Peleus
was performed in London at Covent Garden on 16 April, celebrating the royal marriage on 8 April of George, Prince of Wales, to Caroline of Brunswick.
Joseph Haydn (1732-1809 was in town and attended the event. There's a description in the April 1795 issue of
The Sporting Magazine or Monthly Calendar of the Transactions of the Turf, the Chase, and every other Diversion interesting to the Man of Pleasure, Enterprize and Spirit
: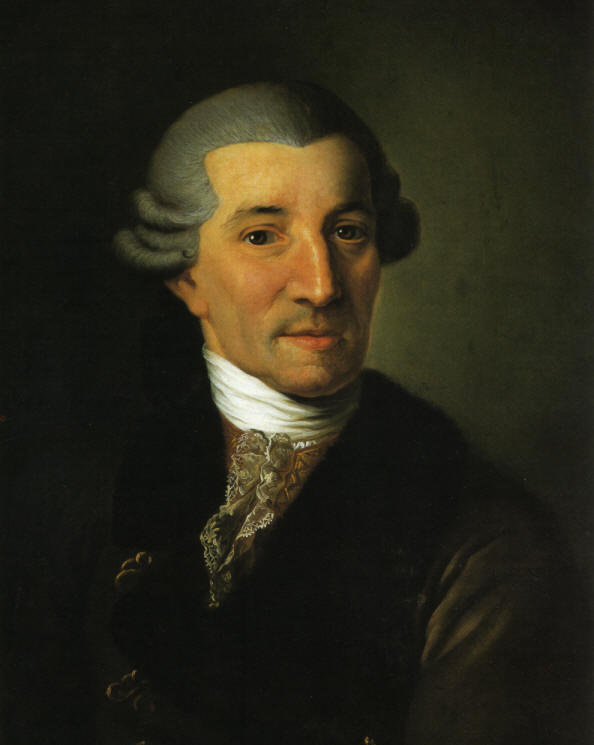 A new piece, in two acts, entitled
Windsor Castle
, in honour of the Royal Nuptials, was produced this evening. The marriage of Edward the Black Prince with his cousin the Countess of Kent, is the subject applied to the present happy occasion.
The fable is told in one act … The second act includes the masque of
Peleus and Thetis
, supposed to be given in honour of the celebration of these nuptials … The Overture to the drama selected from Pleyel.
The overture to the masque composed expressly for the occasion by Dr. Haydn; as is the rest of the music by Mr. Salomon; except the glee and Song
May the Prince and his Bride
, which are composed by Mr. Spofforth …
LH pic: Haydn - 1785 oil painting by Christian Ludwig Seehas.

The text for that
Peleus and Thetis
was written by William Pearce and published in 1796. There is little information available about Pearce, but he was active in Covent Garden across the 1790s and into the new century, often associated with the composer William Shield.
Traditional dance tunes used by Cooke in the
Peleus
overture
In order of appearance they are:


The title,
Ride a Mile
, is common to several tunes and several variants, but a version which comes very close to that used by Cooke was published in London in 1773 as No.122 in Volume 3 of
Thompson's Compleat Collection of 200 Favourite Country Dances
.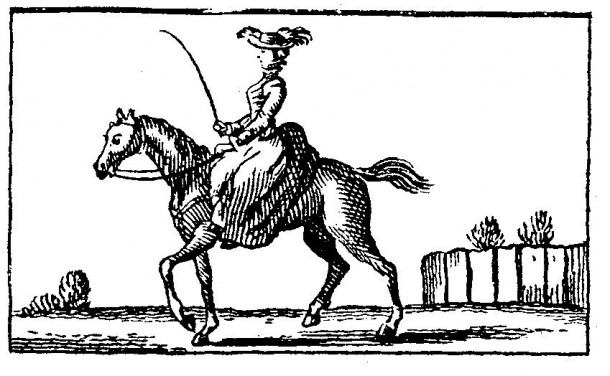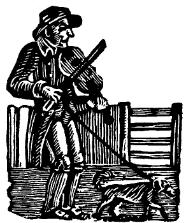 I am most grateful to Ann Hinchliffe, Music leader,
samedifference dance
, who identified this jig.
It was published by Goulding & Co., London and Dublin, as the first dance in the collection
Twenty-four Country Dances for the Year 1808 with proper Tunes & Directions to each Dance as they may be performed at Court, Bath, and all Public Assemblys
.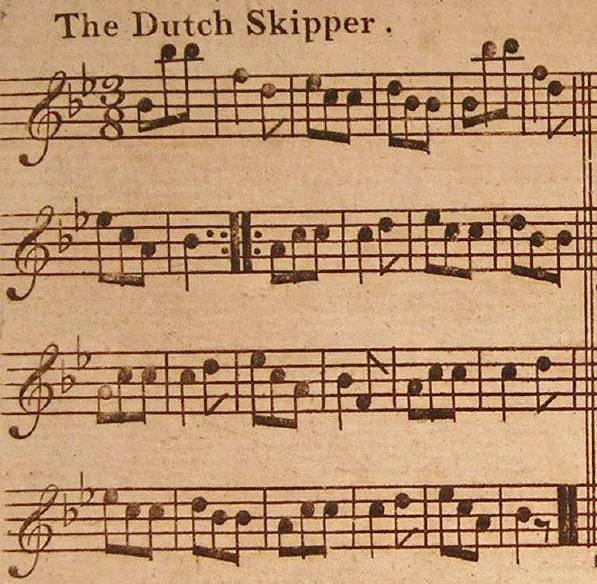 The Devil among the Tailors

– reel
(and sometimes classified as a hornpipe)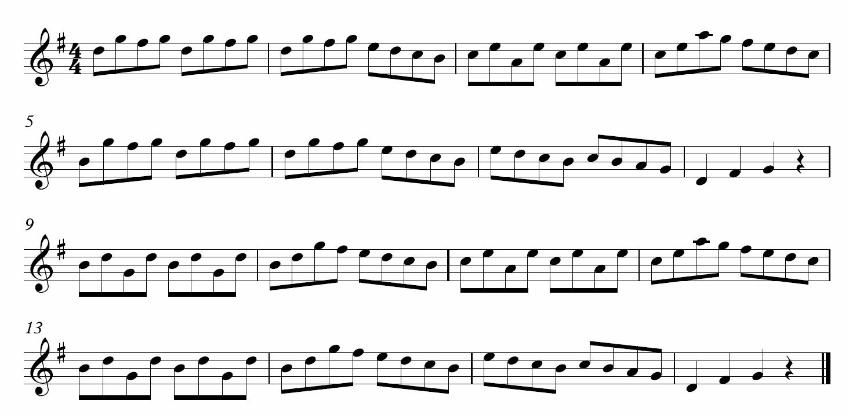 This tune is also known as
The Devil's Dream
and it was very widespread in its popularity at the end of the 18th century. It was included in Gilfort's
Gentleman's Pocket Companion for the German Flute or Violin
published in New York in 1802.
Thomas Hardy mentions
The Devil among the Tailors
in his 1891 short story,
Absent Mindedness in a Parish Choir
, though it's uncertain whether he was referring to the version of the tune used by Cooke or the very different 6/8 tune which, for example, appears as No.95 in
Thompson's Compleat Collection of 200 Favourite Country Dances
, Vol.3 (London, 1773).
'Twas a very dark afternoon, and by the end of the sermon all you could see of the inside of the church were the pa'son's two candles alongside of him in the pulpit, and his spaking face behind 'em. The sermon being ended at last, the pa'son gie'd out the Evening Hymn. But no choir set about sounding up the tune [they'd had a gallon of hot brandy and beer to keep warm and then fallen asleep during the sermon], and the people began to turn their heads to learn the reason why, and then Levi Limpet, a boy who sat in the gallery, nudged Timothy and Nicholas, and said, "Begin! Begin!"

"Hey, what?" says Nicholas, starting up; and the church being so dark and his head so muddled he thought he was at the party they had played at all the night before, and away he went, bow and fiddle, at "The Devil among the Tailors," the favourite jig of our neighbourhood at that time. The rest of the band, being in the same state of mind and nothing doubting, followed their leader with all their strength, according to custom. They poured out that there tune till the lower bass notes of "The Devil among the Tailors" made the cobwebs in the roof shiver like ghosts; then Nicholas, seeing nobody moved, shouted out as he scraped (in his usual commanding way at dances when the folk didn't know the figures), "Top couples cross hands! And when I make the fiddle squeak at the end, every man kiss his pardner under the mistletoe!"

The boy Levi was so frightened that he bolted down the gallery stairs and out homeward like lightning. The pa'son's hair fairly stood on end when he heard the evil tune raging through the church; and thinking the choir had gone crazy, he held up his hand and said: "Stop, stop, stop! Stop, stop! What's this?" But they didn't hear 'n for the noise of their own playing, and the more he called the louder they played.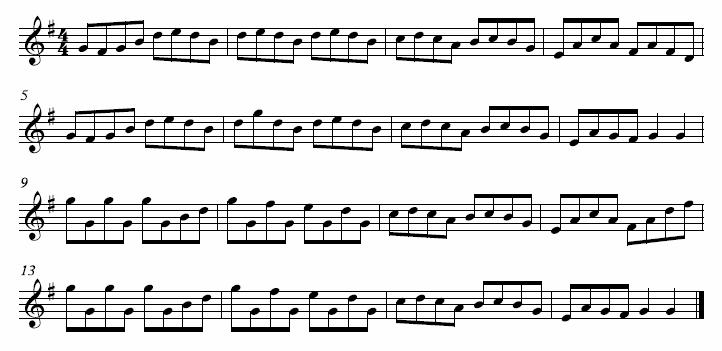 This tune is said to have been written by the violinist and composer John Moorehead (or Moorhead as more usually spelt by his contemporaries) who was born in Ireland, possibly Armagh, around 1760.

Moorehead moved to England as an orchestral player, eventually writing music for Sadler's Wells and then the Theatre Royal, Covent Garden. He was the joint composer with Thomas Attwood (1765-1838) of the musical drama
Il Bondocani or The Caliph Robber
(1800) and he also enjoyed some success as the joint composer with John Davy (1763-1824) of
La Perouse or The Desolate Island
(1801).
Il Bondocani
was performed at the Crow Street Theatre in 1803.
The tune, now known as
Speed the Plough
, was certainly used in one of Moorehead's most successful works for Covent Garden: a musical entertainment called
The Naval Pillar
with a libretto by Thomas Dibdin, first performed on 7 October 1799 to commemorate "our numerous marine triumphs" (Dibdin). It was performed in Dublin's Royal Amphitheatre, Peter Street, just a month later.
It was also given in the Crow Street Theatre on 5 January 1802, just the day before the first performance of
Peleus and Thetis
.
In his
Reminiscences
, Dibdin recalled that "The new music in the
Naval Pillar
was composed by John Moorhead [sic]; and one dance was so popular, that it was afterwards introduced in
Speed the Plough
[a five-act comedy by Thomas Morton]; changing its name from the
Naval Pillar
to that of the comedy; and remains an established favourite."
1839 playbill for the Pavilion Theatre, Whitechapel Road, London. Courtesy
East London Theatre Archive
.
In his
Musical Memoirs
, the oboist W.T. Parke (1761-1847) wrote that "Moorhead was a well educated and gentlemanly young man; but the occasional violence of his temper was such, as left no doubt of his labouring sometimes under temporary aberrations of mind. Peace to his manes!"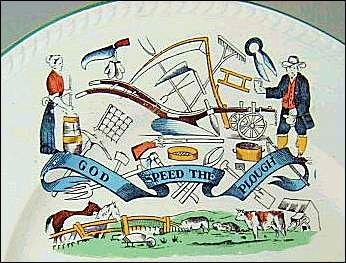 Similarly, Dibdin recalled that "Moorhead had an "unfortunate nervous attack, approaching rapidly to imbecility of mind, and ending in insanity". In one of his less violent, but eccentric moments, at Richmond he "posted critical placards on the merits of contemporary composers, in the public reading rooms …"

Oh that those placards had survived!

Moorehead didn't. He committed suicide by hanging in March 1804.

LH pic: Traditional decoration on a
Portland Pottery
plate. Made in Cobridge, Stoke-on-Trent.
Moorehead was most likely using a tune already deemed "traditional".
Aloys Fleischmann in his 1998
Sources of Irish Traditional Music c1600-1855
, lists three earlier versions (Fiddler's):
Edward Light's

Introduction to the art of playing on the harp, lute, guitar

(London, 1785)
3 Admired Country Dances

(E. Rhames, Dublin, c.1790)
A Collection of Favorite Country Dances for the Present Year

, Vol.1 (M. Hime, Dublin, c.1797).
Dublin-born composer John Field (1782-1832), Cooke's contemporary, used this same tune in his
Rondo on 'Speed the Plough'
(London, 1800), and also in the version published in Moscow in 1809 as his
Rondeau écossaise
(H 23).
William Ware, organist at St Anne's Parish Church in Belfast, included a version of
Speed the Plough
on page 29 of his
Easy Instructions for the Piano Forte
(Rhames, Dublin, 1809):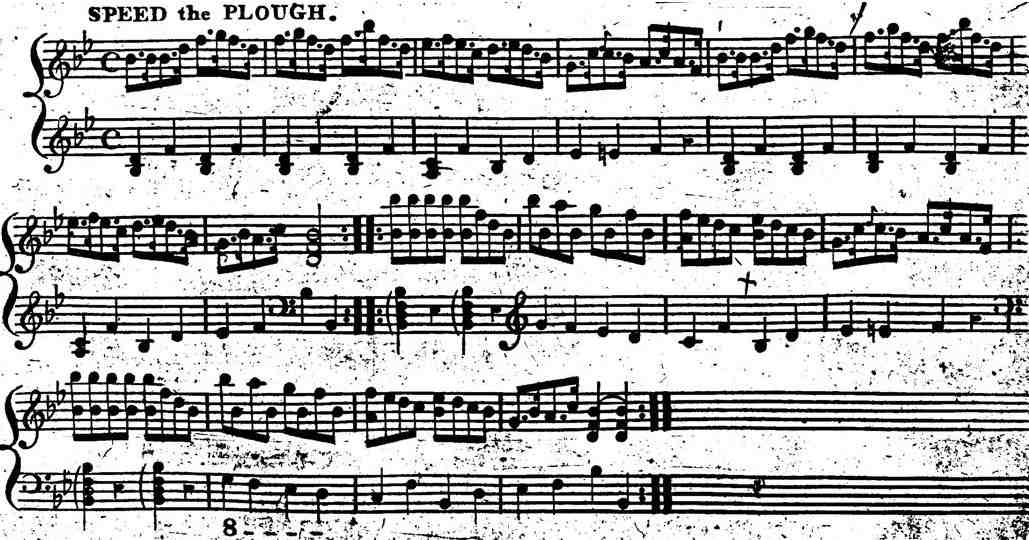 Just as a further small digression, this PDF contains
Cooke's Quick Step
, as published on page 65 of William Ware's
Easy Instructions for the Piano Forte
, (Rahmes, Dublin, 1809).
Bugle Horn
– a hunting dance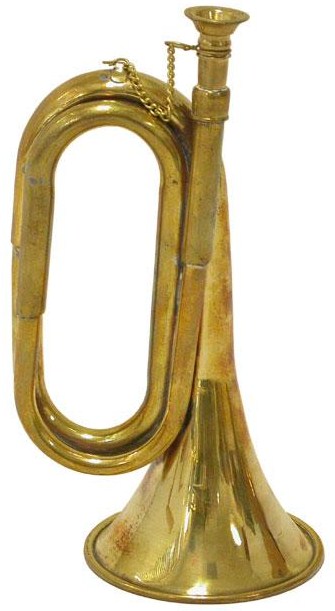 There are several tunes with this title from the mid to late 18th century, though so far I've failed to identify this particular one. It's a typical
Bugle Horn
dance tune of the period, informed by traditional bugle calls with their limited vocabulary of available notes.
Is this Cooke's own tune or has anyone come across this in another source?
Bibliography and abbreviations
ed. Stanley Sadie,
The New Grove Dictionary of Music and Musicians
(Oxford University Press 1980).
Grove Music Online
, online resource (accessed 20-30 June 2012).
Theatre in Dublin, 1745-1820, A Calendar of Performances
, John C. Greene (Lehigh University Press, 2011). Vol. 5.
Hogan, Ita,
Anglo-Irish Music 1780-1830
, (Cork University Press, 1966).
Kelly, Michael, (ed. Roger Fiske),
Reminiscences
, London 1975.
Parke, W.T.,
Musical Memoirs
, London 1830, 2 Vols.
Dibdin, Thomas,
The Reminiscences of Thomas Dibdin of the Theatres Royal ...
(Colburn, London 1827).
Highfill, Philip H., Burnim, Kalman A., Langhans, Edward A.
A Biographical Dictionary of Actors, Actresses, Musicians, Dancers, Managers ...
(Southern Illinois University Press, 1984). Vols. 8 and 10.
Gilbert, J.T.,
A History of the City of Dublin
(James McGlashan, Dublin, 1854). 2 Vols.
Walsh, T.J.,
Opera in Dublin, 1705-1797, The Social Scene
(Figgis, Dublin, 1973).
Walsh, T.J.,

Opera in Dublin, 1798-1820, Frederick Jones and the Crow Street Theatre

(Oxford University Press, 1993).