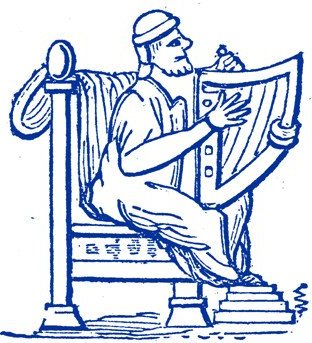 To mark the centenary of the birth of Irish composer Joan Trimble (18 June 1915 - 6 August 2000), this webpage reprints the text of a talk she gave in 1983 about some of her college memories and about the composer Arnold Bax (1883-1953).

Following that, is information about her television opera
Blind Raftery
(including cast lists) and then some notes on her
songs
.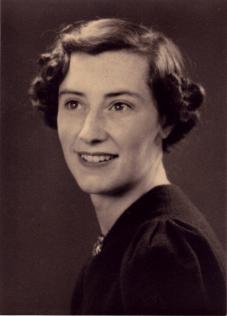 When I first went to the Royal College of Music in London, I found myself, one day, in a teaching room, known as the 'Stanford Room'. Here, the great Sir Charles had taught composition for so many years.

On one of the walls, was a collection of portraits: all of interesting-looking men – or rather, all but one, which was a picture of a small boy, in his nightshirt, seated at a piano.

There was something very familiar to me about that picture – and yet I'd never seen it before. Then I remembered.

In my grandparents' house in Dublin, there was a grand piano in the drawing-room, where I used to sit, dangling my feet, which at that time couldn't reach the pedals. And on the wall to my left, was an engraving of the infant Handel, seated at a harpsichord, clad only in his nightshirt.

Coming through a door were his surprised family, discovering his practice at dead of night.
RH Pic: The Child Handel by Margaret Isabel Dicksee (1858-1903).
The 1893 painting is in the Brighton Museum & Art Gallery.
Pic from Wikimedia Commons.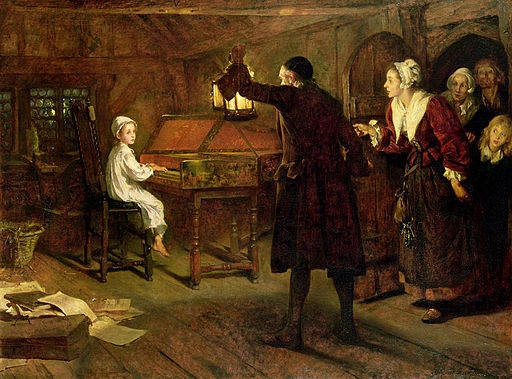 The small boy on Stanford's wall, was one of his pupils, Herbert Howells. It was Herbert who told me about all the other portraits and I thought they must contain all the great composers of the day.

Of course all Stanford's distinguished pupils were not there – the wall might hardly have contained them.
Think of some of those names – Vaughan Williams, Holst, Ireland, Ivor Gurney, Frank Bridge, E.J. Moeran, Arthur Benjamin, Coleridge-Taylor, Walford Davies, Gordon Jacob, Rutland Boughton, George Dyson, Eugene Goossens, and many more.

Looking at those portraits, I said, 'but what about Arnold Bax?'

'Ah', said Herbert, 'He was at the Royal Academy'.

It seemed odd. And from that moment, I remember thinking of Bax, as perhaps 'different'.

'You could be Stanford's "grand-child" in music', said Herbert, 'now that you're my pupil and Irish, too.'

From that day, I heard regularly about Stanford. He'd left a mark on the RCM, and on his pupils there, that was quite extraordinary.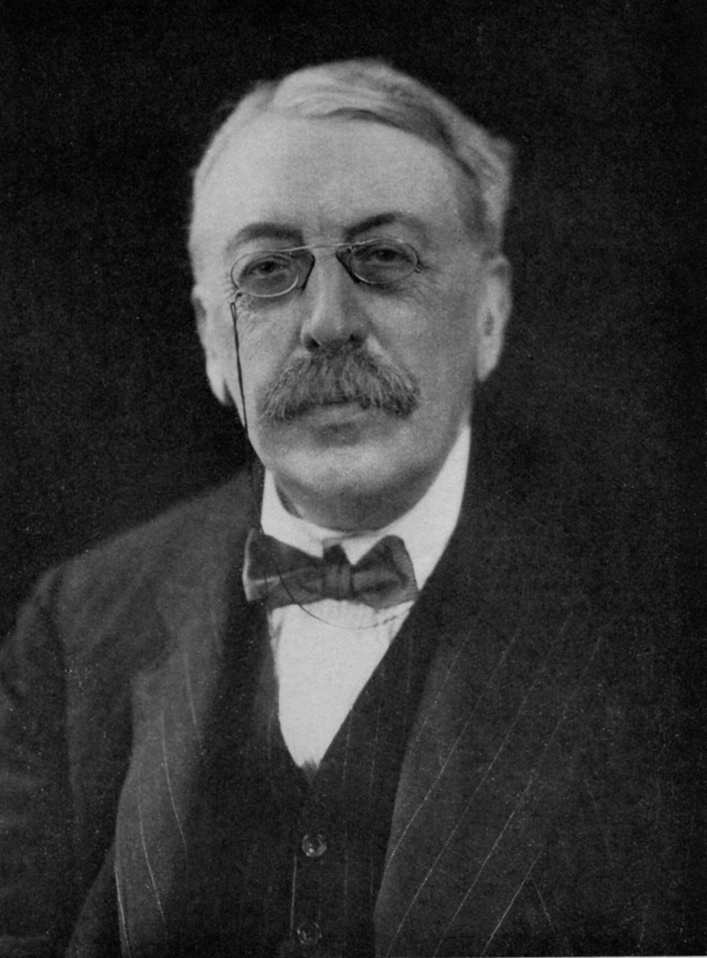 LH Pic: Stanford portrait by Bassano Limited from Sir Charles V Stanford, by John F Porte, London, Kegan Paul, 1921.

It's interesting to speculate on what might have happened if Bax had studied with Stanford. The chances are that Bax would have gone his own way as so many of Stanford's pupils did – all developing with their own personalities – rebelling, yet being guided and disciplined and able to retain their own individual idiom.

Of all his pupils, Charles Wood was said to be most like Stanford in style and idiom. But then, they both had much in common although one was from the North and one from the south of Ireland.

Bax and Stanford did have one thing in common: Ireland. But Stanford, born and brought up in Dublin, had to leave there and come to England to make a living, just as Hamilton Harty had to do so, years afterwards.
For Bax, Ireland was the great romantic love of his life and he chose to go there, as a crusader on a pilgrimage, after reading the poetry of Yeats. As he said himself, he left for Ireland in a state of spiritual excitement as a young man of nineteen and seemed to find his Celtic affinity in the far West.

Stanford might have found that odd. But the two men did meet at the Royal College and it wasn't an occasion which Bax remembered with pleasure.

He was to take part in an orchestral rehearsal of one of his compositions …

Editor's note: Joan Trimble added a handwritten comment to her typescript at this point:

Anecdote about Patrons' Fund Rehearsal – Bax conducting in his frock-coat – with his left hand, and Stanford adamant – Bax 'Never again'.

It's safe to assume that the following paragraphs from Bax's autobiography, Farewell my youth, (Longmans, Green & Co., 1949) refer to the relevant incident:

In 1904 I had won the Charles Lucas Medal at the R.A.M. with a set of symphonic variations. Afterwards a letter from the Royal College of Music arrived charging me to present myself there to rehearse my work. Sir Hubert Parry was to be there; so after careful deliberation I decided to array myself in my seldom worn frock-coat and tall hat. The heat was intense during my journey and I arrived perspiring not a little. Sir Charles Stanford approached me at once and said, rather brusquely, "So here you are. You are Bax aren't you? Well you can go up there and work your wicked will on the orchestra"

My knees knocked together. I stammered in a very small voice "But I have never conducted in my life." "Never mind that. You've got to begin sometime my boy. Go on with ye."

Overharrowing it would be to resuscitate in any detail the pity and terror of that scene. I would naturally conduct with my left hand and I probably did so then. But I really don't know. In all my life I have never consented to conduct again. The embarrassment, the horror I endured that sweltering afternoon! The orchestra players were stoically long suffering. Only once did a politely ironic voice query "Excuse me, but are you beating in twos or threes?" After some 45 minutes of mental and physical misery I stumbled off the platform. "Ye look warm young man", observed Stanford.

After the death of Bax in 1953, Vaughan Williams, writing to Michael Kennedy, said that he was beginning to feel rather doubtful about Bax's work. He had more musical invention than any of his contemporaries, but it was quite undisciplined.

Vaughan Williams wished that Bax had had some gruelling lessons from Stanford but probably they would have quarrelled and nothing would have come of it. That tells as something about Stanford's influence.
And something of Bax as well.
As I said, the two men (Stanford and Bax) had one thing in common – Ireland. But they would certainly have quarrelled on this score.

Bax, the Englishman, found in Ireland much of the inspiration that stamped so much of his music.

He was to consider Stanford a 'West Briton', a derogatory term – and somewhat unfair.
After all, Bax had a private income and never needed to teach or earn a living as other composers did.

To the end of his days, Stanford retained his Irish characteristics – an Irish brogue and a hot temper. He was down to earth.

Bax was a romantic and of a reserved, shy disposition. He felt Ireland to be his spiritual home and spent as much time as possible there, even living for some time in Dublin. But Stanford would never have understood this almost fanatical obsession with the Celtic image that Bax pursued with such fervour. Stanford could never have known Glencolumbcille.
RH pic: The view of Gleann Cholm Cille from Cionn Ghlinne.
Photo © copyright
Ian Edwards
, licensed for reuse under this Creative Commons
Licence
.
Glencolumbcille, in Donegal, is remote. When I first knew it, it must have been very much as it was when Bax first went there, as a young man.

It can be desolate. But it has grandeur. When approached by road, from Malinmore, a road which once twisted along the cliff edge – the vast cliffs of Glen Head and the Sturrell lift from the green valley below, with all the drama of some Wagnerian opera.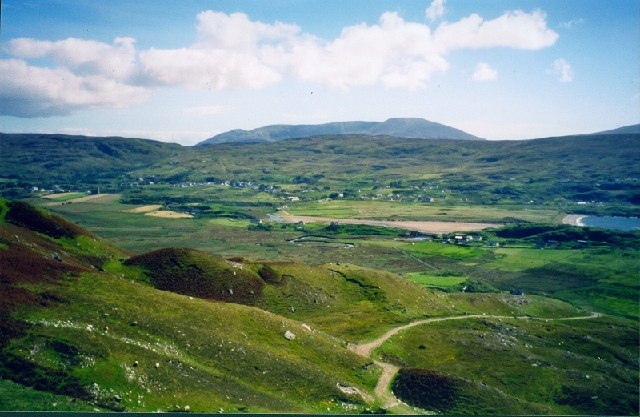 A turf-cutting road climbs and twists from the valley to the top of Glen Head. Up there, the turf leans towards the sea and trembles under foot – as if threatening to slide over the edge of the 800 foot cliff. lt is bleak. The coast is harsh with tumbled rocks, pounded unendingly by great breakers from the Atlantic. And the massive bulk of Slieve League lies to the south.

In summer the cliffs are inspiring. In winter, they can be savagely elemental. It is a cruel and a beautiful coast.

Pic: Slieve League panorama. Photo © copyright
Marksie531
, licensed for reuse under this Creative Commons
Licence
.
Bax stayed there, winter and summer, knowing the place in all its moods, travelling from the nearest railway stations, Killybegs or Glenties on a jaunting car. From Glenties, it was twenty-three miles and a four and a half-hour's drive.

How did the outside car and horse get up the Glengesh Pass?

It was no wonder that the composer became a poet too and also a writer in that atmosphere. Some of his stories compare with those of Algernon Blackwood or Arthur Machen. Wit and humour were also to be found in them.

And the land, the sea, the people, left a lasting impression on his music.
Among those pupils of Stanford, it was Vaughan Williams who was a particularly good friend of Bax.

The two men admired and respected each other and their work. During the Thirties when I was at the College, these two men seemed to be at the height of their powers and reputation. Nothing could illustrate this mutual affection and admiration more than the example of Vaughan Williams's Fourth Symphony which was first performed in 1935. It was dedicated to Bax and the manuscript of the score was sent to him at Christmas.

Bax wrote to him thanking him for what he called the 'ever-to-be honoured present' and added 'this is the finest tribute of affection and comradeship that has ever been paid me and I shall value it all my life'.

It's particularly interesting that it was this symphony of all Vaughan Williams's works, that was dedicated to Bax. For no other work by that composer had caused such a stir; that stood out in idiom and individuality; that was called, 'harsh, clashing, dissident in polyphony, violent in utterance'. Strong words in those days. And it was dedicated to Bax the romantic. Yet one critic, H.C. Colles of The Times thought that Bax's own Third Symphony had roused Vaughan Williams into a larger and freer world than he had sought.

Editor's note: At this point there's another handwritten note from Joan Trimble, reminding herself to add an additional comment:

First performance Queen's Hall; Boult conducts; Bax and Harty there – 1935.

Talking of that Symphony reminds me of one terrible occasion for the College First Orchestra, in which, at that time, I was a member (and a very undistinguished one) of the viola section.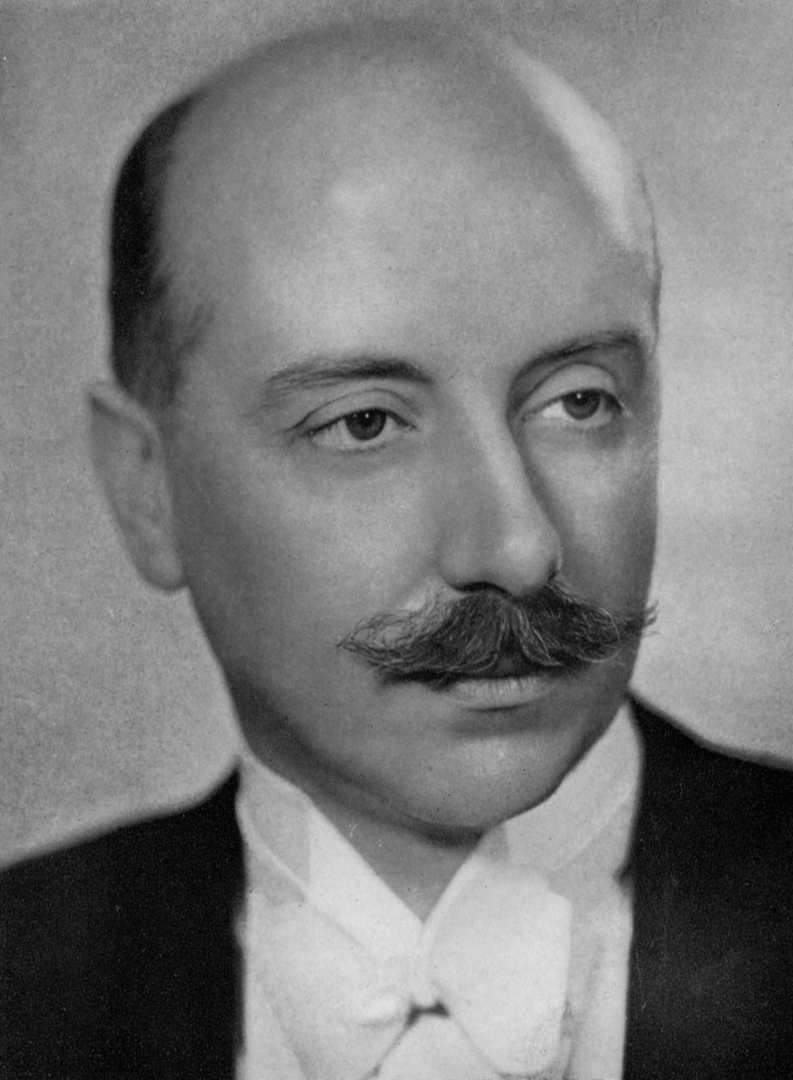 LH Pic: Sir Adrian Boult (BBC publicity photo). He was knighted in 1937.

We were playing the Symphony at one of our important concerts, to a packed audience, and without our regular conductor, Malcolm Sargent, who was away.

Adrian Boult was conducting. We found not only the music difficult to play, but his beat difficult to follow. The rehearsal had gone well but not the performance. In fact, it was nearly total disaster.

The third movement, a Scherzo and Trio, had a fugato section, begun by the tuba and with entries followed by us all in turn. Somehow, the tuba bungled his entry – and the next instrument just didn't come in – and we must have been playing it by ear, rather than follow Sir Adrian's beat or count bars, for everything seemed to tail away and we came to a full stop – an unheard of thing for us.

But Sir Adrian was in complete command.
'Back to letter K', he announced quietly. And back we went, this time very much on the ball. I learnt afterwards that this wasn't the only time something like this had happened with him: he'd taken the blame for a soloist's lapse, turning to his audience with 'Entirely my fault, Ladies and Gentlemen'.

But not that night at the College – we needed a lesson and it was chastening.

His death, earlier this year [1983], along with that of Herbert Howells, both over ninety years of age brought back memories of those College days, for Adrian Boult took the senior conducting class and through Howells I met so many musicians – Arnold Bax, for instance. I felt I knew Bax long before we ever met, for Howells used to talk about him, along with other friends, and I remember him saying 'I wish I could make up my mind about my feelings for Arnold's music'.
He wasn't the only one to feel this way at that time. There was talk of Bax 'wallowing in a Celtic bog' – much too unkind.
But Valerie and I were working at his Cello and Piano Sonata (she was still a cellist in those days) for a College concert. And then we were to discover his piece for two pianos, Moy Mell, [An Irish Tone-Poem, 1916] and to play it at our very first duet recital on an evening which turned out to be part of history.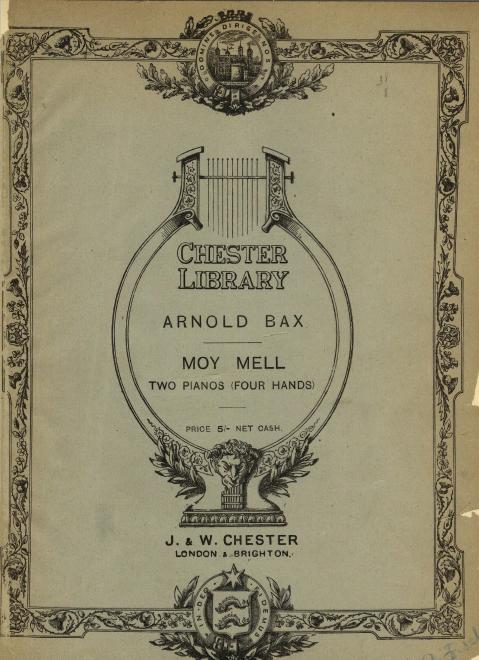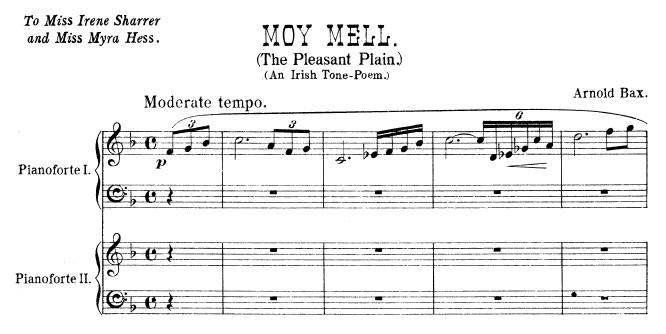 An evening of tension and fear for so many – for this was 1938, Wednesday September 28th – on which day, our Prime Minister, Neville Chamberlain had flown to Munich to meet Adolf Hitler. Would it be war or peace?
One College Professor confessed he came to hear us that night, as it might be the last music he would ever hear.

Moy Mell
had a strange première – and although next day the news was Peace not War, yet we knew it to be a temporary peace.
Moy Mell – The Pleasant Plain – was an evocation of Bax's Celtic romanticism, written in 1917 [Editor: First performance by its dedicatees was actually on 5 December 1916], the year before his tone-poem, The Garden of Fand. Cut off in England, during the war – bitterly hurt by the 1916 tragedies, and out-of-touch with many Irish friends whom he would never again see there, he wrote some of his most eloquent music.
He wrote poetry too – and one of his poems was banned by the Censor in that difficult period of unrest: a strange thing for a man of his reserved disposition – and an Englishman.
This piece, Moy Mell, had a special place in our affections and we played it for many years, although it was one of those works which did not lie well on the piano – he had instinctively conceived it for orchestra – and laid it out that way. Yet the music had something of the Irish sea coast and the Atlantic in it as well as the Pleasant Plain of the title.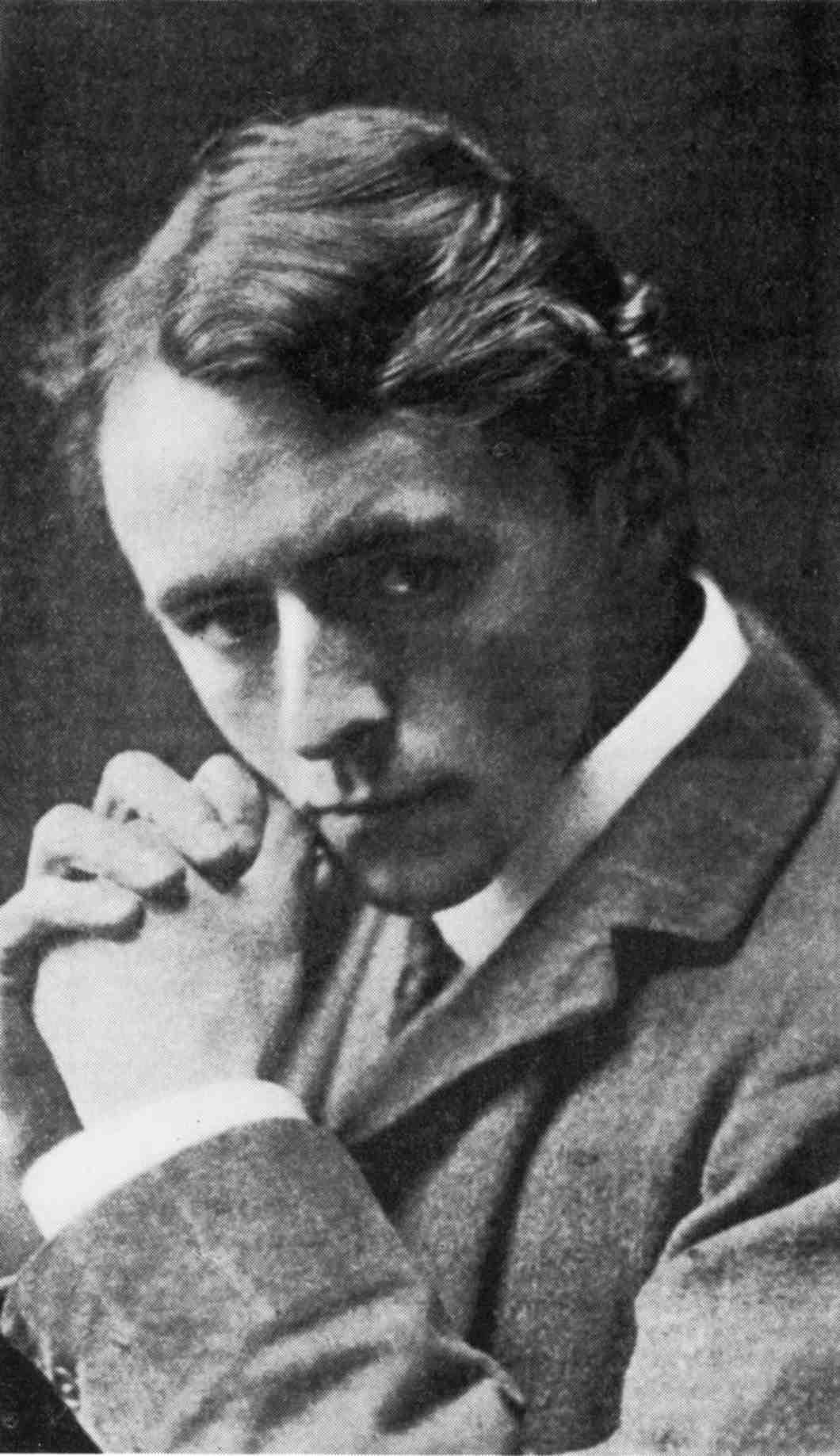 Years later, during the war, we were working on his Sonata for Two Pianos and Herbert Howells suggested that the composer might like to hear us play it through and perhaps offer suggestions or criticism.
Bax, at that time, was living in Sussex, at the White Horse Inn, in the village of Storrington; and he wrote to me from there, saying how much he would like to hear the work. He explained that his visits to London were rare, as he was suffering from a troublesome heart condition. But he had to come to town to visit the BBC – 'summoned by the Radio Times' and he didn't know what it was all about yet. But he would come to our flat on that day.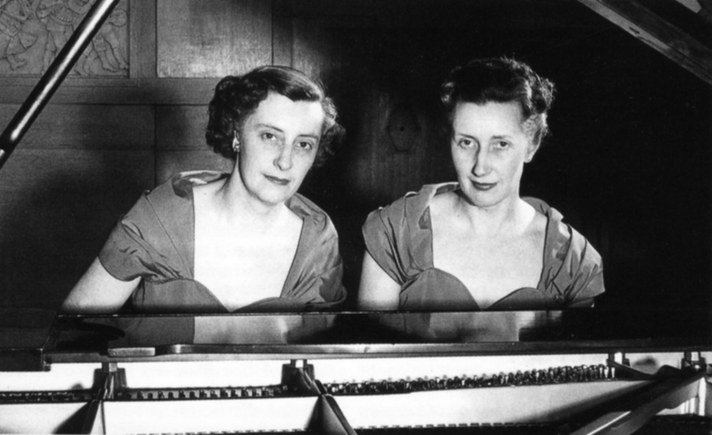 LH Pic: Joan and Valerie Trimble

He arrived with Herbert, breathing heavily – and I realised with dismay that he must have found our stairs difficult to climb – we lived on the third floor. But he soon relaxed into an armchair and was ready to listen to the music.

He said little for some time – he seemed lost in thought.

Then said, 'What about my other pieces – you'll play them too?'
We said 'yes, indeed', although we knew it would take time to get the right opportunity for performance.

All was well, very well.

We talked then of Ireland, and of Glencolumbcille.

He had a faraway look in his eyes.

Donegal must have seemed a long way back – and indeed it was.

He had been writing about that early part of his life some years before, and published it with success. I told him that the book Farewell, my Youth had even reached the Glen.

He was astounded and taken aback; then amused.

I didn't like to tell him one thing I'd heard: the stout wife of Paddy John, the Glen publican, had taken offence at his repetition of a good story about herself, her corpulence, and the village policeman.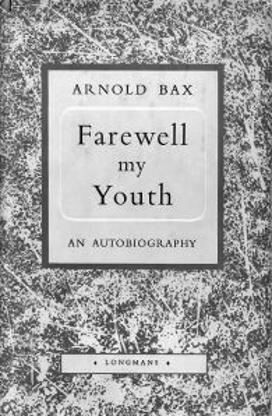 'I hope', he said with some apprehension, 'that I haven't written anything that might ...'

Oh, I said, Ireland's a small place – I wouldn't worry.

We said good-bye and the two musicians departed. That was the last time I saw him.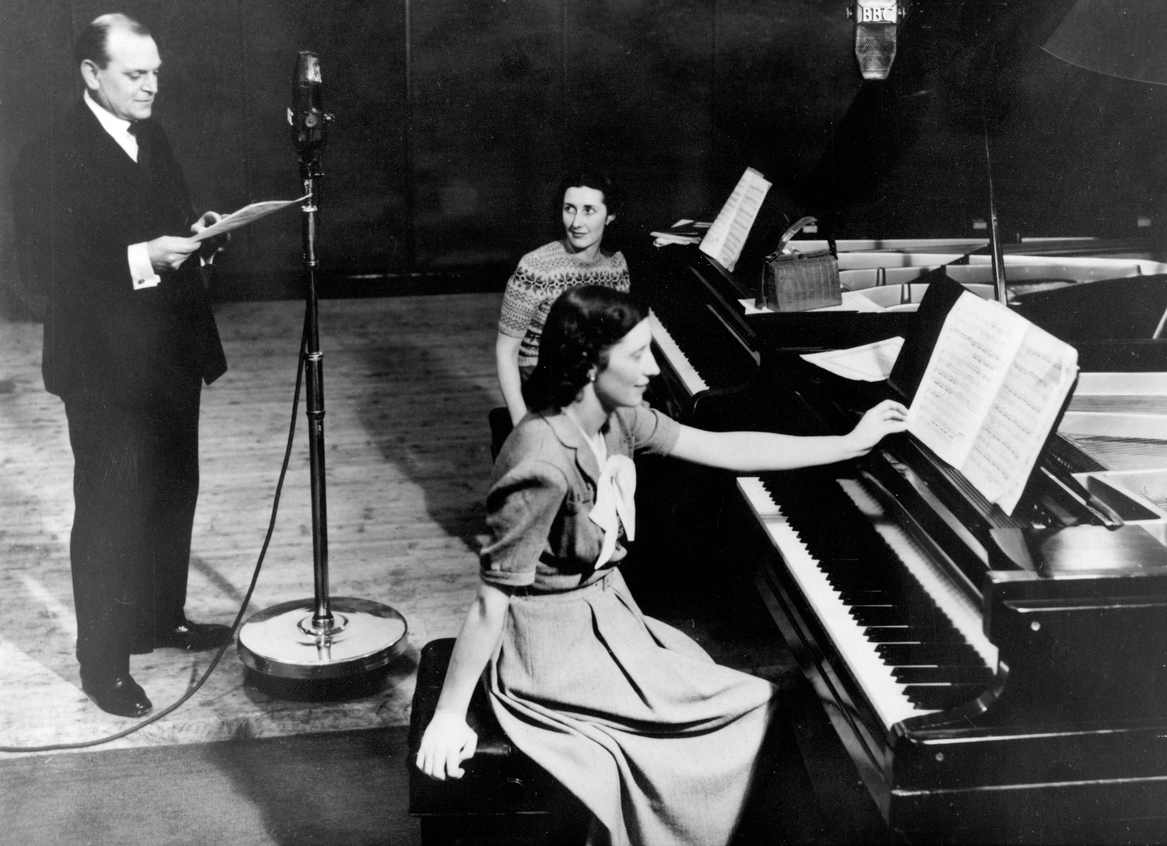 Joan and Valerie Trimble in the studio with presenter Maurice Shillington (a BBC press photo). Note Valerie's handbag on the piano!

This script © Joan Trimble, 1983


Illustration from the Radio Times, 21 May 1957

Kenneth Wright was a long-time friend and encourager of Joan Trimble. In 1957 as Head of Production for BBC Television he commissioned her to write a television opera.

It was the second such BBC television opera commission. The previous year, on 1 February 1956, Arthur Benjamin's one-act television opera Mañana had been premièred.

Australian-born Benjamin (1893-1960) had been Joan Trimble's piano teacher at the Royal College of Music. He too had studied at the RCM – composition with Stanford, piano with the composer and pianist Frederic Cliffe (1857-1931).

After a trip to the West Indies, Benjamin dedicated his new Jamaican Rumba to Joan and Valerie Trimble and the sisters premièred it at their London début. Also on that programme (28 September 1938) were three new two-piano pieces by Joan: Buttermilk Point, The Bard of Lisgoole, and The Humours of Carrick.

The sound clip on the right is from an off-air recording featuring Joan and Valerie Trimble playing the opening bars of Buttermilk Point in 1949.

Trimble Buttermilk Point.mp3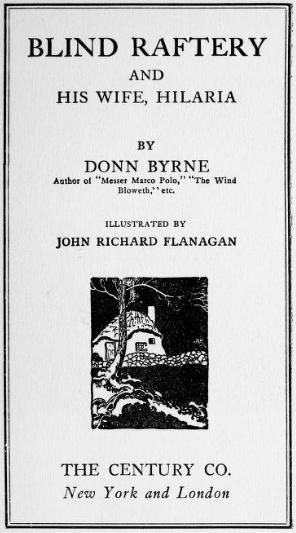 For the 1957 opera commission, Joan Trimble chose the 1924 story Blind Raftery and His Wife, Hilaria by Donn Byrne (1889-1928), whose full name was Brian Oswald Patrick Donn-Byrne. The American-born Irish novelist set his tale in the west of Ireland.

The picture gallery below features three of John Richard Flanagan's illustrations for the book and give a flavour of its style (click on one of the pics).

The first one has the caption 'O Raftery', her voice came eager and swift, 'tonight in the dusk you look young'.

Joan Trimble asked Cedric Cliffe to write the libretto. Cedric, son of Frederic Cliffe, had previously worked with Arthur Benjamin on his operas Prima Donna (1949) and A Tale of Two Cities (1953).

With advice and encouragement from Benjamin, and only just over three months before the copyists' deadlines and the first rehearsals, Joan Trimble set about the task of composing her opera.
The first performance of the completed opera was broadcast in a one-hour slot on BBC Television on Tuesday 21 May 1957, 9.45-10.45pm.

RH pic: Illustration - probably used for the 1961 radio revival.

The cast list below is from the Radio Times for 21 May 1957: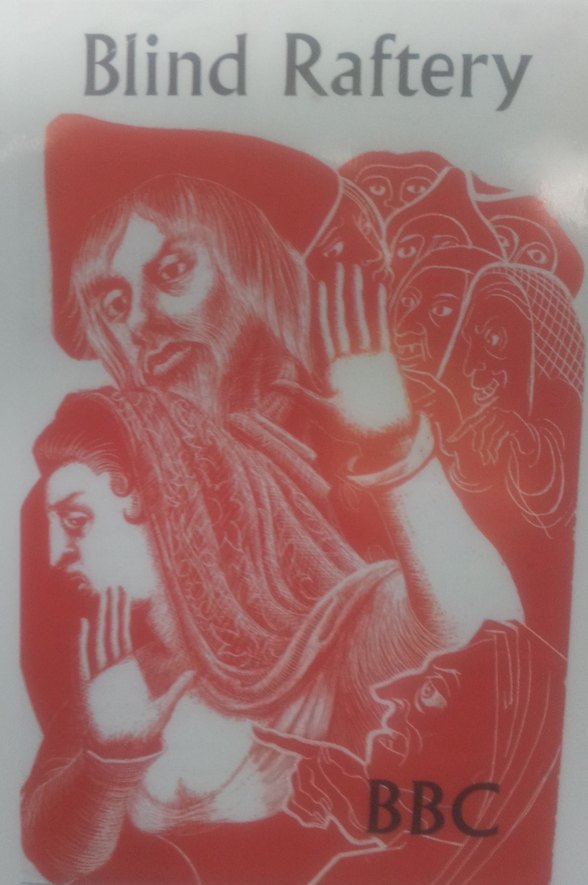 Blind Raftery
A lyrical tale for television based on the novel by Donn Byrne
Music by Joan Trimble
Libretto by Cedric Cliffe
Produced by Christian Simpson.
Designed by Guy Sheppard.

Raftery
Hilaria
David Evans
Gillie
Shamus
Shaun the Pedlar
Priest
Woman of the Town
Landlord

Denis Dowling
Gertrude Holt
Parry Jones
John Kentish
Dennis Noble
Edmund Donlevy
Norman Lumsden
Patricia Black
John Frost
with John Dobson, Owen Grundy, Brendan O'Dowda, Frances Wilkes, Helen Hillier,
Nora Ogonovsky, John Ford, Derick Davies, Margaret Winkler, Constance Boyle,
Isobel Stevenson, Edward Morgan
The Goldsbrough Orchestra (Leader, Emanuel Hurwitz)
Conducted by Stanford Robinson

Repetiteur and Chorus-Master, William Reid
Dancing arranged by Geraldine Stephenson
Spanish words of Hilaria's song by Dr. A.E. Sloman

(Denis Dowling appears by permission of Sadler's Wells Trust; Parry Jones by permission of the General Administrator, Royal Opera House Covent Garden, Ltd.)

The Goldsbrough Orchestra, founded in 1948 by Lawrence Leonard and Arnold Goldsbrough, became the English Chamber Orchestra in 1960.
William Elkin, writing in The Musical Times, July 1957, p.385, thought that Cedric Cliffe had been unsuccessful in finding 'a suitable language which was apt for the period and the characters'. The full review is in the PDF below.

Joan Trimble's music however, 'though not strikingly original, was exactly right. The singers had cause to be grateful to her for lyrical melodies which required to be well sung but did not need much learning. The choruses, "popular" in the Percy French style, were delightfully boisterous, and particular mention must be made of the skilful orchestration, which was well worth listening to on its own account'.

A recorded repeat was broadcast on Sunday, 23 June 1957 at 3.15pm. This was the press release from BBC Publicity: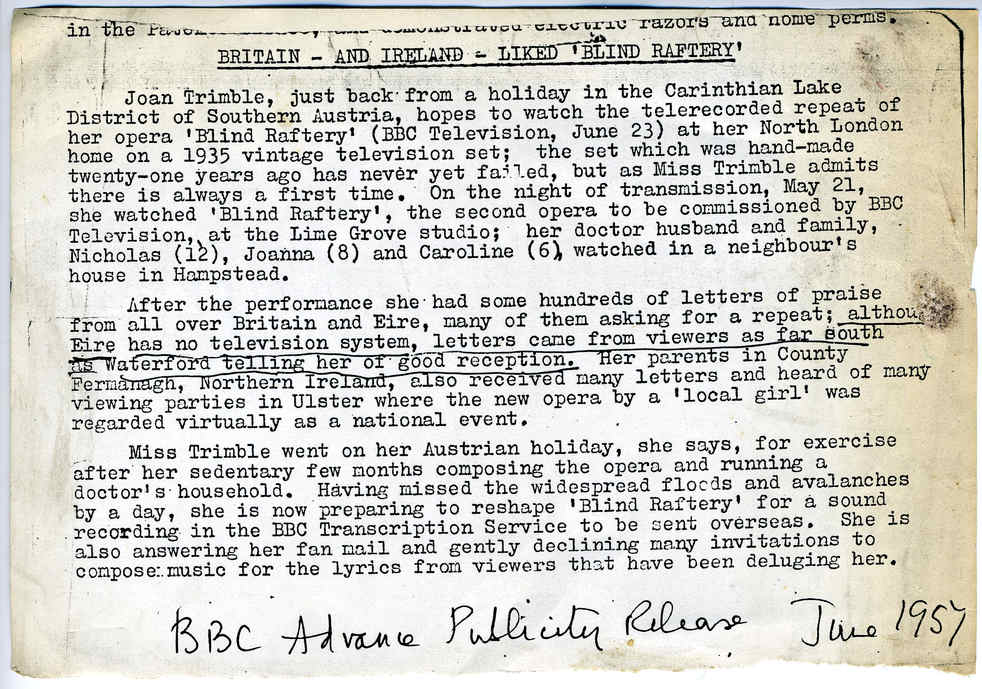 The opera was re-versioned for a radio broadcast on St Patrick's Day, Friday 17 March 1961 at 8pm on the BBC Northern Ireland Home Service. Raftery was sung once again by Denis Dowling, but many Irish singers took most of the other roles - notably Veronica Dunne as Hilaria. This was the cast list:

Blind Raftery
A lyrical tale based on the novel by Donn Byrne
Music by Joan Trimble
Libretto by Cedric Cliffe
Produced by Sam Denton.
Narrated by Graeme Roberts.
Raftery
Hilaria
David Evans
Gillie
Shamus
Shaun the Pedlar
Priest
Woman of the Town
Landlord
Denis Dowling
Veronica Dunne
Trefor Jones
Malcolm McKeown
Eric Hinds
Norman Hawkins
Henry Hinds
Eileen Ervine
John Frost
with Douglas Armstrong, James Shaw, Elizabeth Keith, Una O'Callaghan, Joan McCullogh,
Hugh Miskelly, Anne Nimmons, Raymond Marshall, Maureen Tyson

BBC Northern Ireland Orchestra (Leader, David Adams)
Conducted by David Curry

The brief sound clip on the right is from an off-air recording of Blind Raftery and features the voices of Denis Dowling and Veronica Dunne.

Trimble Blind Raftery.mp3
Joan Trimble's songs – introductions written by the composer (1986)

The unusual combination of a work for voice and two pianos, arises from a recital in London, at the Wigmore Hall, which was given in 1949, by Robert Irwin and Joan and Valerie Trimble.

The singer suggested a new work for the occasion would make it of greater interest. 'Why not write for baritone and two pianos?' (The programme was sent to the printers well before the composition was finished and one poem had to be changed at the last minute.)

The first performance took place in November 1949 and received a welcome from the critics. The work was performed and broadcast during the next two years. Robert Irwin retired from a public singing career after that time and, apart from performance in Northern Ireland by Frank Capper (singer) and Havelock Nelson and May Campbell (pianists) in 1957, it had to wait until the occasion of Joan Trimble's 70th birthday last year [1985], when it was broadcast on BBC Radio 3 (apart from the City Hall Birthday concert), till it was heard again.

The four poems by James Stephens, which provide the words for the song-cycle, have no inter-related story or programme.

Two come from the original Irish of the poet, Raftery: The County Mayo and Peggy Mitchell.
One, Inis Fáil (The Island of Destiny i.e. Ireland) by the Munster poet, Egan O'Rahilly.
The fourth poem, In the poppy field is a typical piece in James Stephens' own style about 'Mad Patsy'.

Anthony Raftery (1784-1835) was always known as Raftery; his best known poem is The County Mayo.
Other versions exist, made by Douglas Hyde and Frank O'Connor among others.

Egan O'Rahilly, in Inis Fáil writes of the desolation of Ireland at the time he was living (1675-1729).
My grief on the sea (1937) sets a poem by Douglas Hyde.
Dr. Hyde wrote to me, when I was writing the song, that the words were not his own: the original words, he explained, he 'had them from an old woman, Biddy Crummy, whom he came across in the County Roscommon'.

Green Rain (1938) sets words by Mary Webb (1881-1927).
[These two songs, My grief and Green Rain, were prize-winners at the 1938 Feis Ceoil in Dublin.]

Girl's Song (1940) sets words by Wilfred Wilson Gibson (1878-1962).