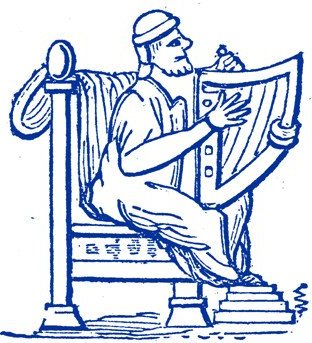 NORMAN HAY (1889 - 1943)

- a brief biography and a list of his works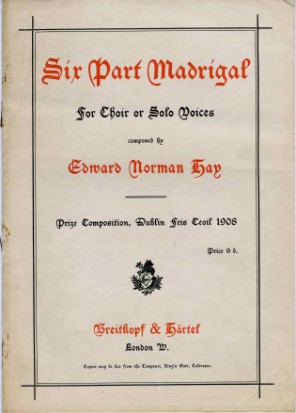 This brief biography is a slightly revised and updated version of an article which first appeared in
Soundpost
, No.6, February/March 1982.
Norman Hay's critical writings were too honest for a public which does not like its idols revealed with feet of clay.

His music often spoke with a more contemporary voice than was usual in Ireland during the first decades of the 20th century.

In several cases it was deemed too modern for those who had to play it, let alone those who had to listen to it.

His personality was all that being an honest Ulsterman might imply!

Note:
The composer is usually referred to as Norman Hay, though his music was always credited to E.N. Hay or E. Norman Hay or his full name, Edward Norman Hay, as in the
Six Part Madrigal
from 1908 pictured above.
The early years

Edward Norman Hay was born on 19 April 1889 in Faversham, Kent. His father, a Coleraine man, was a customs officer. When his mother died in January 1891, Mr Joseph Hay obtained a transfer back to the north of Ireland and his son Norman went to live with his aunts in Coleraine. At nine months Norman contracted polio which left him unable to walk until twelve years old and with a permanent limp.

"My first study was the violin, at the age of eight; but I was no infant prodigy, and the treble staff was not acquired by sudden flight. After a two-year break, through ill-health, I was suddenly filled with a longing to play a keyboard instrument. I took a vow one evening not to sleep until I had learnt the notes of the bass staff."

"Accordingly, I induced an aunt, mildly musical, to write out those for me on the back of a used envelope. Fortunately, I was allowed, at that time, pretty much to 'gang my ain gait' about ordinary school subjects (hence my hearty sympathy with present-day musical youngsters who are faced with that monster of childhood, homework), so after three gruelling days I was able to play my first hymn-tune in four parts."

"Then came piano lessons, and I look back with gratitude to the good lady who, from the first day, instilled the principles of good music. She was a woman of limited, but very sound, attainments, and her taste was impeccable. How different her "course" from many a one I could point to nowadays. During my five years with her I proceeded from Clementi and Dussek to the easier Beethoven, with not one trashy piece in between. And I think the finest thing she ever did was to leave Bach alone ..."

"I lived those early years in a country town with no music to be heard (outside some amateur effort) except at the parish church and the concerts of the Musical Society … performances of
Messiah
,
Elijah
,
The Creation
, etc., were my first open sesame to the wonderland of the big classics."

Pic of Norman Hay published with his
Belfast Telegraph
obituary, 1943.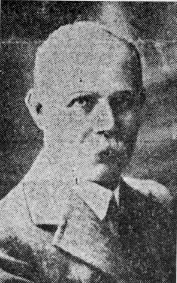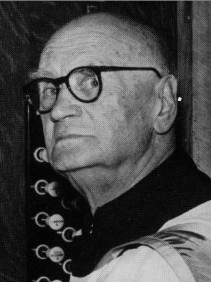 LH pic: Dr Francis Koeller (Belfast Philharmonic Society archive).

RH pic: Capt. C.J. Brennan in 1964 (St Anne's Cathedral archive).

"Then Belfast visits, and my six years of study – all sorts of things, practical or theoretical – with Koeller [(1858-1926), the Belfast Philharmonic Society's conductor] and my membership, during those years, of the Philharmonic orchestra – second violin, cello, sometimes the triangle, and on one fearsome occasion second oboe." [He later specified six years playing in the Phil Orchestra from 1905. Belfast Telegraph, Saturday 04 December 1937, p.6]

"In that period I had also organ lessons from Capt. Brennan, and learnt from him, amongst many other priceless things, how Bach can become a living reality when phrased with poetic meaning."

"I learnt much from my mentors. But, remember, I had few chances of hearing music. No wireless or gramophone then …"
In the first edition of
Who's Who in Music
, edited by Sir Landon Ronald (1935), Norman Hay listed his teachers as Dr F. Koeller, Dr Lawrence Walker, C.J. Brennan, Dr Chaundy and Dr Eaglefield Hull. His "special subjects" were composition, conducting, musical criticism and lecturing.
Francis Koeller
(born Franz Köhler in Aachen/Aix-la-Chapelle) married Jeannie Lamont Robinson (1878-1960). It may be coincidence, but the fourth of their five children (and their second son) was called Francis
Hay
Koeller (1909-1990)! Koeller's large-scale cantata
Reullura
, a setting of a poem by Thomas Campbell (1777-1844) for soloists, choir and orchestra, dating from 1896 and performed as the Prize Cantata in 1898 at only the second ever Feis Ceoil - held that year in Belfast - gained him a MusD from Oxford in 1899 (Bodleian 32720). Norman Hay possessed a manuscript full score of
Reullura
.
Some other Koeller works include
'Tis Night
, four-part song, words by T. D'Arcy McGee (R. Cocks & Co., 1897);
Early Morn
, cello and piano (Weekes & Co.,1905);
For you and me
(from
Sir George's Folly
- a two act comic opera, book by William Livingstone, performed at the Royal [Theatre Royal?], Belfast, on 27 January 1908), song with violin obbligato (Novello & Co., 1908); and
Somebody
, sacred song, words by J.R. Clements (Marshall Brothers, 1912).
The PDF on the right has Norman Hay's Appreciation of Francis Koeller, written for the Musical Times in 1926. It also contains a fine photo of Koeller.

Lawrence Walker
(c.1861-1928) trained at Armagh Cathedral and studied at the Raff Conservatoire, Frankfurt am Main, where, like his contemporary Frederic Lamond, he was a pupil of (1) professor of counterpoint and composition, Anton Urspruch (1850-1907) (a pupil of Lachner, Raff and Liszt), and (2) one of the founders of the Raff Conservatory, Max Schwartz (1856-1923) (a pupil of Bülow and Liszt).
Walker
was a distinguished pianist (the
Musical Times
, June, 1897, recorded that he was the soloist in John Field's Piano Concerto in A flat at the Feis Ceoil in Dublin that year), organist (St Nicholas, Carrickfergus and then St James' Church, Belfast) and the Lecturer in Music at Queen's College, Belfast (1902-1928). The College's Annual Report for 1908-1909 stated:
"During the Session Dr. Lawrence Walker lectured, as usual, on Harmony, Counterpoint, Musical Form and Composition, and the College Chamber Concerts, under his direction, were well attended. A new feature was the introduction of special tickets at a low price, available for pupils of music studying under any of the recognised teachers in the city. These were taken advantage of by almost 100 pupils, who must have profited greatly by the opportunity of listening to such fine performances of Classical Music."
Footnote
: Queen's College (becoming Queen's University in 1908) initially had just a part-time lectureship in music, established in 1902 when Lawrence Walker was appointed. He was succeeded by Capt. Brennan in 1928 and then Norman Hay in 1941. On Hay's death in 1943, Capt. Brennan was reappointed. The full-time music lectureship was established in 1947 with the appointment of Ivor Keys.
Excerpt from the President's Report, Queen's College Belfast, April 1903: "By the authority of the Lord Lieutenant, there had been founded ... a College Lectureship in Music — one step in the right direction — and he had the further pleasure that afternoon of announcing that they had appointed the first Lecturer — Dr. Lawrence Walker. Dr. Walker was a graduate in Arts of the University of Dublin, and a doctor of music of the University of Cambridge, and he thought no one in Belfast, where he had gained such a high reputation in musical circles, would doubt that in his hands the Lectureship was likely to be a real power for good. But he wondered if he was unduly sanguine in cherishing the hope that that Lectureship would ere long grow into something greater ... by founding a fully-equipped Professorship ..."
Charles John Brennan
(1876-1972) was organist of St Anne's Cathedral in Belfast from 1904 to 1964 - could that be a world record for a cathedral organist? (Olivier Messiaen served longer at Paris's Église de la Sainte-Trinité, but that's not a cathedral!). Capt. Brennan was also Belfast City Organist (1907-1972). A biography is available online
here
.
Edred Martin Chaundy
(1871-1960) was born in Oxford and came to Belfast in 1905 where he was organist of St Mark's Dundela, then St George's High Street (1913) and Bangor Abbey (1919), before his appointment to Armagh Cathedral, a post he held from 1920 to 1935.
Arthur Eaglefield Hull
(1876-1928) was the editor of the organ series published by Augener which included three of Hay's early works. Hull was a distinguished organist, critic, teacher and author. His writings included biographies of Scriabin and Cyril Scott.
First successes
Hay proceeded to the degree of D.Mus. by external examination from Oxford in 1915 with a choral and orchestral work, a setting of Joseph Campbell's poem
The Gilly of Christ
. He had already won composition prizes at the Dublin Feis Ceoil and, in 1916, Stanford awarded him another prize, this time for a
Sonata for Cello and Pianoforte on Irish Folk Tunes
.
A year later his
Phantasy for String Quartet on Irish Folk Tunes
was awarded a Cobbett Prize (coming third to Herbert Howells' second). Of these scores, so far only
The Gilly of Christ
has been found. There are a few piano pieces from these early years, along with some songs, and choral music (including anthems).
In 1918 Hay was one of four composers to receive the coveted Carnegie Trust Award (then in its second year) for his String Quartet in A major dedicated to the memory of his father and published in 1920 as part of the Carnegie Collection of British Music. It is hard to credit, but Hay's widow, speaking in the 1980s, asserted that this quartet had never been performed. "He was told it was too difficult."

It's an impressive work with no overt use of folk melodies: chromaticism, wayward in the early keyboard pieces, is harnessed to assist the forward impetus, tonally and rhythmically; the form is clear cut though not without surprises; the scoring is colourful.

RH pic: Cover of the String Quartet, published in 1920.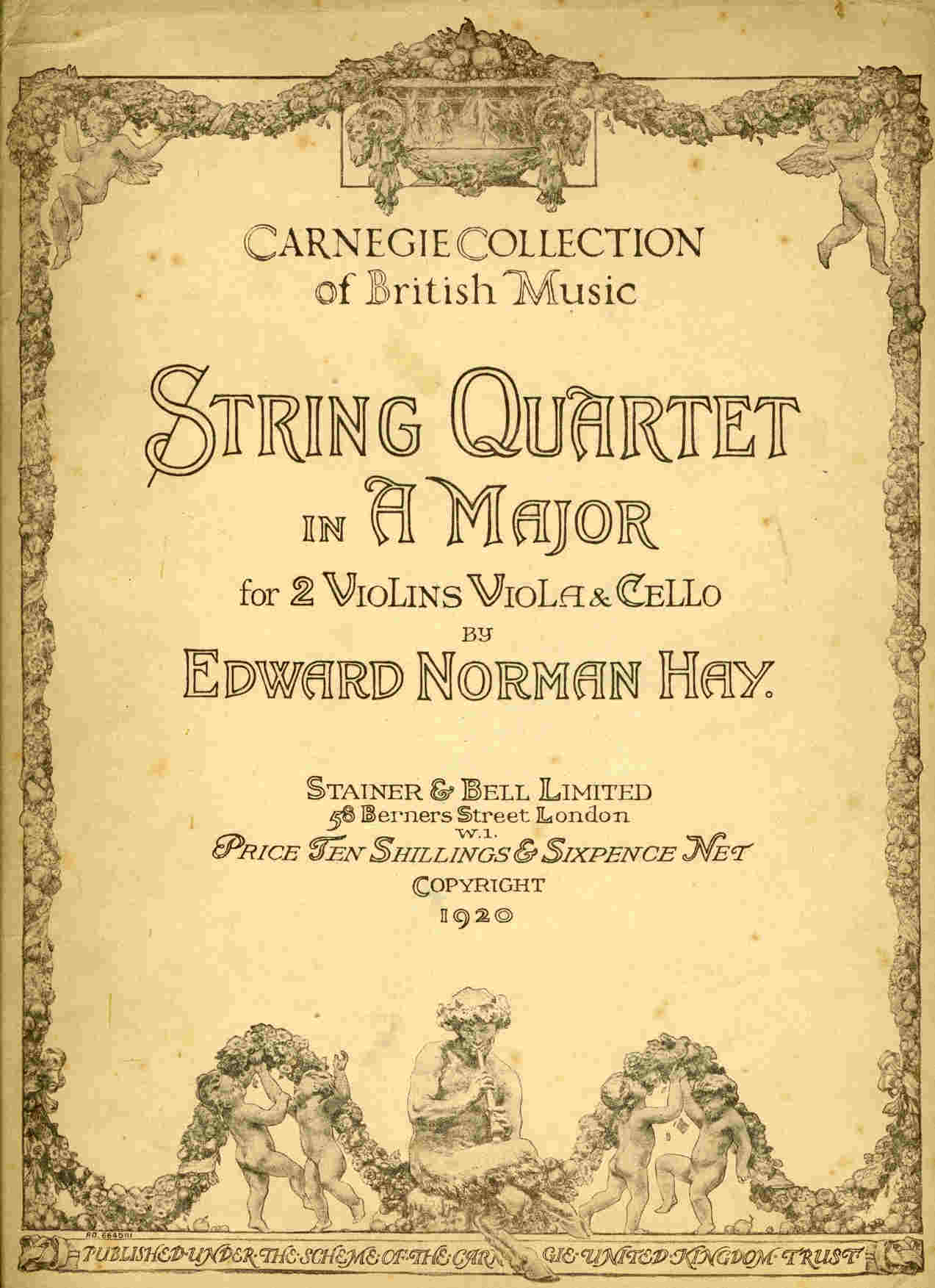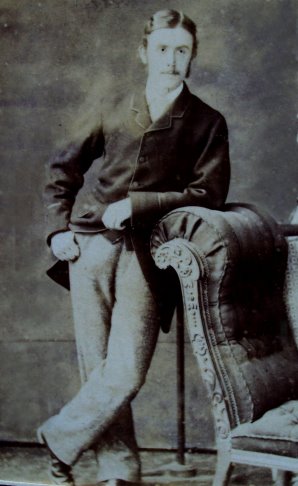 A topical musical comedy in two acts,
The Lady Voter's Dilemma
, was performed in Coleraine Town Hall in 1919. Words and lyrics were by D[aniel] MacLaughlin and the music by Hay. It seems to be only of marginal interest, not least because the vocal parts have not yet been traced.
The soprano lead (Elsie McQuilkin, daughter of a grocer on the look out for a Government appointment) was taken by a local girl Miss Hessie Haughey who Hay married the following year.
LH pic: Daniel MacLaughlin, solicitor and Notary Public, whose office was in The Diamond, Coleraine.
MacLaughlin wrote the words and lyrics for
The Lady Voter's Dilemma
.
He contributed
An Irish Serenade
or
Oh, Molly, I can't say that you're honest
to Sam Henry's
Songs of the People
. MacLaughlin lived at Breezemount, Coleraine.
RH pic: Coleraine Town Hall, illustrated on a postcard which is probably pre-1918, if not pre-1914. The inland postal rate given on the reverse side of the postcard was ½d inland - a rate which had lasted for 50 years but was increased to 1d in 1918. The card was "chromographed in Germany", perhaps establishing a pre-1914 date!

The Town Hall was built in 1859 and designed in "a restrained Italianate style" by Thomas Turner (c.1819-1891). It replaced a Market House built in 1743.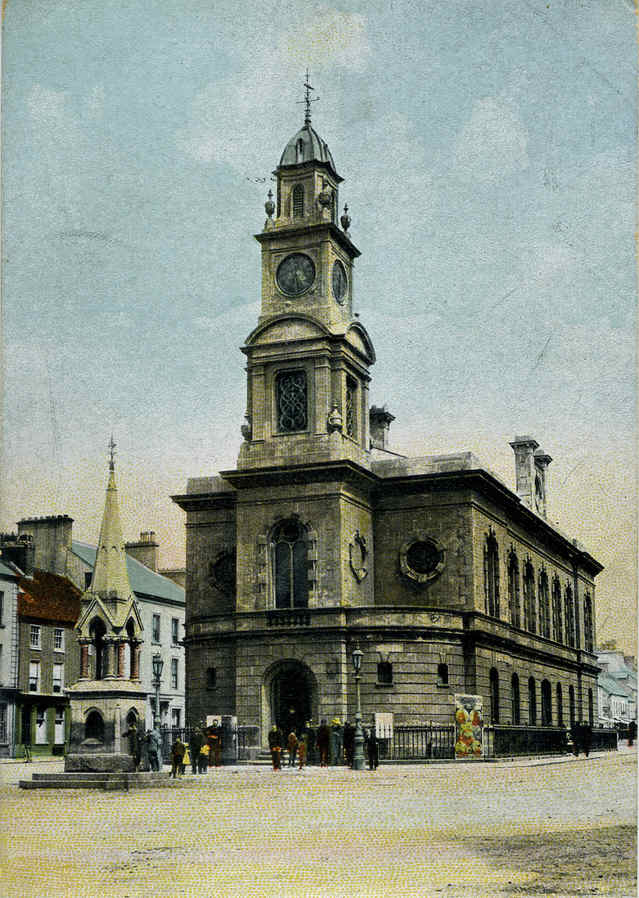 Into the 1920s
The Overture to Hay's
The Gilly of Christ
was played through at a Royal College of Music Patron's Fund open rehearsal on 20 November 1920 - an opportunity for young composers to hear their music performed by a professional orchestra. Also on the programme was York Bowen's
Symphonic Fantasia
and music by W.C. McNaught and G.H. Sullivan.
Back in 1912,
Godfrey Brown
(1874-1955) had succeeded Dr Francis Koeller as conductor of the Belfast Philharmonic Society, a large choral society with an orchestra of amateurs, semi-professionals and professionals. For many years Brown remained a close friend and encouraging supporter of Hay. In 1921 the Society gave the first performance of Hay's
Dunluce
, described by a
Musical Times
correspondent as a symphonic tone-poem containing "many exquisite and original melodies developed with great skill".
Four years later Sir Henry Wood accepted it for the Queen's Hall Proms and Hay conducted the performance. A different
Musical Times
correspondent thought "Dr Norman Hay's
Dunluce
has some good stuff in it, but the performance was so scratchy that it was sometimes difficult to know what was going on. [The scenes described] … have moved the composer more deeply than he has been able to move us". Hay conducted another performance by the Wireless Symphony Orchestra (the BBC's orchestra in Belfast) in 1933.
The fine setting of seven poems from Yeats's
The Wind Among the Reeds
, also dating from 1921, which was scored for soprano and baritone soloists, choir and orchestra, has recently been revived in Ulster Orchestra performances conducted by John Lubbock and by Vernon Handley. Hay also sanctioned the performance of the three baritone songs in this cantata for separate performance. They are:
The Song of Wandering Aengus
,
Had I the Heaven's Embroidered Cloths
, and
O Curlew, cry no more
.
RH pic: Norman Hay caricature from
Radio Times,
Thursday, 2 January 1930.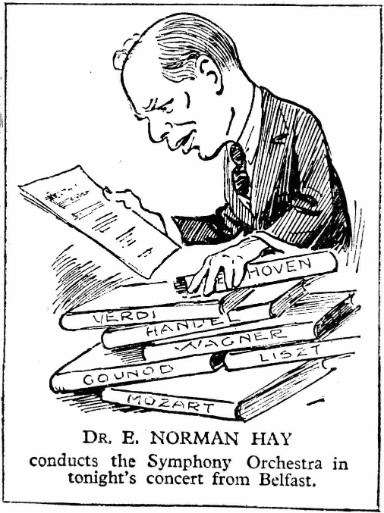 Dunluce
was played in the opening concert of the
Composing the Island
series in Dublin's National Concert Hall on Wednesday, 7 September 2016. Kenneth Montgomery conducted the RTÉ Concert Orchestra.
The Wind Among the Reeds was played in the series closing concert on Sunday, 25 September 2016 with the RTÉ National Symphony Orchestra conducted by Mark Hindley. The soloists were Claudia Boyle, soprano, and Ben McAteer, baritone, with the RTÉ Philharmonic Choir.
This link
here
(on YouTube) will take you to the RTÉ recording of the first movement,
Outworn Heart
, from that performance of
The Wind among the Reeds
(note that it will be preceded by an advertisement which may be skipped).
Hay earned his living by teaching music privately, but in 1922 he was appointed Director of Music at Campbell College in succession to Carl Leckie – a post which, like his three church organist jobs, Hay vacated after just a couple of years.
In 1923 and 1924 he was extern examiner in music at Dublin University (Trinity College) and it was a great disappointment to him in later years that he was not appointed Professor in succession to Kitson who resigned in 1935.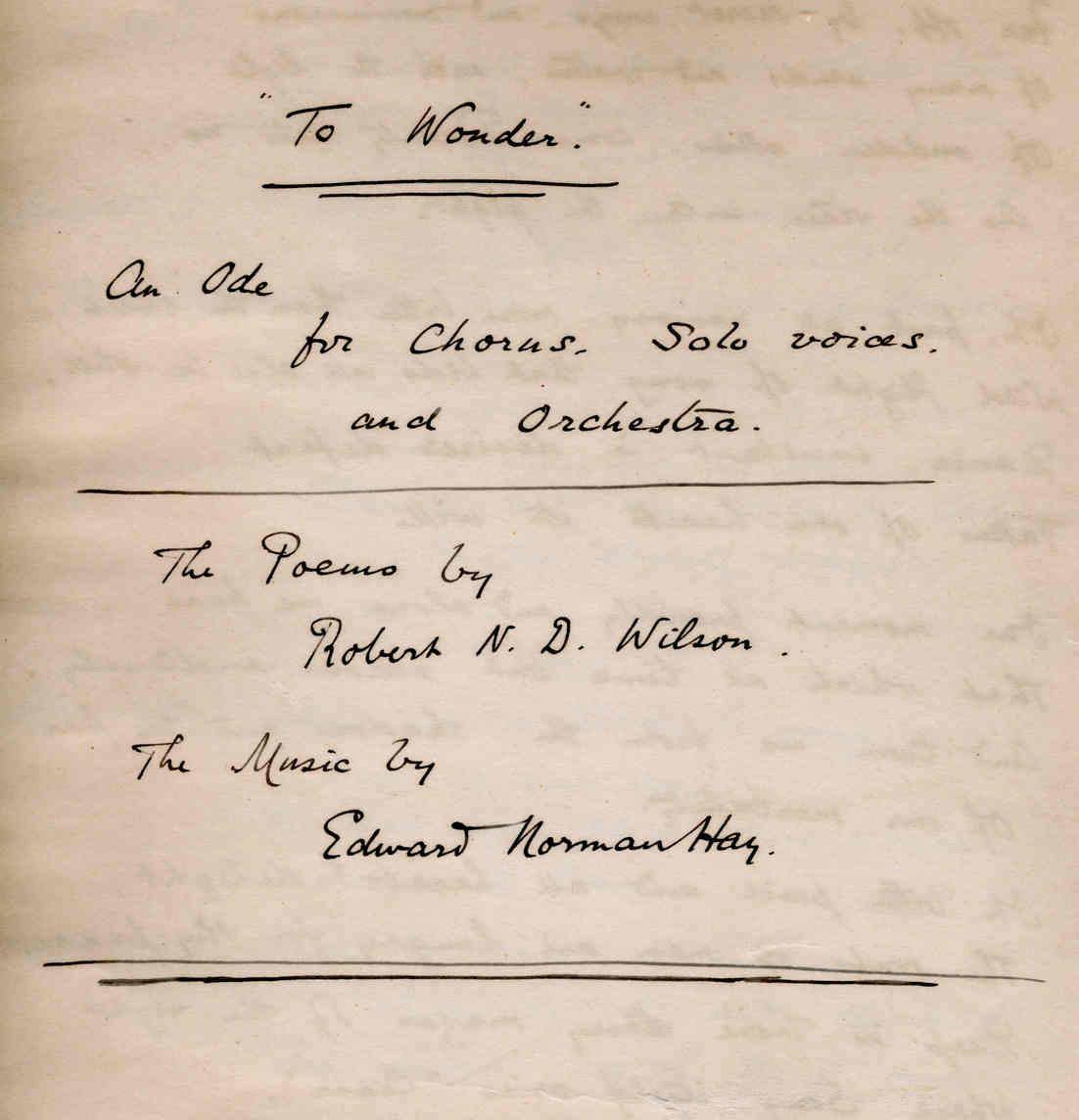 Far left pic: Hay's manuscript title page for
To Wonder
.
LH pic: Stainer and Bell's title page.
By now, Stainer and Bell had published a number of Hay's works: a madrigal, two anthems and
To Wonder
commissioned by Godfrey Brown for the Philharmonic Society's 1924 Jubilee.
To Wonder
is described as a tone poem for solo voices, chorus and orchestra and sets a specially written poem by Hay's friend, the Coleraine-born poet Robert (or Robin) N. D. Wilson (1899-1953). An early piano piece by Hay had been prefaced with Robert Bridges' words
I love all beauteous things
and Wilson's poem is of the same ilk: a quest for peace and a prayer that the foes of Beauty be conquered. Belfast in 1924 was all too similar to the Belfast of both earlier and much more recent times. Over 300 people had been killed in the Troubles of that year (Wilson's father, Rev William Andrew Wilson, minister of New Row Presbyterian Church, Coleraine, died in France on 20 March 1918 during the First World War).
To Wonder
represents Norman Hay's mature style. Gone is the harmonic directness of the 1918 string quartet. In its place is, on the one hand, a mixture of fairy horn calls, sliding chromaticism, poetic false relations, and on the other hand, a positive Elgarian directness and drive. It is a dichotomy of style which contributes much to Wilson's poem and makes this one of Hay's most effective works. It is also a style which ultimately defeats organic growth or development and, regrettably, many of its hallmarks have subsequently been debased by Tin Pan Alley.
Hay, like many of his contemporaries, is difficult to assess precisely because of his harmonic language. No such difficulty arises with Hamilton Harty (1879-1941) who was content to mine the rich, if over-worked, veins of post-Romantic harmony.

1924 also marked the inauguration of station 2BE of the new British Broadcasting Company. Godfrey Brown (1874-1955) became its Musical Director and the young Tyrone Guthrie, 'in charge of all programmes other than music', described him: 'The man Brown … seems to be a decent lowish class body, none too much gumption, but very kind'.

This kindness resulted in Hay providing an orchestral
Fantasy on Irish Folk Tunes
for the opening of the station and also the incidental music for Tyrone Guthrie's January 1925 radio production of Yeats'
The Land of Heart's Desire
. In 1951, Nevin Foster (1897-1951), music critic of the
Northern Whig
, described the
Fairy Song
from this incidental music as a masterpiece.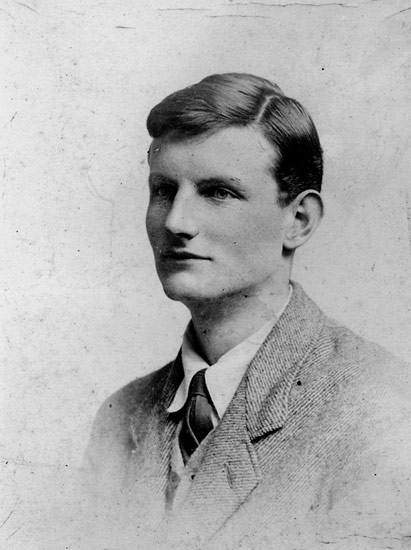 RH pic above: The young Tyrone Guthrie (1900-1971). For his radio productions in Belfast he credited himself as 'Tyrone Power' in the press listings and in Radio Times. His mother Nancy Power was a grand-daughter of the Irish actor Tyrone Power (1797-1841). The later Tyrone Powers, English and American stars of stage and screen, were all descendants of that Irish actor.
In September 1925, Hay succeeded W.B. Reynolds as music critic of the
Belfast Telegraph
. The Reynolds family objected to Hay using the music critic's same pen-name,
Rathcol
(an anagram of the Irish for Coleraine – Cúil Raithin), but in all respects Hay proved himself a worthy and illustrious successor. His first review appeared on 26 September 1925 and the first three were signed "E.N.H". They were unsigned from 5 October 1925 until 18 September 1926 when the credit henceforward was always to
Rathcol
.
William Brown Reynolds (1874-1925) was described by Forrest Reid in the
Times Irish Supplement
, 5 December 1922, as an "accomplished composer and musical critic at that time, the beginning of 1905, [who] edited
Uladh
, a short-lived quarterly ... the pages of which ... reflect the bravery of revolt - revolt against the tyranny of commercial materialism which weighed upon our native city and in the shadow of which we have all been brought up. Reynolds who was an idealist, revolted more than anybody ..." He was a leading light in the Ulster Literary Theatre (ULT), devising plans for a new theatre, and writing under the pen-name William Donn (
donn
is Irish for brown (hair)).
The ULT's first popular success was
Suzanne and the Sovereigns
(1907), described as a "fantastic burlesque". Sam Hanna Bell has written that, for the 1909 revival, the incidental music "was composed by
Carl Hardebeck
, A.G. Potter [Arthur George Potter, father of composer A.J. Potter - both Hardebeck and Potter were blind] and W.B. Reynolds. The opening music
Overture 1690
is credited to Reynolds. Based on tunes such as
The Boyne Water
and
The Boys of Wexford
, it seems to have been as witty and entertaining as the extravaganza."
Reynolds was the first composer to send James Joyce some musical settings of the writer's
Chamber Music
. Hay also admired Reynolds' compositions, but so far none of those works has been traced (a Joyce setting,
The Kiss
, a part-song for female voices. advertised on Google Books, was presumably sold). There is evidence that Reynolds was involved in some way in 1913 with an opera scenario for
Diarmuid and Grania
, linking into the Moore - Yeats - Elgar story.
In the 1911 census, W.B. Reynolds was living at 32 Victoria Gardens, Belfast. He described himself as a 37 year old "musical journalist", Presbyterian, born in Co. Antrim, married 2½ years to Clare Gwendolyn Reynolds (née Breakey), aged 28, Church of Ireland, born in Co. Donegal. They had one son, William George Reynolds, aged 19 months, who had been born in Belfast. William Conor painted a small portrait of Reynolds, though I've lost track of its whereabouts.
H. Simonis, writing of the
Belfast Evening Telegraph
in
The Street of Ink
(New York 1917), stated that "The musical critic, W. B. Reynolds (Rathcol), has much more than a local reputation".
Norman Hay took his reviewing work very seriously and for the next eighteen years he contributed fearless criticisms and weekly articles which provide a treasure-trove for the musical historian. Despite his solemn literary style, time has not altered the validity or the relevance of so much that he wrote. Sadly, in later years, it was a criticism of Godfrey Brown's conducting which put paid to their friendship. Hay preserved his integrity as a critic to the point at which he wrote himself out of many such friendships.

The PDF on the right is the second part of Hay's preview of the Belfast concert season 1937/38. It deals with the increased costs of concert attendance; the arrival of a new BBC music director in Northern Ireland, Walton O'Donnell, succeeding Godfrey Brown; fascinating comments on the orchestral repertoire; and a listing of the BMS chamber music concerts.

The critic had either less time for the composer or had become more self-critical. Nevin Foster, writing in the compendium
The Arts in Ulster
(Harrap, 1951), stated that Hay had a 'dread of facility'. For whatever reason (and one was probably to do with having a young family of two boys) Hay's output was now much reduced.
The 1930s and the "Ulster Airs"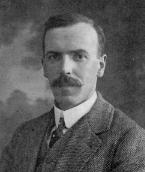 In 1928-29, Norman Hay wrote three
Irish Sketches
to which a fourth was added in 1932. The four make a nicely characterised group in a straightforward harmonic idiom coloured by Hay's unerringly splendid orchestration. There is a touch of Charles Ives towards the end when the ghost of the Twelfth of July is summonsed by a bass drum beaten with a wooden rod
senza misura
.
LH pic: Godfrey Brown

The PDF on the right is a 1946 feature about Godfrey Brown published in the Belfast Telegraph.

In 1930 Hay wrote his last large-scale choral and orchestral piece
Paean
(Stainer and Bell, 1931) which is dedicated to Godfrey Brown "in appreciation of his interest in my works". It is a setting of five George Herbert poems and Hay wrote:
"The music makes no pretension to the ultra-modern style of chromatic dissonance, but mainly relies for its harmony upon diatonics, used in the free modern manner, with a certain amount of chromatic decoration. The melodic style is based upon the folk-song idiom …"

An exception to the outgoing style of the piece is the fourth movement –a strangely chromatic setting of Psalm 23 which is dedicated to Hessie his wife.

Paean was performed in Belfast on 30 May 1931.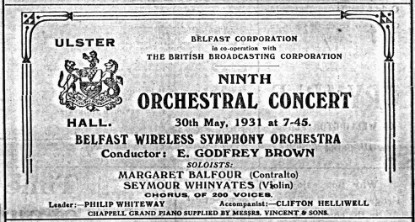 Both Hay and his
Belfast Telegraph
obituary writer thought this his greatest work; it is probably unnecessary to say that many of the performers and the public described it by misspelling the title as a four-letter word!
In 1932
Paean
was performed at the Three Choirs Festival at Worcester. Eric Blom described it as a disappointment. It needed "a more stylish, personal and unified treatment … Dr Hay's music, the defects of which are negative rather than positive, would have made as decent a show with almost any other words".

Manuscript copy of the opening of
Tryste Noel
, dated 24 June 1936.
Apart from an orchestral
Irish Rhapsody
written in 1932 and some songs (of which
Tryste Noel
is outstanding) the reception accorded to
Paean
seems to have silenced Hay. Could it be that the honest critic believed what other critics wrote? What a shame that his dream did not come true: "I have always yearned to write an Irish opera – and I have at least one thing in common with Elgar, that I have turned down more than one libretto in my time".
Between 1936 and 1941, Hay was engaged by the BBC as editor and adviser in the
Ulster Airs
scheme - an ambitious if perhaps misguided project to preserve Ulster folk-song through orchestral arrangements.
"It is our hope that we can preserve permanently these airs in a setting suitable for performances by either string or full orchestra and yet retain the essential melody, so that it will still be appreciated and understood by the country folk to whom it is familiar in its simple form."
RH pic: Norman Hay in the BBC studio in Belfast.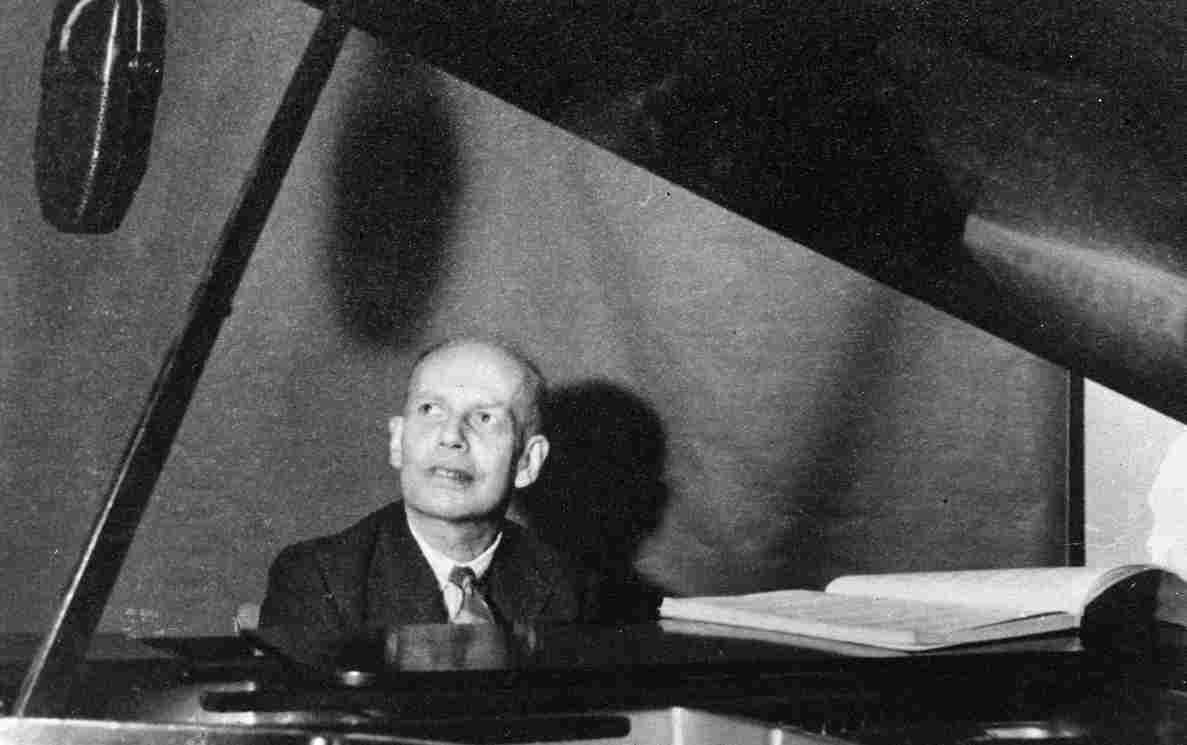 Whatever criticisms may be levelled at such a scheme, the end result was around 150 arrangements – some of which are excellent – by composers such as Redmond Friel, Charles Brennan, Howard Ferguson, Joan Trimble and Hay himself. Many problems were encountered during this project, not least a serious lack of performances due to the outbreak of war – nightmares which could only be properly recounted in a separate feature.

In 1941 Norman Hay was appointed as the first Lecturer in Music at Queen's University but died just two years later, on 10 September 1943.
Nowadays, if he is remembered at all, it is as a Rathcol who was feared; as the name on a musical scholarship in his memory at the Belfast Musical Festival; and as the composer of a hymn-tune in the
Church Hymnary, Third Edition
– this for a man who wrote "my personal interest in hymns (most inartistic of all musical tandems) is of the slightest"!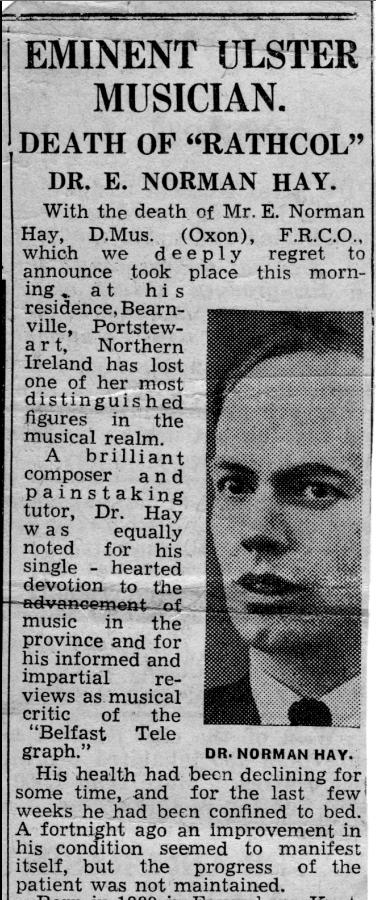 Two quotations from about 1938 will sum up some of the character of the man:

"Hay, who I know well, is a difficult and pugnacious person, but honest" – Director-General, BBC.

"Dr. Howells wishes me to tell you that he has been composing again – due to your talk with him" – Joan Trimble writing to Norman Hay.

In 1968, the Ulster Society of Organists and Choirmasters organised an event at Belmont Presbyterian Church, to mark the 25th anniversary of Hay's death. His friend, the renowned adjudicator, pianist, composer and conductor, Maurice Jacobson (1896-1976), composed an
Elegy
for organ to be played on that occasion. The published score (Roberton Publications) has this note:
On the last page of the manuscript of the
Elegy
, alluding to bars 78-79, Maurice Jacobson wrote "I shall always associate this Beethoven theme with Norman Hay; we once listened to it in the company of a Roman Catholic priest, and in the stillness which followed we sat silent – Catholic, Protestant and Jew. At last Norman broke the silence, saying quietly: 'Father, would you give us your blessing?'. In a short time he was dead."
Norman Hay's compositions
Fantasia on Irish Airs,
Quartet for violin, viola, cello and piano, undated, unsigned.
If this really is by Hay, then it was written while he was very young!


The Silent Land
, song, contralto with cello accompaniment (ad lib.), words by J.G.von Salis, trans. Longfellow,
Dublin Feis Ceoil Prize competition 1906, publ. Novello, 1906.

To myself
, song, mezzo and piano, 1908.
The half of music
, six-part madrigal,
Dublin Feis Ceoil Prize competition 1908, publ. Breitkopf and Härtel, 1908.

Let not your heart be troubled
, anthem, SATB, 1910.
Via Crucis
, anthem for All Saints' Day and general use, sop. or treble, ten, bass solos, SATB choir, organ,
[a pencilled note states: "Music Contest, Section 4"], undated.

The life consecrated
, a "prize anthem", treble, bar. solos, SATB choir, congregation and organ,
publ. James Broadbent & Son, 1912.

Wohin?
, organ, publ. Augener, 1913
Friedenshoffnung
, organ, publ. Augener, 1913
Geistliche Träume
, organ, publ. Augener, 1914
Midst the flowers in the garden of dreamland
, song, sop and piano, 1914.
The Gilly of Christ
, cantata for solos, SATB choir and orchestra, for DMus (Oxon), 1915.
Overture Orchestration: 223(1.2.bcl)2 - 4231 - T - strings
(in the other movements harp and organ are added and the second oboe is required to double on cor anglais)
Suite for Pianoforte, No.1
, (single movement),1916.
Fragment
,
Lento
, piano, 10 December 1916.
Hay Fragment 10 12 1916.mp3
Sonata for cello and piano on Irish folk tunes
, Dublin Feis Ceoil Prize competition, 1916, score missing.
Does anyone know the whereabouts of this Sonata? At one time it is said to have been played by Claire Mathews and Havelock Nelson.

Fantasy [Phantasy?] on Irish Folk Tunes
, (Three Irish tunes:
Lisnagarvey
c. 1730,
The banks of
Claudy
,
Sally Kelly
(mid-18th century), Cobbett Prize 1917, (3rd place – 2nd was Howells – prize awarded for a folk-song phantasy for string quartet), score missing, 1917.
Suite for Pianoforte, No.2
, (single movement or is it the second movement of the Suite?), 1917.
A Birthday
, part song for SSA, words by Christina Rossetti, publ. Stainer & Bell, 1918.
String Quartet in A Major
, 1918, Winner of Carnegie Trust Award, publ. Stainer & Bell, 1920.
Below are the opening bars of each of the four movements:

Hay String Quartet First movement.mp3
Hay String Quartet Second movement.mp3
Hay String Quartet Third movement.mp3
Hay String Quartet Fourth movement.mp3
The Lady Voter's Dilemma, musical comedy, Coleraine Town Hall, 1919.
N.B. Vocal parts and full score missing, but orchestral parts survive.
Overture Orchestration: 1011 - cornet.horn T+2 - strings

Dunluce
, tone poem for orchestra, dated 2 April 1920.
Orchestration: 2(picc)2(ca)22 - 4331 - T+3 - hp - glock - strings
RH pic: Part of the programme cover for the 1933 revival of
Dunluce
which was "Conducted by the Composer".
The programme note from that concert is given below in full (my editorial insertion of "accompaniment" replaces the word "introduction").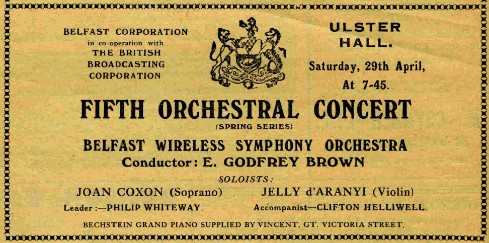 Symphonic Tone Poem:
Dunluce
This work was composed at the request of the Committee of the Belfast Philharmonic Society, and received its first performance on February 21st, 1921. At a later date it received a hearing in London at the Queen's Hall, under the composer's direction.
Dunluce
is an attempt to comprise, within the limits of the symphonic poem, the various movements of the orthodox symphony. The work opens with a meditative introduction chiefly for cor anglais with harp [accompaniment]. Then follows an
Allegro ben moderato
, representing the Exposition of "First Movement" form. This is succeeded by a reel and jig section which stands for the
Scherzo
. The slow movement follows, largely for solo cello, after which there is a recapitulation of the material of the
Allegro
, and the work concludes with a return to the meditative opening.
Dunluce
is not built upon any definite programme, save that the Scherzo endeavours to suggest the old-time revelry of Celt and Gael in the Castle.
The Wind among the Reeds
, cantata, soprano and baritone solos, choir and orchestra,
settings of W.B. Yeats, dated September-December 1921.
Orchestration: 223[1.2.bcl]2 - 4231 - T+3 - hp - strings
DB's programme note is in this PDF:

Opening bars of
O Curlew
:
Hay O curlew, cry no more.mp3
The opening movement,
Outworn Heart
, is on YouTube
here
(plus initial advertisement!).
Shed no tear
, part song for SATB, words by Keats, publ. Stainer & Bell, 1923.
Behold, what manner of love, anthem for SATB and organ, publ. Stainer & Bell, 1923.

Hay Behold what manner of love.mp3
Fantasy on Irish Folk Tunes
, orchestra, 1924.
No score available at present.
To Wonder
, ode for solos (vocal quartet with solo soprano and tenor), SATB choir and orchestra,
publ. Stainer & Bell, 1924.
Orchestration: 2222 - 2231 - T+2 - pf - cel - org - strings
The Land of Heart's Desire
, incidental music for a radio play, soprano solo and orchestra, 1925.
Prelude - orchestration: 1121 - 2110 - T - hp - strings
Hay Prelude Land of Heart's Desir.mp3
Thou O God hast taught me
, anthem for SATB choir and organ, publ. Stainer & Bell, 1927.
Hay Thou O God hast taught me.mp3
Four Irish Sketches
, orchestra, 1928–32.
i
Glimpses of an Ulster loughside
, dated 19 November 1928
Orchestration: 2(picc)2(ca)22 - 3220 - T+2 - hp - cel - strings
ii
The Book of Kells
, dated 26 December 1929
Orchestration: 22(ca)22 - 3230 - T - hp - strings
iii
The Glensfolk make merry
, dated 30 December 1929
Orchestration: 2(picc)222 - 3230 - T+2 - hp - cel - strings
iv
The Third Tree of Garvagh
, dated 17 January 1932
Orchestration: 2(2picc)222 - 4231 - T+2 - hp - strings
These are the opening bars of i, iii and iv, with an excerpt from ii:

Hay Irish Sketches ii.mp3
Hay Irish Sketches iii.mp3
Hay Irish Sketches iv.mp3
Pæan
, for mezzo soprano or contralto solo, SATB chorus and orchestra, words by George Herbert,
dated 4 January 1931, publ. Stainer & Bell, 1931.
Orchestration: 2222 - 3231 - T+2 - hp - org - strings

An Irish Rhapsody
, orchestra, dated 15 May 1932 (11-12 minutes).
dedicated to the members of the Belfast Wireless Symphony Orchestra, 1931-1933
Orchestration: 2(picc)2(ca)22 - 4231 - T+3 - hp - cel - strings
Churnin' Day
, song, text Elizabeth Shane, publ. Curwen, 1936.
My song shall be of mercy
, song with piano, undated.
One of six Hay songs recorded for BBC Northern Ireland Home Service by Cyril Willoughby, baritone, and Havelock Nelson, piano, on 28 August 1968. The songs were broadcast in
Music Room
, late evening on Monday 2 September 1968.
RH pic: a cutting from the Radio Times (with deteriorating glue!)

Hay My song shall be of mercy.mp3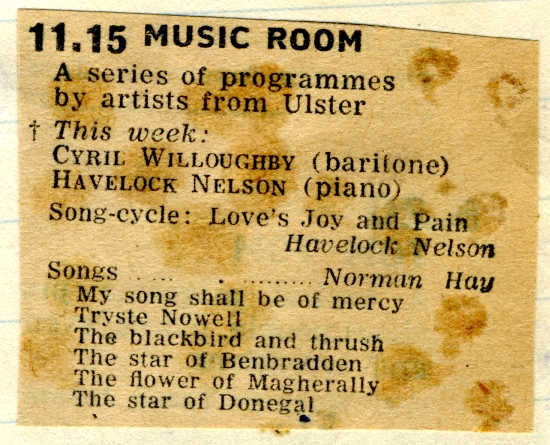 The blackbird and the thrush
, song, Irish trad. arr. Hay, with piano, score missing, though a recording is extant.
Hay Blackbird and Thrush.mp3
The star of Benbradden
, song, Irish trad. arr. Hay, with piano, score missing, though a recording is extant.
Hay Star of Ben Braden.mp3
The flower of Magherally
, song, Irish trad. arr. Hay, with piano, score missing, though a recording is extant.
Hay Flower of Magherally.mp3
The star of Donegal
, song, Irish trad. arr. Hay, with piano, score missing, though a recording is extant.
My Charming Coleraine Lass
, part-song, Irish trad. arr. Hay for TTBB, dated 12 March 1936.
Tryste Noel
, sacred song, words by Louise Imogen Guiney, 1936, publ. Curwen 1940.
An Intercessional Hymn
, publ. Curwen, 1939.
The Buttermilk Boy
, song, Irish trad. arr. Hay, publ. Curwen 1939.
A Love Letter
, piano, "To my girl", dated 15 July 1942.
There are also the following orchestral arrangements by Norman Hay of traditional Ulster folk-songs for the BBC's
Ulster Airs
scheme – 1937- c.1940. The numbers refer to BBC Northern Ireland's music library catalogue.
1. March Jig on Garryowen and Lilliburlero (Protestant Boys)
2. Inniskilling Dragoon (or Johnny Doyle)
10. The yell heifer and Sporting Kate (reels)
Hay The yell heifer and Sporting Kate.mp3
11. Lament for Hugh Reynolds (strings only)

RH pic: Opening page in the hand of a BBC copyist 'J.A.D.'
The copy is dated '9.39'.

Hay Lament for Hugh Reynolds.mp3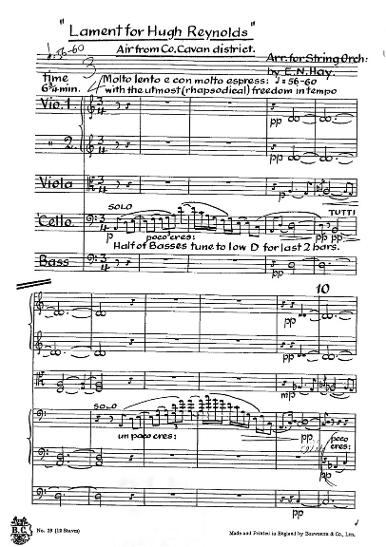 14. Young Edward
15. Bonnie Portmore
24. The mantle so green
32. The point maid
33. The woods of Mountsandel
36. Squire Agnew's hunt
44. My charming Coleraine lass
45. The rich shipowner's daughter
61. The Derry boys
64. The banks of Claudy
78. The sweet Bann water
79. Flanagan's jig and The Connaught man
81. Farewell to Londonderry
82. The Ballinderry marriage
86. Kellswaterside
88. Kitty my love, will you marry me
93. The Lady Leroy
94. Where the moor cocks crow
99. The cuckoo
104. My charming Kate O'Neill
109. Hey lad, come marry me

110.
The breeze from Scotland will bring my love
RH pic: Opening page of the autograph score.

Hay The breeze from Scotland.mp3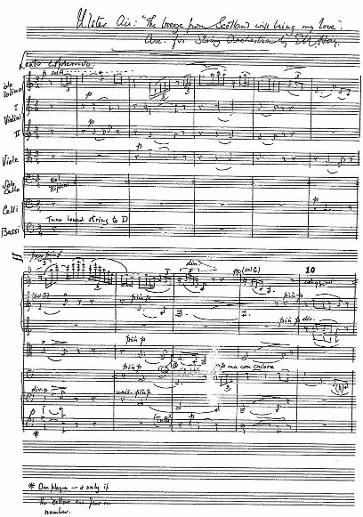 112. The maid of Ballyhaunis
114. Art McBride
119. Dirge of Ossian
120. Miss Peel at the Ball
124. The mountain high
125. To all true lovers
129. Death of the whiskey
130. They say my love is dead
134. The lass from Turfahun
139. The buttermilk boy
140. The green bushes
144. The jacket blue
145. The ripest of apples
149. Whiskey is my name
154. The rakes of Coleraine (march-reel)