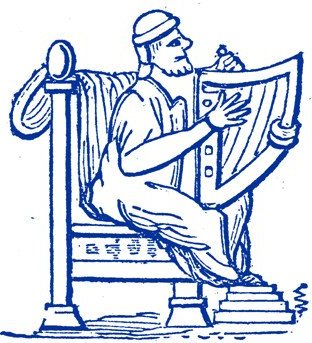 Please note: this page is about DB's time with the Ulster Orchestra. If you're searching for UO historical items and pics, please check out the
Music features index
above or click
here
.
David Byers's conviction that a full-time orchestra should be based in Belfast dates back at least to September 1964.

News had leaked out that BBC Northern Ireland's orchestral players would no longer be available to provide the back-bone of the City of Belfast Orchestra.

His campaign, aided and abetted by friends, made the front-page of the
Belfast Newsletter
on 12 September 1964 (see PDF above on the right).
Fortunately, the Arts Council of Northern Ireland agreed. It stepped in and formed the Ulster Orchestra which gave its first concerts in September 1966. A new era for orchestral music in Northern Ireland had begun.

Of course there were challenges in the years ahead. Ten years after the unsuccessful 1970 attempt by the BBC to reduce the number of its orchestras, the most critical orchestral crisis in Northern Ireland was the Musicians' Union strike against the BBC's next attempt. The eventual outcome was the disbandment of the BBC Northern Ireland Orchestra, the enlargement of the Ulster Orchestra with some of the former BBC players and a new funding basis for the Ulster Orchestra - a mix of Arts Council of NI, BBC, Belfast City Council and Gallaher Ltd.

David Byers was appointed to the newly-enlarged Ulster Orchestra Society's Board at that time as a BBC-appointed Board member and served from 1981 to his retirement from the BBC at the end of March 2002. He was then re-elected to the UOS Board in his own right. That didn't last for long.

In early June 2002, the Chairman Tom Collins and Deputy Chairman James Stewart invited him to step in as interim Chief Executive following the departure of David Fisk and a serious financial position – much of it resulting from the costs of foreign touring.

After so many years working with the Orchestra from a BBC perspective, David Byers took up the CEO role in the last week of June 2002. In March 2003, in keeping with the legal requirements, the CEO post was advertised and he applied for the job. The competitive interview process ('particularly scary', he recalls) resulted in his appointment being confirmed, initially for a five-year contract.

The challenges were many.

RH pic: David Byers at the BBC Proms with the Ulster Orchestra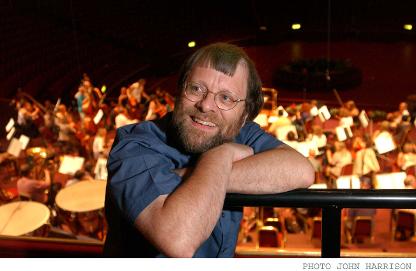 It was a financially grim time for the Orchestra. Nor was it helped by the Gallaher sponsorship having terminated the previous year because of the Government's more stringent rules relating to tobacco sponsorship.

David Byers took on the role of overseeing programme planning to build audience support and woo potential sponsors. Whenever possible, programme content was contained within the Orchestra's resources to minimise the expenditure on extra players. Grouping concerts in short themed blocks allowed for enhanced, clearer and targeted marketing. A new logo was created, an all-embracing mission statement, 'Enriching life through music' was incorporated, publicity brochures and flyers were given a clear design identity, and marketing included the use of '48' sheet billboards.

Arts Council of Northern Ireland funding (including National Lottery funding) was invaluable across this whole period (2002-2010), as was the support of the Orchestra's board under the enlightened chairmanship of Tom Collins (succeeded by Sir Desmond Rea in 2008).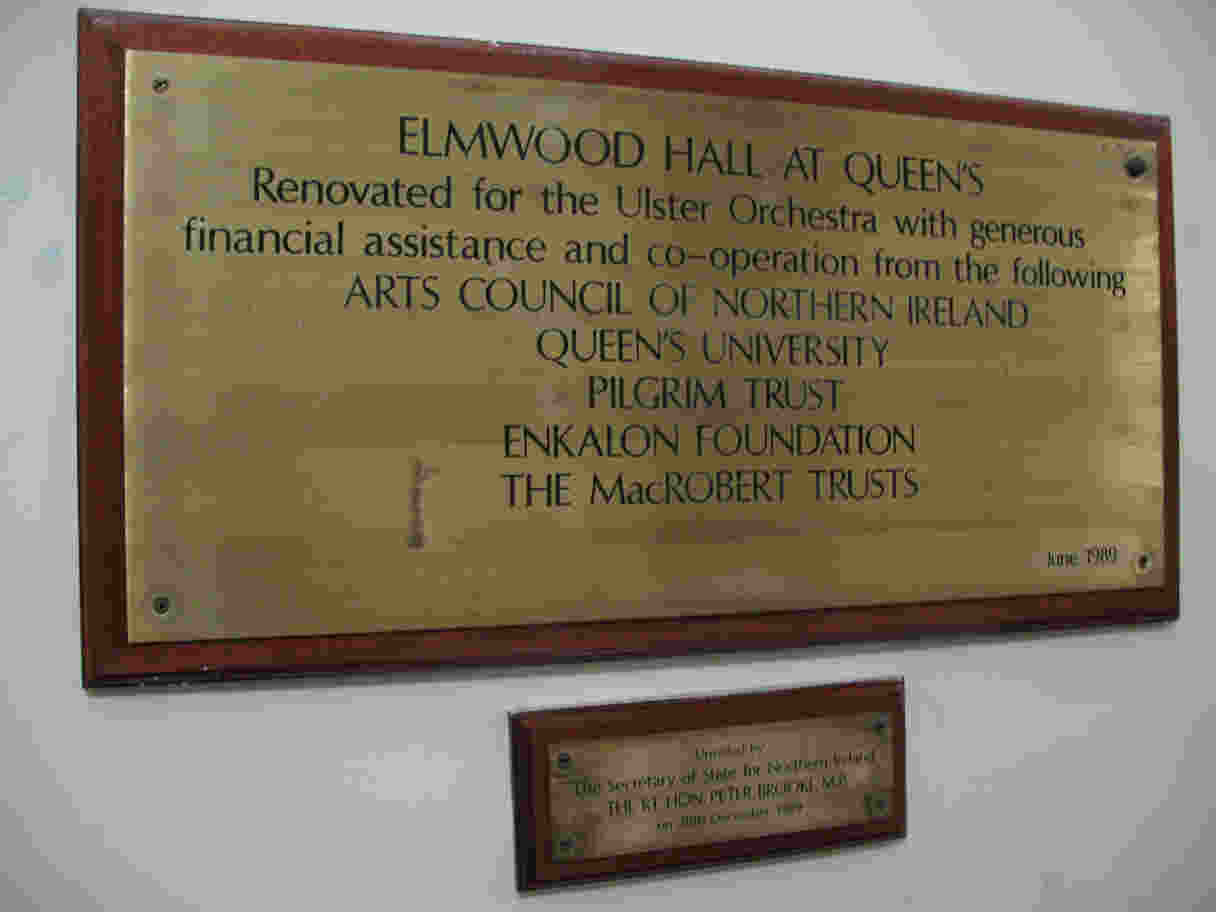 Plaque in the UO's old home, the Elmwood Hall at Queen's.

International touring had previously incurred much unsustainable expense for the Orchestra, and it was determined that in future all foreign tours had to be fully funded outside the Orchestra's normal budgeting.
David Byers and his team focused on

֍ developing the home marketplace, including Ireland;
֍ sustaining and building loyal audiences;
֍ overseeing a dynamic artistic policy;
֍ ensuring the most effective, affordable marketing;
֍ developing vibrant educational work;
֍ stabilising the finances; and, importantly,
֍ building the organisation's reserves to at least half a

million pounds - recommended as the absolute
minimum for an organisation of this size (and proven
crucial, given the subsequent years of financial
stringency).
Of course there were surprising challenges - and some more surprising than others!
One such was described in this review from the Belfast Telegraph in March 2003, following a concert on Friday 14 March. Click on the thumbnail to enlarge.

Launching a drive for more concerts across Ireland, in 2003 the Orchestra gave the St Patrick's Day concert in Dublin's National Concert Hall (NCH) and summer concerts at Farmleigh House and the NCH.

In 2005 the UO played for the World Harp Congress in Dublin, had a weekend residency in Cork during its year as European Capital of Culture, and played for a concert in Killarney with tenor José Cura.

There was a concert for Wexford Festival Opera in 2006; several concerts with the Guinness Choir in Dublin (including Verdi's Requiem in the Grand Canal Theatre); concerts for the Kilkenny Arts Festival in 2007 and 2008; and in 2007 a tour of border venues funded by the Irish Arts Council.

In 2006, with generous Ulster Bank sponsorship, David Byers launched an annual Ulster Orchestra series of concerts in Dublin's NCH. This venture ran successfully until 2009 when the international financial crisis led to the loss of bank sponsorship. By that time, an education and outreach programme had also been built into the cross-border offering.
Allianz Business to Arts Awards (Dublin) 2009 Best Use of Creativity –

Highly Commended:
Ulster Bank Group, the National Concert Hall and the Ulster Orchestra

'Over 3,000 students from 55 primary schools in disadvantaged areas across Ireland have taken part in musical workshops which encourage children to compose and perform music in their classrooms, through a partnership between Ulster Bank, the National Concert Hall and the Ulster Orchestra called
Up the Tempo
. For this programme, Ulster Bank employees nominate and liaise with participant schools, attend workshops with musicians and provide support to developing the work in-class. The partnership also includes a special in-house workshop for over 100 employees and their children.'
During the period of David Byers's stewardship, supported by a first-rate administration team, the UO achieved a significant increase in its essential financial reserves.

Marketing, sponsorship and philanthropic donations were all considerably improved, helping to achieve a balanced budget each year (including in his last couple of years when there was a significant and global downturn in sponsorship support).
Aware that the Orchestra needed to look beyond the public purse if it was to increase its income streams, an extensive fundraising campaign was headed up by a newly recruited Development Board. An annual Gala fundraising ball attracted many new businesses to the Orchestra and laid the foundations for increasing sponsorships.

The Ulster Orchestra's profile was enhanced by successful and well-attended public concerts in both the Ulster and Waterfront Halls, new CD recordings, broadcasts and thriving education and outreach work. Over several years of negotiation, the Players' Contract was updated and signed off with the Musicians' Union – including an important buy-out of sessions to assist the recording of commercial CDs.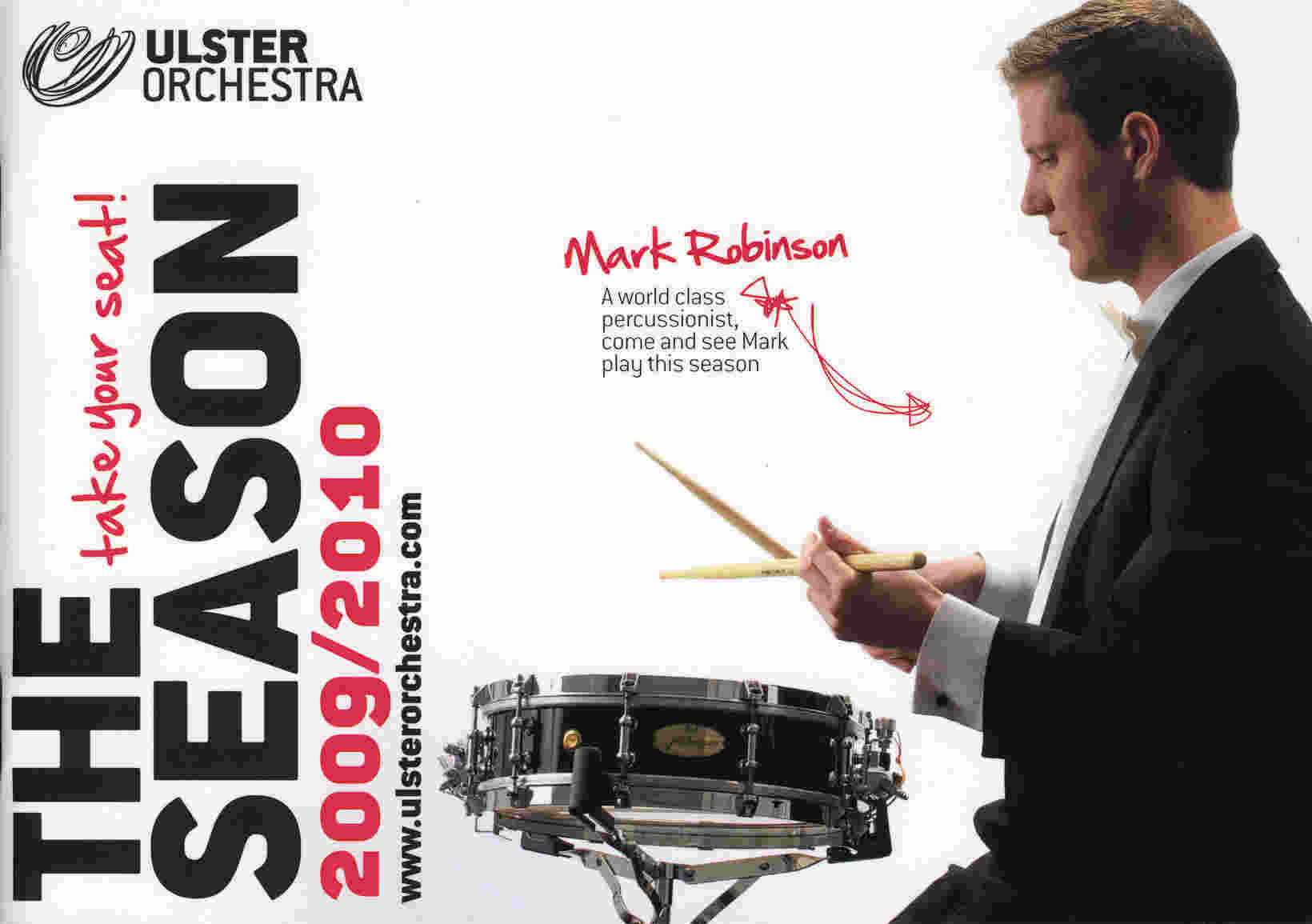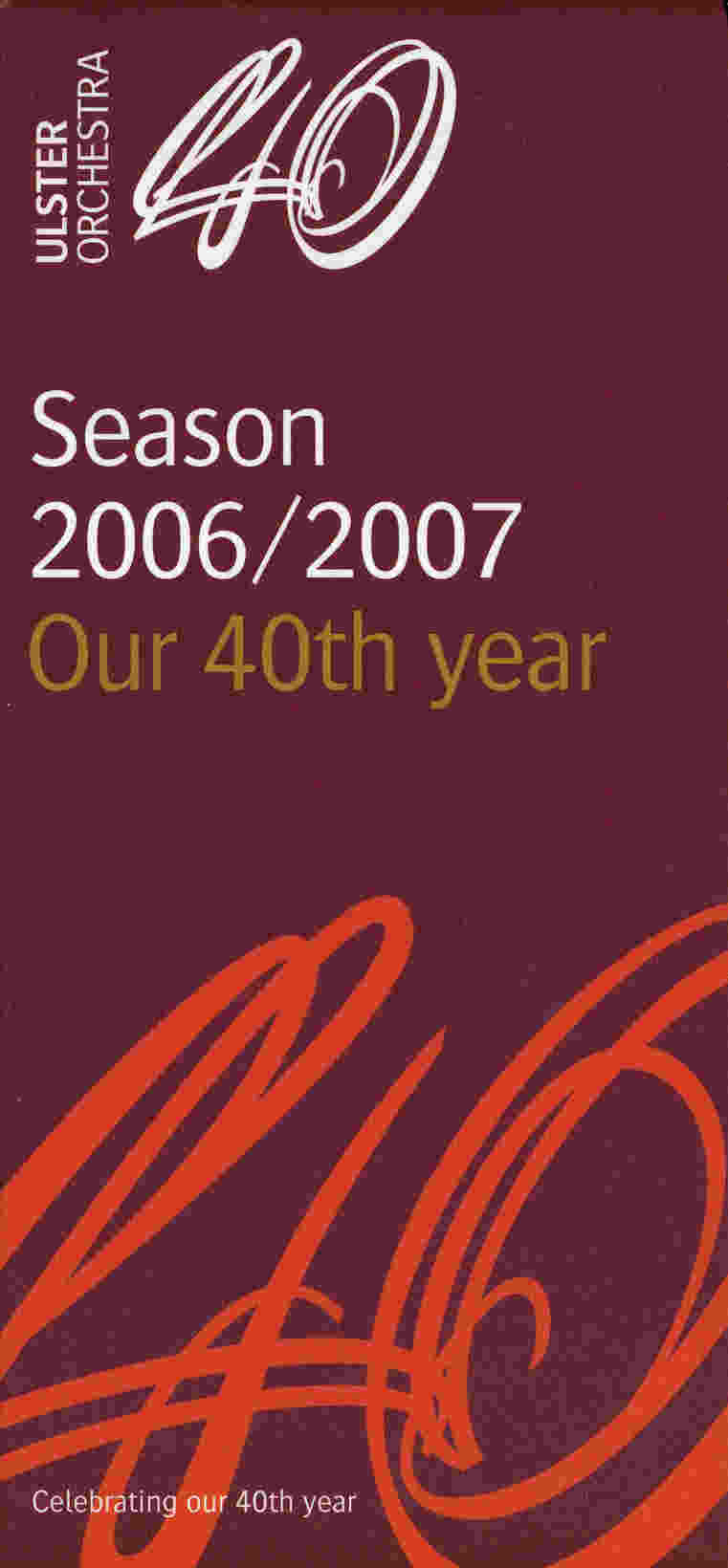 LH pic and above: Season brochure covers

Celebrations for the Orchestra's 40th anniversary, shared with Elgar's 150th anniversary in the 2006/07 season, were very successful. The season opened with A Pocket Full of Kryptonite by the Orchestra's new Associate Composer, Brian Irvine; the irrepressible Benjamin Zander conducted Mahler's First Symphony; and Barry Norman introduced Film Night to a packed Waterfront Hall.

In September 2007, Brian Irvine's Secret Cinema, celebrating the 40th Anniversary of the Ulster Orchestra, was a shortlisted nomination in the BBC Radio 3 Listeners' Award category of the British Composer Awards.

It was voted on by Radio 3 listeners for their chosen work of the broadcast year 2006/07.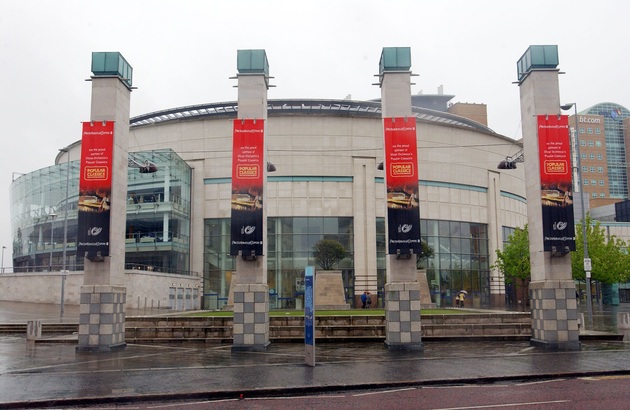 David Byers developed strong strategic partnerships with the Ulster Orchestra's funders, whilst new audiences were developed through the launch of a Popular Classics series and special concerts with major popular artists from Andreas Scholl and Bryn Terfel to Katherine Jenkins and James Galway.
The UO's Viennese Concerts, which had been competing for audiences with the visiting Raymond Gubbay-promoted fully-costumed shows, were completely revitalised from 2006 onwards with the inclusion of two dancers from the BBC's successful Strictly Come Dancing show.
LH pic: UO Popular Classics banners at the Waterfront Hall, Belfast, 2005.

Regular discussions were held with regional promoters and arts centres to provide orchestral concerts within their own financial resources and to help them take ownership of the chosen repertoire. Successful partnerships were maintained, while their funding held out, with Derry's Millennium Theatre, Enniskillen's Ardhowen Theatre, Strabane's Alley Theatre, Ballymena's Braid Arts Centre, the University of Ulster at Coleraine, Armagh's Market Place Theatre, Craigavon, Bangor and more.
Sadly, a special Sunday afternoon orchestral series in Derry's Millennium Forum in 2004 failed to attract sufficient audience support, despite using soloists from the city.
Please click on the pics above to enlarge. 1. Ronald Brautigam in concert with the UO in Dublin, April 2009;

2. UO Fundraising Dinner in St George's Market, September 2007;

3. Come & Play, Ulster Hall, March 2010.
The Elmwood Hall at Queen's had been the Orchestra's administrative and rehearsal base for many years.

With new legislation about to come into force about sound levels at work (the hall was particularly reverberant and overly loud for large orchestral forces), concerns about lighting levels and the UO Society's potential liability for upkeep of the fine plaster ceiling, it was time to look elsewhere.
Audience satisfaction was extremely good thanks to the delivery of high artistic standards and first-rate customer service. By 2007/2008, and despite the unavailability of the Ulster Hall for much of that year due to its refurbishment, the Ulster Orchestra achieved an average attendance across all Belfast venues, including the Waterfront Hall, of 84%.
In 2007, the Ulster Orchestra received the award for excellence in managing business relationships at the Allianz Arts & Business Awards NI.
David Byers successfully managed the Orchestra's move into the newly refurbished Ulster Hall (March 2009), now with additional space for the UO management offices and where the Orchestra was able to rehearse at preferential rates in return for limited public access to some rehearsals.

Right: A photo-shoot for the renovated Ulster Hall: David Byers with Roisin Donnelly and Dawson Stelfox of Consarc Design which sponsored the UO's own re-opening concert (13 March 2009).

Photo © Ulster Orchestra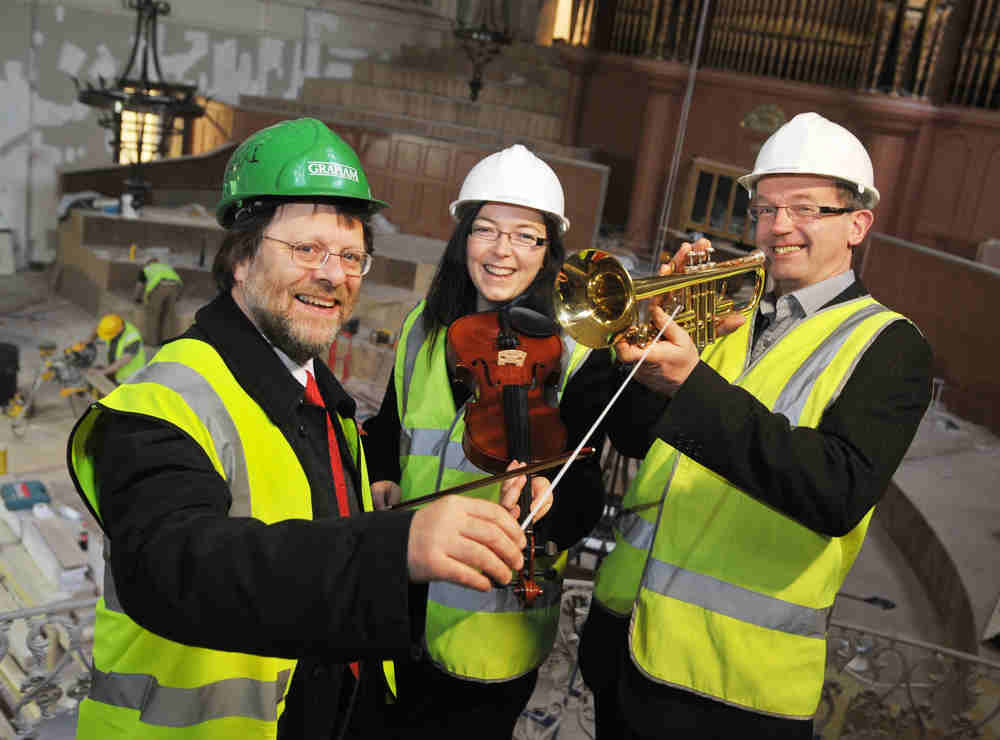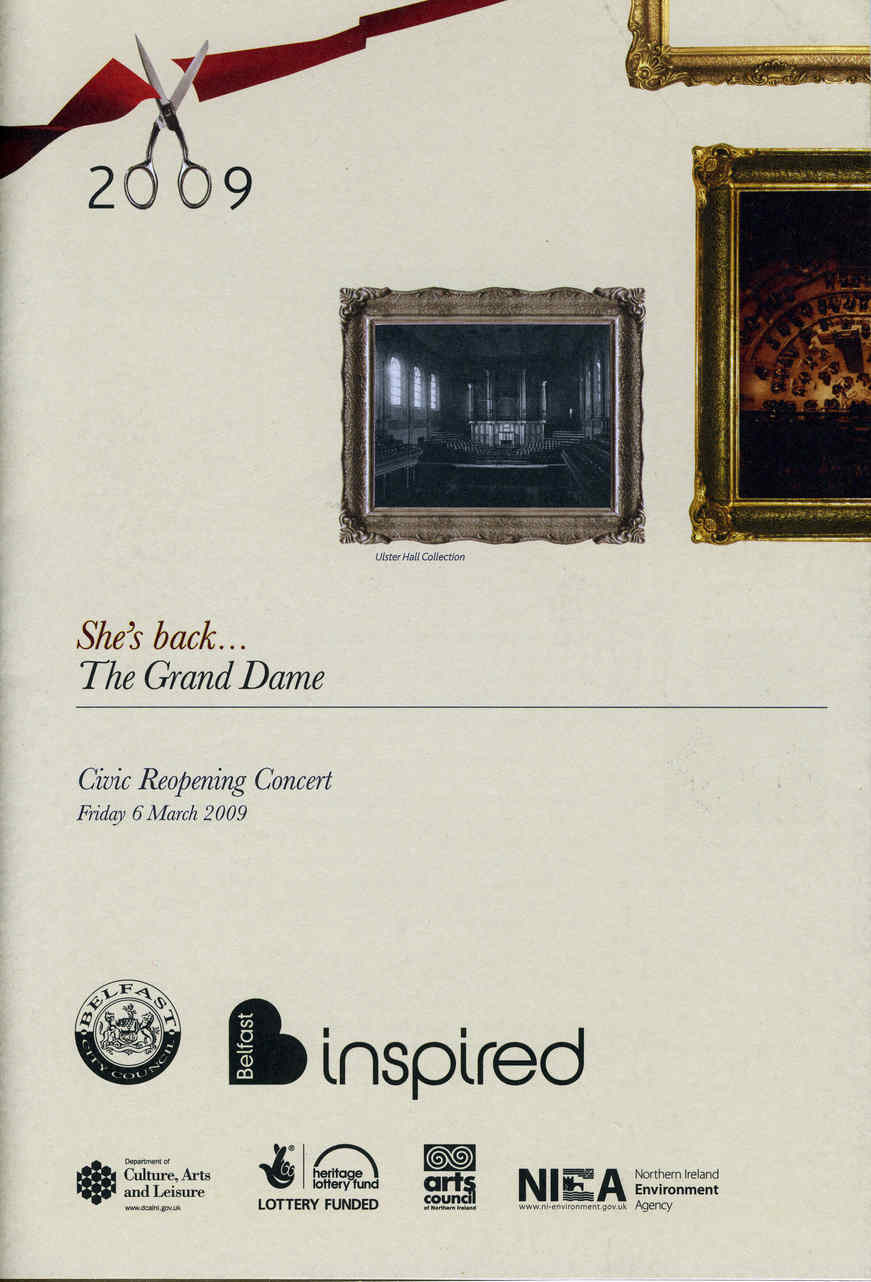 The Ulster Hall was an ideal venue for schools concerts, for the prospect of Lunchtime Concerts and for the UO's box office with its new ticketing hardware and software.

Thanks to the generosity of Ulster Garden Villages, the Orchestra acquired a new Steinway grand piano for the exclusive use of the UO in the hall.
The hall's civic re-opening orchestral concert in March 2009 included a new commission from Brian Irvine,
Big Daddy Motorhead
.
The PDF below gives a brief timeline for the UO between 1966 and 2010.
This next PDF is a more detailed timeline prepared for the UO's 50th anniversary season. It covers 1996-2017.

Left: Cover of concert programme for the Ulster Hall Civic Re-opening Concert on

6 March 2009.
2009 marked a welcome return to support from Gallaher's parent company, JTI. As part of its Corporate Social Responsibility programme it supported some notable new initiatives. The launch in September 2009 of JTI-supported monthly Ulster Hall Lunchtime Concerts quickly attracted (and subsequently maintained) tremendous audience support.

JTI's partnership with the Orchestra also helped to deliver wider community access to music through Community Christmas Concerts across Northern Ireland and the Move to the Music scheme (a continuing scheme which has allowed some 1,000 elderly people living in rural areas the opportunity to attend Ulster Orchestra concerts through the provision of a free door-to-door transport and ticket scheme).

The success of this JTI/UO partnership was widely recognised: in January 2011 by an Allianz Arts & Business NI Award; and, in May 2012, with the award of the Jaguar Land Rover Arts & Business (UK) Corporate Responsibility Award.

Reaching out to new communities included a packed Ulster Hall concert in January 2007 for the Chinese New Year.
The UO's education and outreach work grew over these years to an annual reach of 36,000 people. A multi-pronged approach encompassed: small-scale orchestral groups (and individuals with a belief and drive in such outreach work) visiting schools (including special needs schools) across Northern Ireland with specific projects; full orchestral events for large school groups (including major educational projects and a very successful partnership with the Southern Education and Library Board); Come & Play events in Belfast and Derry for young people to rehearse and perform with the Orchestra; masterclasses by visiting soloists for talented individual pupils; accessible concert programme notes; and pre-concert talks and interviews.

The creation of an Associate Composer post gave focus to the education work (Brian Irvine from 2006; Ian Wilson from 2010). This appointment led to a series of remarkable large-scale community/education projects with the Orchestra, usually in the Waterfront Hall. These included Gulliver (2004), A Marvellous Medicine (2006), The Pied Piper (2008/9, see RH pics) and Rain Falling Up (2010, and shortlisted for a British Composers Award (2012)).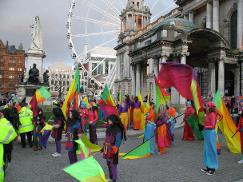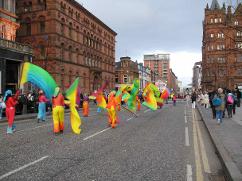 In 2009 The Pied Piper was awarded the Inspire mark of the 2012 Cultural Olympiad – making the Ulster Orchestra the first organisation in Northern Ireland to be awarded the mark.

In 2009 the Ulster Orchestra with the Patton Group won the Allianz Arts & Business NI Award in the category Arts, Business & Employees for the creative Building Blocks project which took place in March 2008 in the Braid Arts Centre, Ballymena.

That same year the Ulster Bank Group and Ulster Orchestra won the Allianz Arts & Business NI Award in the category Arts, Business & Young People for an effective partnership to demonstrate the productive power of the arts in working with children and/or young people.

The many other orchestral schools concerts included for example Colin Stark's Time Travel (2010) with music from the 17th to the 21st centuries, attended by 27 schools from across Northern Ireland.

Other successful community/education projects included The Planets project in 2005, and a very popular Classical Fever concert with Ben Zander in 2007.

During David Byers's tenure there were four visits to the BBC Proms in London's Royal Albert Hall; subscription season concerts included complete cycles of symphonies by Mendelssohn, Schubert, Beethoven, Brahms and Schumann; a Rachmaninov Piano Concerto cycle and a Chopin Festival (both with Nikolai Demidenko); and a Beethoven Piano Concerto cycle with Ronald Brautigam.

The Ulster Orchestra gives concerts across the year but seems to be omitted from the Belfast City Council's marketing of Belfast as a city of festivals. The very successful January 2009 Chopin Festival was part of a plan to rectify that. Alas, the subsequent Liszt Festival scheduled for January 2010 had to be 'pulled' following a reduction in public funding that year.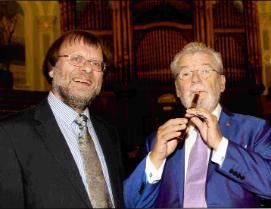 Appointments across this period included Vernon Handley as Conductor Laureate, Sir James Galway as Artist Laureate, Kenneth Montgomery as Principal Conductor, Paul Watkins succeeding Takuo Yuasa as Principal Guest Conductor, Christopher Bell as Associate Conductor, and Brian Irvine and then Ian Wilson as Associate Composers.

LH pic: David Byers with Sir James Galway, 2010.
Across David Byers's years at the BBC and then with the Ulster Orchestra, the mix of BBC and UO commissions has included composers from across Ireland (including Gerald Barry, Brian Irvine, Deirdre Gribbin, Rachel Holstead, Bill Campbell, Donnacha Dennehy, Kevin O'Connell, Ian Wilson, Piers Hellawell, Ian White, Elaine Agnew, Frank Lloyd, Neil Martin, Paul Wilson, Marion Ingoldsby, Stephen Gardner, Adrian Thomas, Philip Hammond and David Byers), plus UK composers Stephen McNeff, Edward McGuire and Mark Bowden, and international figures such as Malcolm Williamson, John Tavener, Rodion Shchedrin, Lyell Cresswell, Paweł Szymański and Kevin Volans.

In September 2009 David Byers gave the UOS Board one year's notice to allow time for a replacement to be sought.

One report thought he had 'brought stability and artistic imagination to the post through very difficult times'.

Another (Lennon and Hunter, Review of Organisation of Ulster Orchestra, March 2010, Para 4.1) stated that 'The current CEO has successfully guided and led the Orchestra for a number of years, not least through his efforts to raise orchestral standards and develop the concerts programme. He leaves a musical legacy on which others can build with confidence. He enjoys the support and respect of stakeholders, not least the players themselves. He leaves the Orchestra in a strong position artistically …'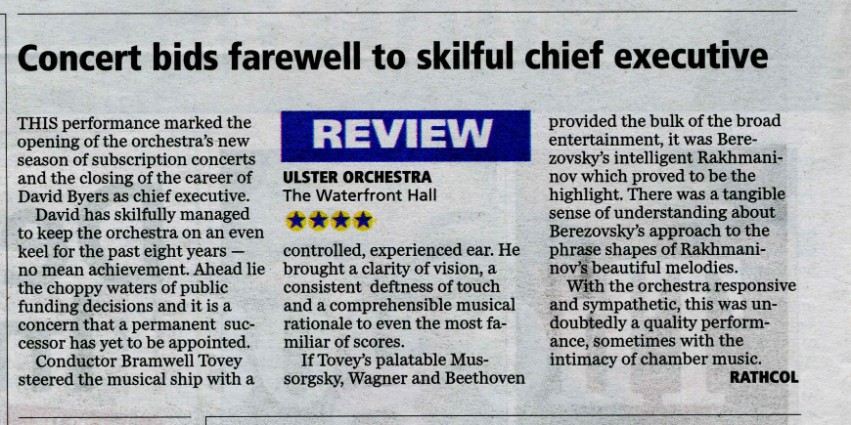 Belfast Telegraph review, September 2010

Belfast Telegraph

, 3 September 2010

by Alf McCreary
... The position of chief executive is no less important [than that of Principal Conductor].
He or she must have sound financial and managerial skills as well as a wide knowledge of music and an ability to present annual programmes which maintain high standards on limited budgets.
The retiring CEO, David Byers, is generally believed to have had all these qualities in spades - and his sure touch with the orchestra, concert-goers and the musical media will be sadly missed.