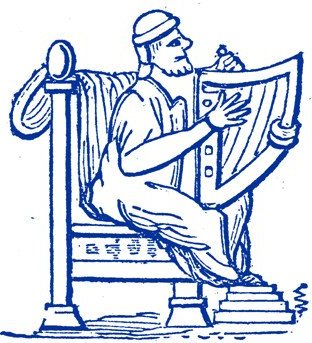 Incidental and radiophonic
Wells
(1982) music for a 20' programme for BBC NI TV:
David Hammond's film about holy wells in Ireland.
Watch and listen to the first minute of this film in the YouTube video below. It features the Conacher organ in Belmont Church, Belfast. The presenter was T.P. Flanagan (1929-2011).

Woyzeck
(Georg Büchner) (1986) (BBC Radio 3)
Sweeney Agonistes
(T.S.Eliot) (1988?) (BBC Radio 3)
Sweeney Astray
(Seamus Heaney) (1989) (BBC Radio 3)
Seize the Fire
(Tom Paulin) (1990?) (BBC Radio 3)
Medea
(Brendan Kennelly) (1991) (BBC Radio 3)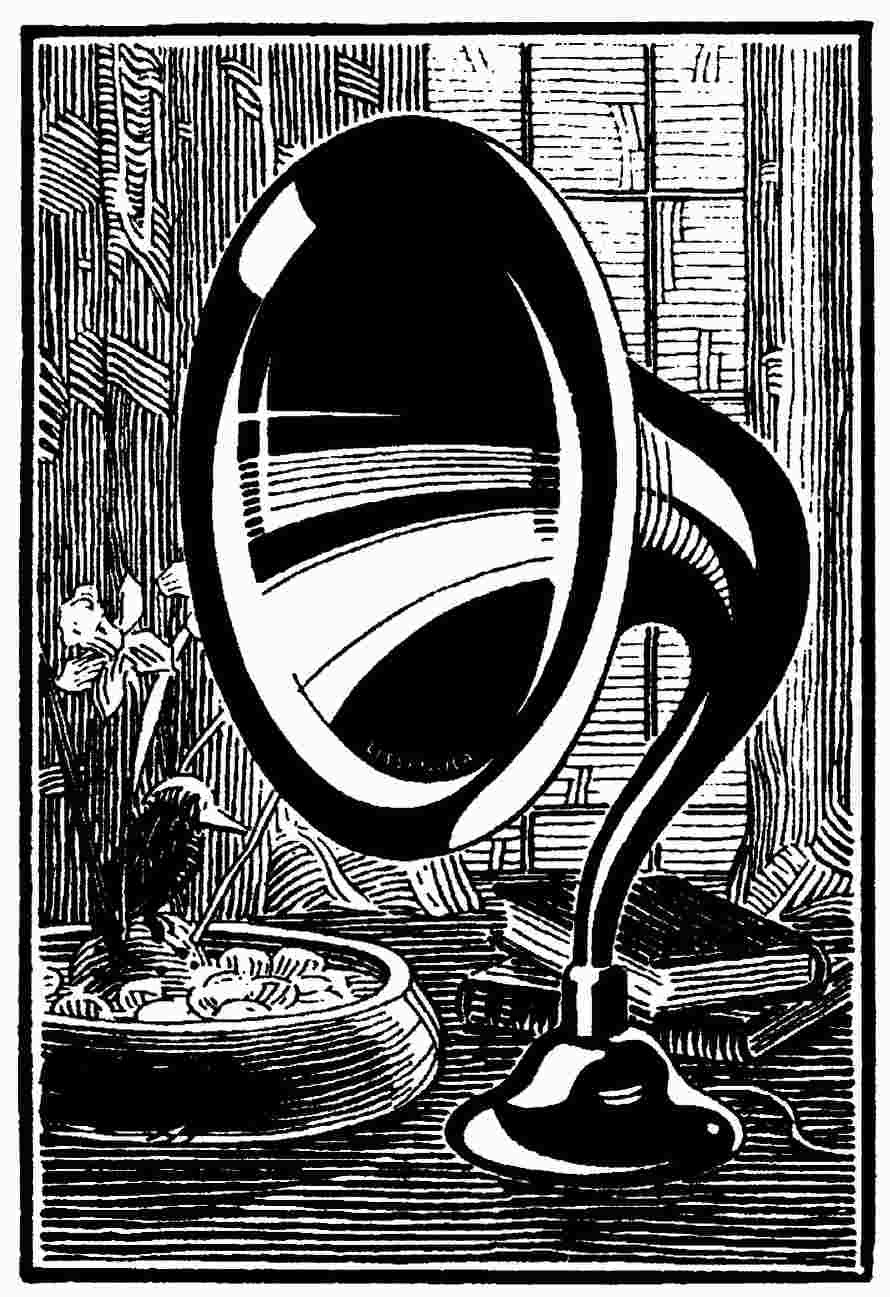 Below, please feel free to explore
Beasts and Saints
and then

The Wren's Blether
.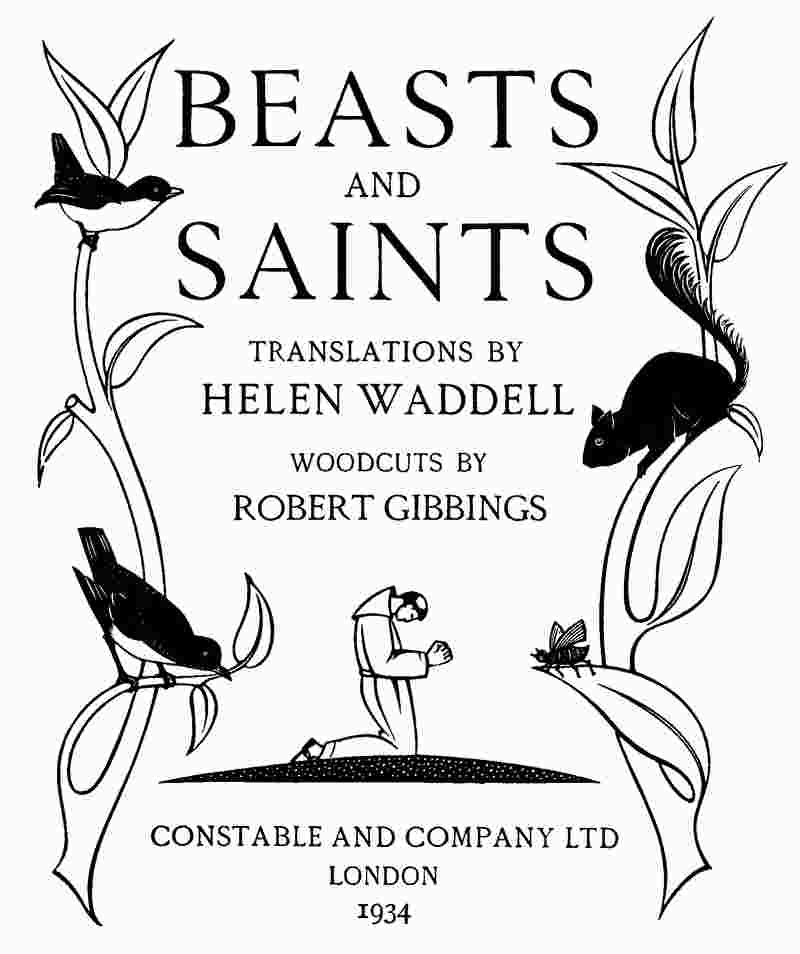 Closely related to the incidental music listed above is the music for a programme which featured translations from the Latin by the Northern Irish poet Helen Waddell (1889-1965) in
Beasts and Saints
(Constable 1934) - a publication with fine woodcuts by Robert Gibbings.
Two short pieces, dating from February/March 1989, are given here. Both use Latin texts which complement the relevant
Beasts and Saints
stories.
Soprano Dorothy Fisher is accompanied by (i) a mix of ethnic flutes and (ii) piano, toy piano, glockenspiel and egg slicers. Sound engineering by John Lunn.
St Cainnic and the Seabirds.mp3
St Cainnic and the Stag.mp3
Terra tremuit et quievit, dum resurgeret in judicio Deus. Alleluia.
The earth trembled and was still,
when God arose in judgment. Alleluia.
Text from Psalm 76.
Quae rerum novitas, aut quae causa sub egit vos ignotas temptare vias? Quo tenditis ergo? Quod genus? Unde domo? Pacem ne huc fertis an arma?
What novelty or cause made you set out on an unknown journey? Where are you going? Who are you? Where are you from? Do you come in peace or war?
Text from
The Play of Herod
, a 12th century liturgical drama. A messenger informs Herod of the approach of the magi.



The Wren's Blether
David Byers created this melodrama in December 1989 and it was first broadcast on St Patrick's Day 1990.
The Wren's Blether
features two fine Ulster actors, the late John Hewitt and Peter Quigley. It uses mummers' rhymes from Co Fermanagh along with some nursery rhymes.
The musicians include Elizabeth Bennett
flute
, Paul Schumann
clarinet
and John Leeming
cello
.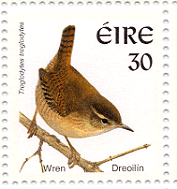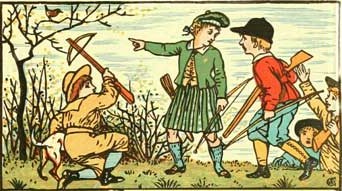 Byers The Wren's Blether.mp3
Left:
Hunting the Wren
by Walter Crane (
The Baby's Own Alphabet
, 1875).
In 1904, Herbert Hughes's collection,
Songs of Uladh
, with words by Joseph Campbell and designs by his brother John Campbell, was published in Belfast by William Mullan and in Dublin by M.H. Gill and Co. It included a song entitled
The Wren-boys of Dun
. Below is John Campbell's design and also the foot-note provided by Joseph Campbell for the song. Campbell's lengthy quotation is from a story by Limerick-born Gerald Griffin (1803-1840), novelist, poet and playwright.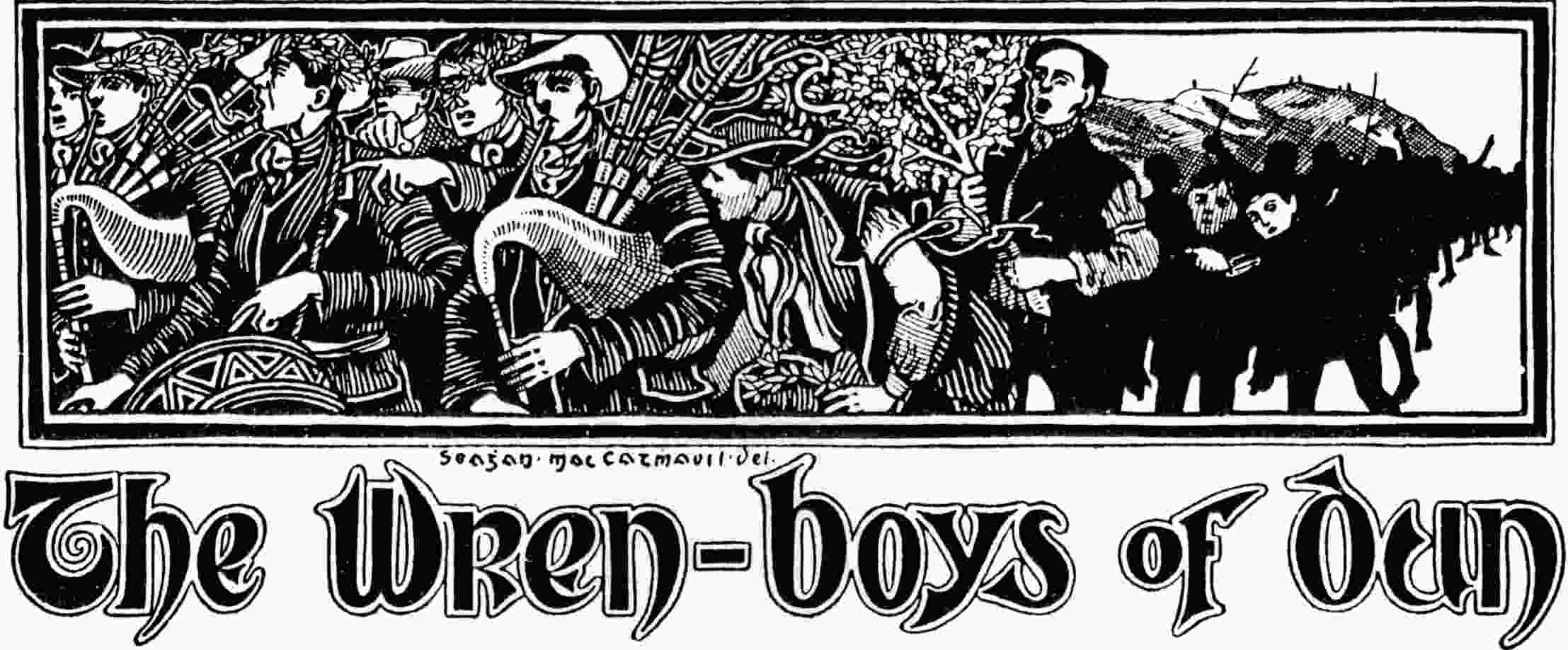 Joseph Campbell's foot-note:
Talking of the Wren-boys recalls to memory that delightful description of the Martyr's Day rout out of [Gerald] Griffin's [
The
]
Half Sir
[publ. James Duffy, Dublin, 1857]. The gentle Gerald writes:–
'The Wren-boys of Sean-ghualann [Griffin has
Shanagolden
] … were all assembled pursuant to custom on the green before the chapel-door on a fine frosty morning, being the twenty-sixth of December, or Saint Stephen's Day – a festival yet held in much reverence in Mumha [Griffin has
Munster
], although the Catholic Church has for many years ceased to look upon it as a holiday of "obligation".
'Seven or eight handsome young fellows, tricked out in ribbons of the gayest colours, white waistcoats and stockings, and furnished with musical instruments of various kinds – a fife, a piccolo, an old drum, a cracked fidil [Griffin has
fiddle
], and a set of bagpipes – assumed their place in the rear [Griffin has
rere
] of the procession, and startled the yet slumbering inhabitants of the neighbouring houses by a fearfully discordant prelude.
'Behind those came the Wren-boy
par excellence
– a lad who bore in his hands a holly-bush, the leaves of which were interwoven with long streamers of red, yellow, blue and white ribbon; all which finery, nevertheless, in no way contributed to reconcile the little mottled tenant of the bower (a wren which was tied by the leg to one of the boughs) to his state of durance. After the Wren-boy came a promiscuous crowd of youngsters, of all ages under fifteen, composing just such a little ragged rabble as one observes attending the band of a marching regiment on its entrance into a country town, shouting, hallooing, laughing, and joining in apt chorus with the droning, shrilling, squeaking, and rattling of the musicians of the morn.'
Various reasons are set forward by folk-lorists for the hunting of the wren on St. Stephen's Day. They say there is a traditional dislike to the bird in the country, for it was she that sold the Irish to their foes in the time of Ruáidhri ua Goncobhartha. She is a great seer, too, and wonder-worker (her name in Irish,
drean
, is glossed
magis avium
, the "druid of birds"); and the people are shy of her sleights, believing them to be born of nothing good.'
___________________________________

Not included in Campbell's Griffin quote is this later passage:
'Around this space the procession formed, and the Wren-boy, elevating his bush, gave out the opening stave of the festive chant, in which the whole rout presently joined:
"The Wran! the Wran! the king of all birds,
St Stephen's day was caught in the furze;
Although he's little, his family's great.
Get up, fair ladies! and give us a trate!
And if your trate be of the best,
In heaven we hope your soul will rest!"'