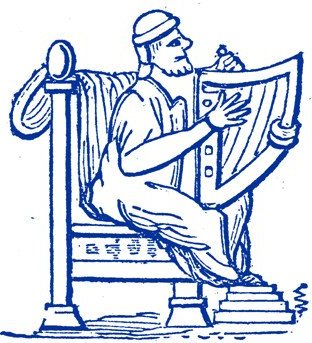 The feature below was written in November 2014. The immediate crisis seemed to have been resolved, at least in the short term, at the end of January 2015. That was when Belfast City Council confirmed its additional £100,000 and the Department of Culture, Arts and Leisure (DCAL) contributed £400,000 as a result of the January monitoring round at Stormont.

Former UO Chairman Tom Collins was quoted in the Belfast News Letter (26 January 2015), saying that 'The issue with the Ulster Orchestra is that it has always been hand-to-mouth. It has never been properly funded to deliver what's expected of it, and it's always come into crisis every three or four years. There's an immediate injection of funds of some kind cobbled together but nothing long term. The danger for them this time, again, is that they'll maybe get something that will get them through the next year or two years or three years, and then you'll get another crisis coming up.'

Sadly, all too soon. Within a few months the Orchestra lost £100,000 in Arts Council funding cutbacks (the Arts Council's funding from DCAL was itself reduced by 11% in March 2015).

Now another crisis looms. The Arts Council has just written (4 August 2015) to many of its clients to assess the impact of a likely 8 to 10% cut in funding during the current year:

'… we would ask you and your board to consider how you might apply up to an indicative 10% cut in your current year's grant from the Arts Council and assess the impact this will have on your programmes, staffing, services, audiences/participants etc., … I would be grateful if you could furnish us with this information by Thursday 20th August.'

In November 2014 I wrote: The arguments for the survival of the Ulster Orchestra have been well made. Just read through the testimonies on the Save the Ulster Orchestra Facebook page. It's a mix of head and heart, with heart predominating.

£500,000 is needed in the next few weeks lest the Orchestra's Board declares the business insolvent at the Annual General Meeting on 15 December 2014 or manages somehow to delay filing the accounts to buy itself more time.

Belfast City Council seems likely to agree an offer of £100,000 towards that figure. Speaking to the Strategic Policy and Resources Committee of Belfast City Council on 21 November 2014, the UO's Executive Chairman, Professor Sir George Bain, said that this financial contribution would assist the Orchestra in its attempt to lever additional funding from the Department of Culture, Arts and Leisure (DCAL).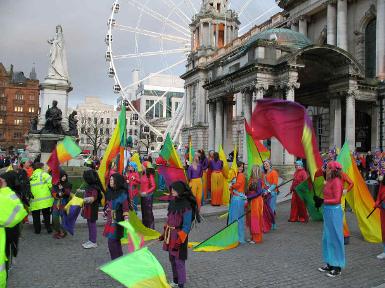 However, even if most of the £500,000 is found in time, by all accounts it will not address the situation for the next financial year. Instead, it provides the necessary time to find a way forward. Nothing can remain the same, unless a solution is found which addresses the very real and considerable shortfall in funding required to keep the UO in business as we know it.

Is there a company out there which has benefitted from Invest NI funding and which could now give something back to the community by way of a major sponsorship for the Ulster Orchestra?

LH pic: The procession to the Waterfront Hall, Belfast. The lead-in to the UO's Pied Piper project, March 2009.

At that BCC Committee meeting, Professor Bain outlined the principal aspects of a revised business model which has been formulated for the Ulster Orchestra.

He indicated that the Board would be seeking to attract additional funding from the private sector and he outlined the range of measures which the Orchestra would explore to attract additional private funding.

Professor Bain stressed that the Orchestra had established a five-year plan to enhance its future viability and sustainability. He also confirmed that he did not anticipate submitting a further request for direct Council support in future years.

The UO's Head of Finance and Operations provided an overview for the Committee of a proposed new enhanced community outreach programme.

Of course there are questions to be answered about how and why the present desperate financial scenario developed so quickly over a matter of months when it had been well sign-posted by the Arts Council, and others, three or four years ago. That's for another time.

Northern Ireland needs the Ulster Orchestra, just as the Ulster Orchestra needs Northern Ireland to stand up and be counted, NOW.
The region is certainly better off with an orchestra than without one.

Others have made the case for the benefits to society, helping it to look outwards rather than inwards, opening minds and challenging perceptions.

Some point to the magic and joy on children's faces during the UO's educational concerts.

Others point to the substantial benefits of cultural tourism.
RH pic: Arts funding protest, December 2007.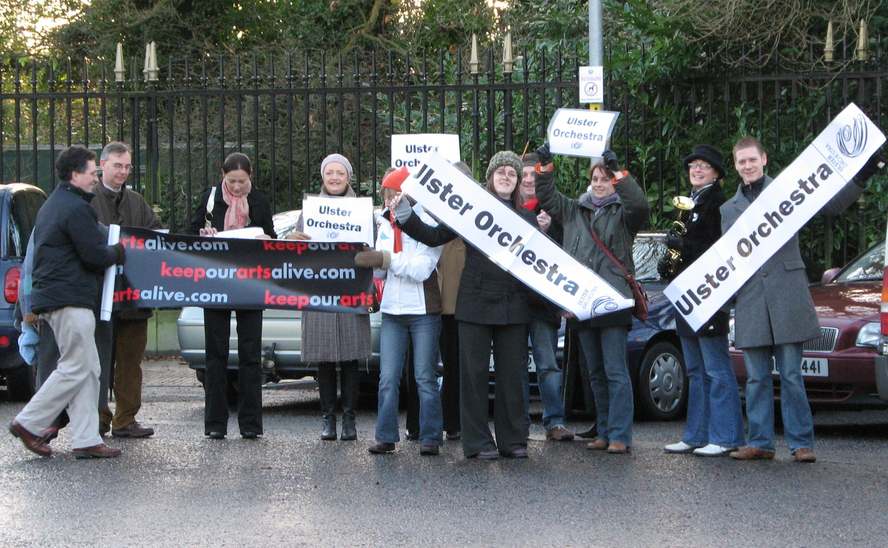 The Ulster Orchestra is open to everyone. It embraces excellence, enjoyment, entertainment and the rich heritage of music of all kinds.

The Ulster Orchestra is also about experimentation, education, expanding minds and challenge.

It's worth exploring a few of the 'head' issues – perhaps over and above the ones already well argued elsewhere.

There's much talk of a new model or five-year plan. What might that be?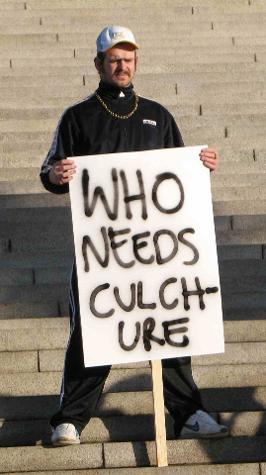 A smaller orchestra was not popular in Northern Ireland in the pre-1980 years. Programmes lacked the larger-scale Romantic and 20th century works which undoubtedly attract the larger audiences (given adequate publicity – and publicity has been missing for concerts in recent months).

A smaller orchestra with funding to expand, as and when required, using locally-based freelance players would only be possible if there was a reliable pool of resident and available freelance musicians. That might be the case for a year or two if the UO had to downsize, but many players would likely move elsewhere, following reliable work opportunities.

Ideally the current size of orchestra should be maintained. It has demonstrated its versatility (the current size also reflects the minimum size of orchestra as specified by the BBC when drawing up its requirements; a chamber orchestra was not wanted). The UO has served Northern Ireland well, both nationally and internationally – not least through its broadcasts and commercial recordings. Why would anyone throw all that away? If the size is reduced, it's highly unlikely to be rebuilt.

When the different options for orchestral provision were last examined in 2002, at another time of financial stress, the 63-piece band was deemed best value for money (the four options were: no orchestra; a smaller orchestra; maintaining the then current size of 63 players; enlarging the orchestra).
LH pic: From the Arts Funding protest at Stormont, December 2007.

If the required funding is not forthcoming to sustain the UO as it is, then, having exploited all the possibilities suggested in the bulleted list below, under heading No.2, one way forward, however depressing, will be to match the available monies to a viable schedule of work.

The players' contracts would need to be renegotiated to match whatever money is 'on the table'. This process would take account of a likely reduction in the working weeks, changes to the players' scheduled hours and explore how best to maximise the effectiveness of this invaluable resource – at the same time guaranteeing a level of work which maintained players' livelihoods and loyalties, and ensured that most would wish to remain in Northern Ireland as part of the UO team.

Is that a circle that can ever be squared?

Ultimately, the real truth is, that if you want an orchestra, you need to fund it appropriately.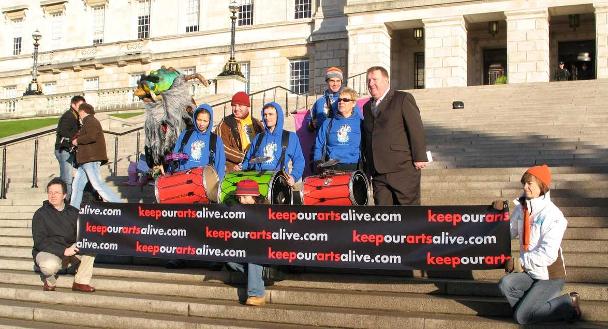 Pic: Arts funding protest at Parliament Buildings, Stormont, December 2007.

The funding partnership created in 1980 was a good model for its time. The available concert work in Belfast and throughout Northern Ireland, plus opera, plus Belfast Festival, plus Belfast Philharmonic Choir concerts, didn't fill the orchestra's working schedule or fully fund it.

Hence, on the funding front, business support was essential, as was the support of Belfast City Council.

The BBC involvement was absolutely critical: essential in providing both some additional funding and also providing extra work to utilise fully the players' time in the UO schedule.

Years passed. Even before the recession, funds were in short supply across the land. Remember the 2007 campaign to fund the arts on a par with the rest of the UK and Ireland? The pics on this page will bring back those memories!

During those passing years since 1980, opera provision came and went several times, and has now returned in a different and varied guise with NI Opera.

Likewise, in earlier years, the Belfast Festival at Queen's provided some exceptional musical events of a type not available at other times of the year. Many included the UO in large-scale concerts for which the Festival provided extra funding to make these events possible. Festival's own funding has declined in recent years and most recently, it seems that Festival's programme has incorporated UO concerts already planned as part of the UO's own season. That's a good partnership with some benefits for both sides, but with little obvious added value to the UO's coffers or its offering (apart from additional advertising exposure).

Regional centres which promoted UO concerts in the past, and wish to continue doing so, can no longer afford the additional outlay because of the centres' much squeezed budgets (the extra outlay covered some of the UO's additional costs in terms of travel, conductor, soloist and any augmentation).

It had been visionary of the Arts Council of Northern Ireland (ACNI) to provide arts facilities within 20 miles of everyone in Northern Ireland; capital funding seemed (as so often) to be readily available. It's a pity then that some local councils have lacked the funds (or the courage and vision) to invest in sufficient arts events in those buildings for the benefit of their communities, in terms of participation, enjoyment and challenge, alongside reaping the benefits of cultural tourism, etc.

That seems not to have been delivered to an extent which allows the full potential of inward and outward looking development. Will the new 'super councils' make a difference?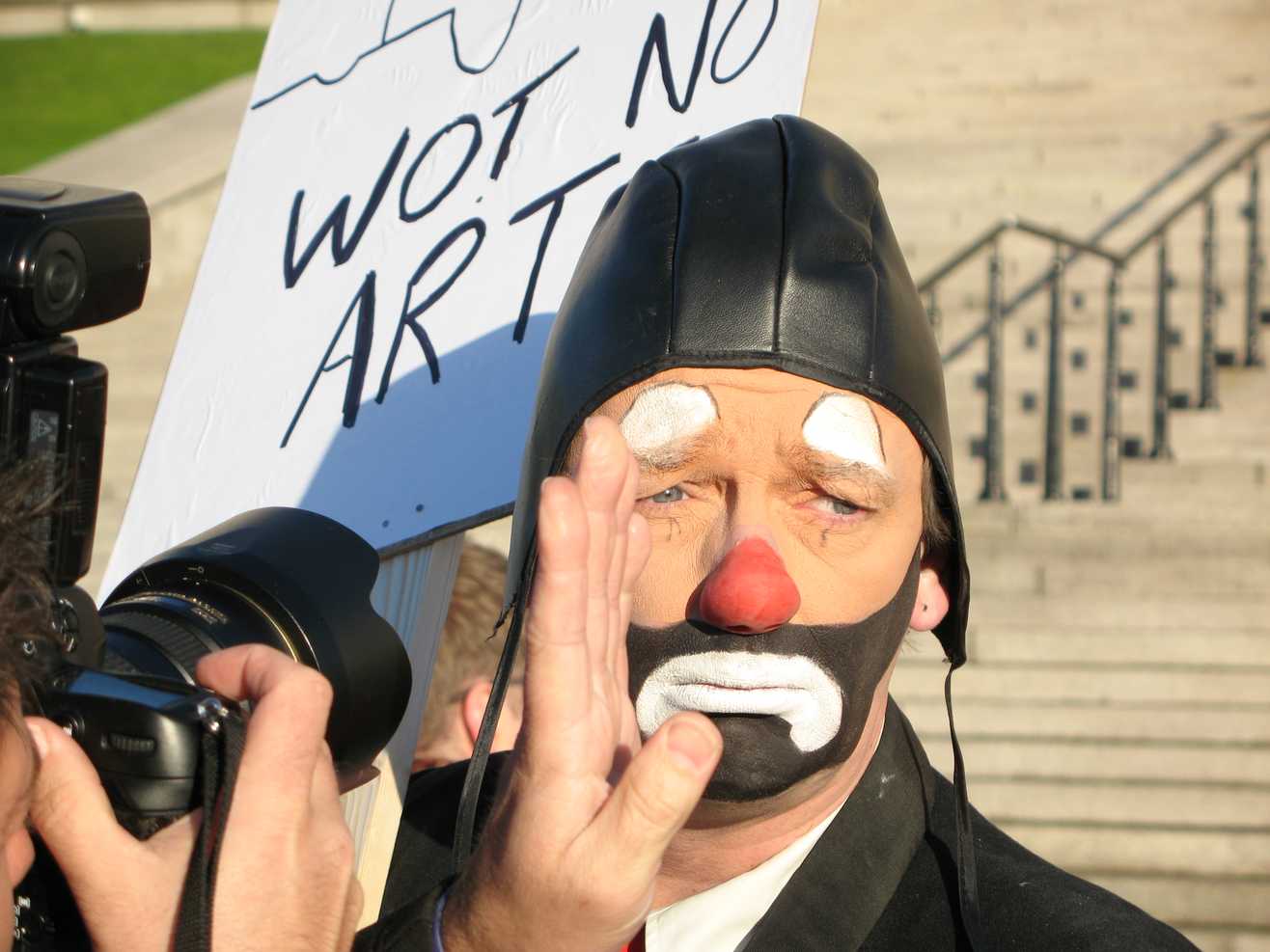 Another pic from the arts funding protest, Stormont, December 2007.

BBC Radio 3, with its own five orchestras, special buy-out deals for concerts from orchestras such as the Hallé, RLPO, CBSO and Bournemouth, and free orchestral material through the European Broadcasting Union, no longer requires as many recordings from the UO as it did during the 1980s – hence the pruning back in terms of money and recording dates.

For each BBC concert or recording undertaken by the UO, the BBC also has an additional outlay on its own part – just as the UO itself does for every concert – for a conductor, soloist, extra players required for the repertoire, hall hire, plus engineering, production and set-up costs.
So the model, when compared to 1980, is broken. How to fix it?

Two 'headings' need to be considered and properly costed:
The general maintenance costs associated with having an orchestra for Northern Ireland, based in Belfast (i.e. without any performances taken into account);

The additional artistic costs of using the Ulster Orchestra for concerts, education and community work, and recordings of all kinds.
As stated above, in parallel with this exercise there will have to be a renegotiation of the players' contracts to ensure that maximum benefit is being achieved for the investment, and that delivery of the proposed programmes of activity is completely viable, with no hidden limitations or additional costs.

New contracts will take into account a variation in the usage of working hours and/or a possible reduction in the number of working weeks. Hopefully that will be avoided if at all possible.
RH pic: Another one from the 2007 arts funding protest at Stormont.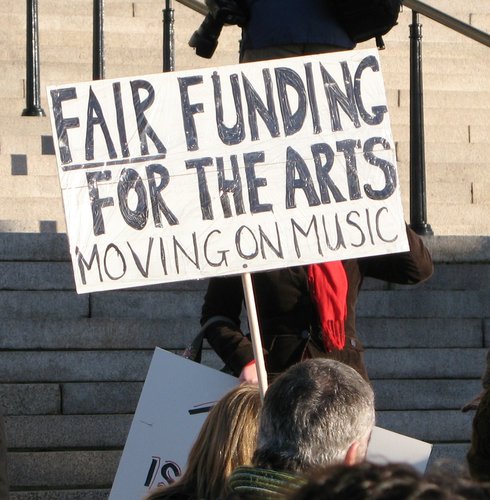 This (i.e. providing the general maintenance costs) will be an important, if difficult, equation to calculate.

A considerable part should be direct funding from the Executive/Department of Culture, Arts and Leisure. The specific percentage of the real cost will depend on whether or not other contributors can be challenged to contribute (e.g. Lottery funding; philanthropy; the establishment of an endowment fund; a BBC contribution; one or more major corporate sponsors).

All very easy to list, but not easy to bring to the table.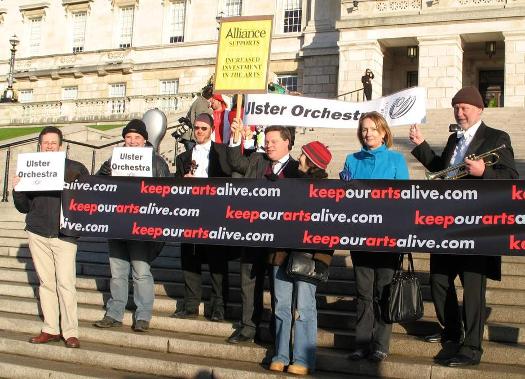 LH pic: More from that 2007 campaign.

Funding sources for the UO's artistic costs would vary, depending on the work in question, but do need to be determined and ring-fenced with some confidence:

• Box Office income (including a well-run and re-established subscription scheme that rewards loyalty and is supported with a proper marketing plan), sponsorship, legacies, and philanthropy (including support from Trusts and Foundations) will be essential. These sources, other than Box Office, need to be carefully separated from similar sources under heading No.1 above.

• ACNI would make a significant contribution to the artistic costs of major (and minor) concert series in Belfast, Derry/Londonderry and other centres across Northern Ireland. Careful control of augmentation and other costs will be essential.

• The funding of those 'across Northern Ireland' concerts will need an exploration of the willingness of the new 'super councils' to contribute to NI's orchestra, just as BCC has done for so many years. The level of that funding from BCC might hopefully be increased, acknowledging the benefits which accrue to the city from having the Ulster Hall as the UO's administration, rehearsal and main concert base.

• The BBC would continue to play an important role. Its input might be enhanced through the payment for required output (as now), plus an additional element of funding support based on the important and crucial legacy of the BBC's historic role in Northern Ireland's music-making. This assumes the desirability of the need to redress the balance of BBC orchestral support elsewhere in the UK (including recognition of the generous orchestral provision in some GB cities as against the precariously funded provision in Northern Ireland).

• The Department of Education for Northern Ireland might partner with the UO, contributing to the UO's educational programme, in particular to a new and regular strand of schools'/young people's concerts in the Ulster Hall, Guildhall in Derry, Ulster University in Coleraine, etc.

These concerts would require the funding of schools' buses and concert costs (including hall hire as 'in kind' sponsorship from he new 'super councils') – an ideal challenge for DENI, plus councils, plus sponsors, plus Trusts, etc.

RH pic: A recent UO schools' concert.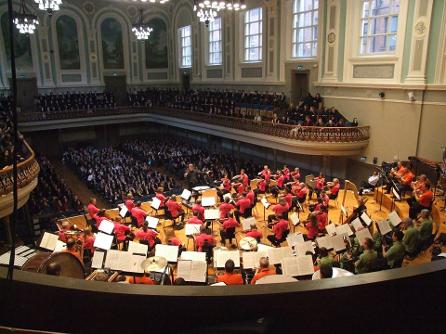 • UO Lunchtime Concerts, introduced to take up some of the slack from a reduction in BBC recordings, have been a huge audience success. The monthly concerts have been made possible thanks to the generous support of JTI. These Lunchtime Concerts could become fortnightly where the schedule permits, particularly if they are programmed with the minimum use of extras (to minimise costs).

• Orchestral recordings through Northern Ireland Screen for the film and television industry are always welcome and need to develop, but they must be properly funded, at least to cover all UO costs, including administration.

• It would be worth exploring the potential for a commitment from councils in border areas to promote UO concerts in Dundalk, Monaghan, Letterkenny, etc. Perhaps An Chomhairle Ealaíon would welcome (and maybe fund) this, as it did as a 'once off' successful trial scheme some years ago.

International and national touring, along with commercial recordings ('commercial' is something of a misnomer these days), come with add-on costs. Important though both these are, they should only be undertaken when fully-funded from other sources, patrons or crowd-funding.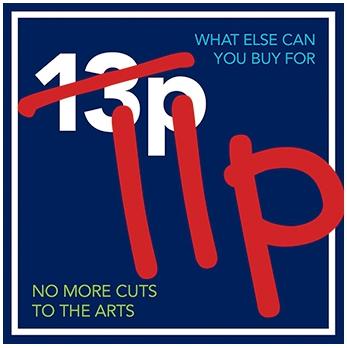 The general background mood music is not helpful.
The Arts Council of Northern Ireland has pointed out that the draft budget for Northern Ireland, 2015-2016, is now out for public consultation.
On its
website
, ACNI states that this draft document proposes a 10% cut to the budget for the Department of Culture, Arts and Leisure, meaning an 11.2% cut to direct public funding for the arts.
"This is the biggest cut yet for the arts and culture sectors. It follows on the back of six successive cuts, including two this year alone, and would set the Arts Council's budget back a decade to below 2005/06 levels."
"Currently the NI Assembly invests just 13p per head of population per week in direct funding for the arts [
most recently this figure was downgraded to just 11p
]. To put that into context, the annual arts budget would sustain the Health Service for less than one day. Yet this relatively tiny investment in the arts of 0.1% (1/1000th) of total government spending brings BIG returns for Northern Ireland."