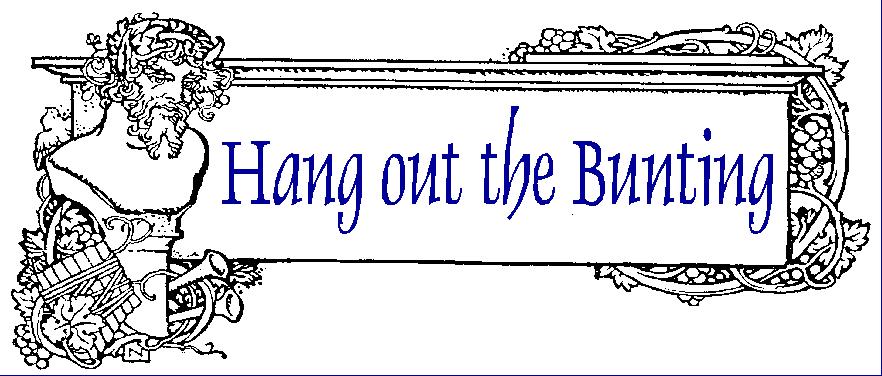 A portrait of Edward Bunting (1773-1843)
compiled by David Byers

"Yes, the time will come when we shall be a great, because a united, nation; and when, glorying in our ancient music, the common property of all, we shall raise a well earned monument to Edward Bunting."
(from a review, most likely by George Petrie, of
Ancient Music of Ireland
in the
Dublin University Magazine
, January 1841.)
Edward Bunting set about publishing a comprehensive collection of some of the treasures of Irish traditional music at the end of the 18th century. But he certainly wasn't the first.

Some 70 years earlier, John and William Neal published
A colection
[sic]
of the most celebrated Irish tunes proper for the violin, German flute or hautboy
(Dublin 1724).
The only surviving copy (now in the library of The Queen's University, Belfast) had been owned by Bunting and may have inspired him in his endeavours.
Like Bunting's publications, the Neal
Collection
also seems to have been sourced from the playing of harpers. But Bunting reckoned
his
collection was the best to date.
Right: Title page of Bunting's copy of the Neal
Collection
.
A facsimile reprint edition (2nd edition, 2010) by Nicholas Carolan is available from the
Irish Traditional Music Archive
in association with the Folk Music Society of Ireland.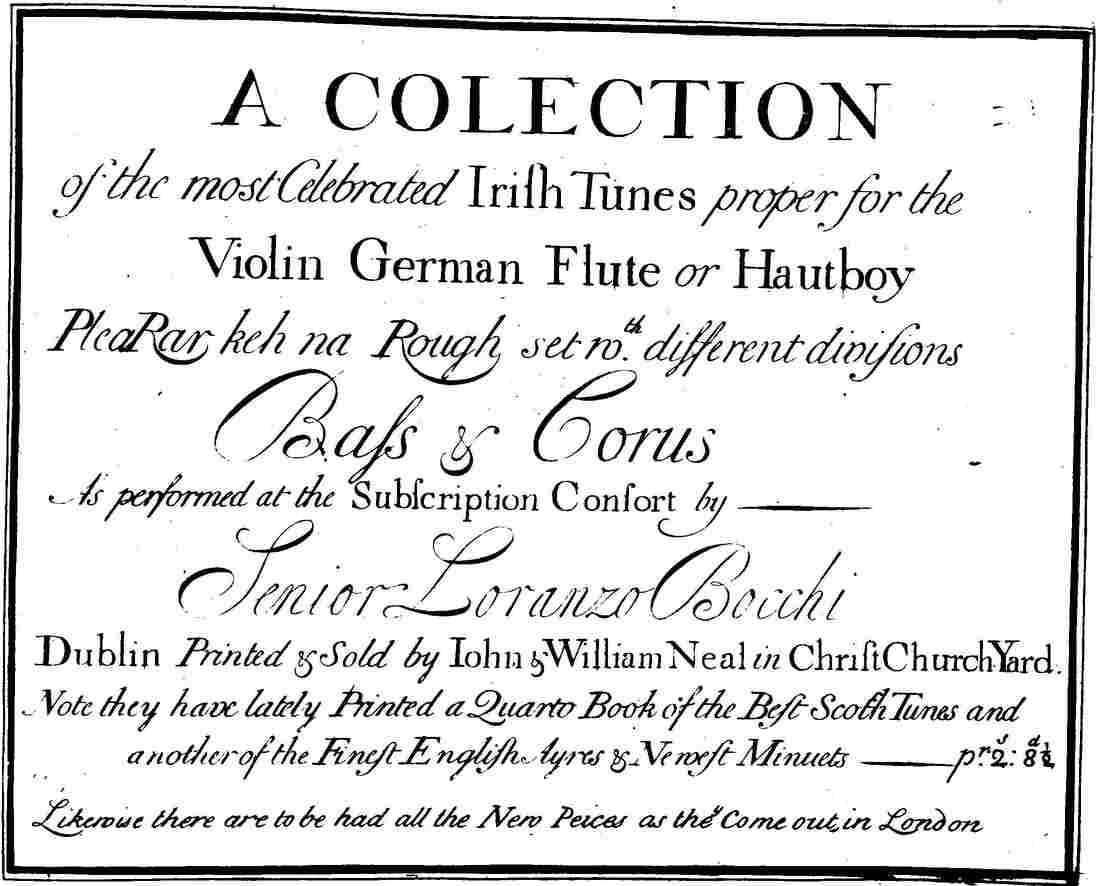 "Before this time there had been but three attempts of this nature. One by Burke Thumoth in 1720 [actually in the 1740s], another by Neill [sic] of Christ Churchyard soon after, and a third by Carolan's son, patronised by Dean Delaney about 1747. In all these the arrangement was calculated rather for the flute or violin than for a keyed instrument, so that the tunes were to a great extent deprived of their peculiar character, and as they were deficient in arrangement, so were they meagre in extent."

"On the whole, the Editor may safely say that his publication ... was the first and only collection of genuine Irish harp music given to the world up to the year 1796."

Bunting's piano arrangements of the airs, which he heard played by the last of the Irish harpers, were published in 1796, 1809 (reprinted 1811) and 1840.

The importance of these collections was recognised by a facsimile one-volume reprint published by Waltons of Dublin in 1969, but when Bunting died there was not even one paragraph's tribute in either the Belfast or Dublin press.

Edward Bunting:

"I admit that by reviving Ireland's national music, by making the study and preservation of our Irish melodies the main business of my life, I hope that in years to come I may be thought of as ranking with those worthy Irishmen whose labours have from time to time sustained the reputation of the country for a native literature."

"But above all, the thing which has kept me going is my obsession: a strong innate love of these delightful strains for their own sake. Neither the experience of the best music of other countries nor the control of a vitiated public taste, nor the influence of my advancing years has ever been able to alter or diminish that love."

Bunting's father, from Derbyshire, moved to Co. Tyrone to work at the relatively new 'coal-works' at Coalisland around 1854. He's believed to have been a manager, probably at the Drumglass pit, but when the mine ran into financial difficulties and closed, Bunting moved to Armagh, possibly around 1760. Interestingly, the Coalisland mining venture was owned by a partnership which included the Archbishop of Armagh.
Bunting's mother was Mary O'Quin, said to be descended from the chief of an ancient Irish clan, and it was to her that Bunting attributed his musical talents.
In the journal Dúiche Néill, Vol.24 (2017), Frank Bunting, a descendant of Edward Bunting's elder brother Anthony, points to the surviving List of the Inhabitants of the Town of Armagh, 1770. Therein is a Bunton [sic] family (Bunton was a frequent misspelling or misinterpretation of Bunting even well into the 19th century) which lived in Scotch Street. Edward Bunton was a carpenter, a likely occupation for someone formerly involved with mining. There were five children at that time and the family was Church of Ireland.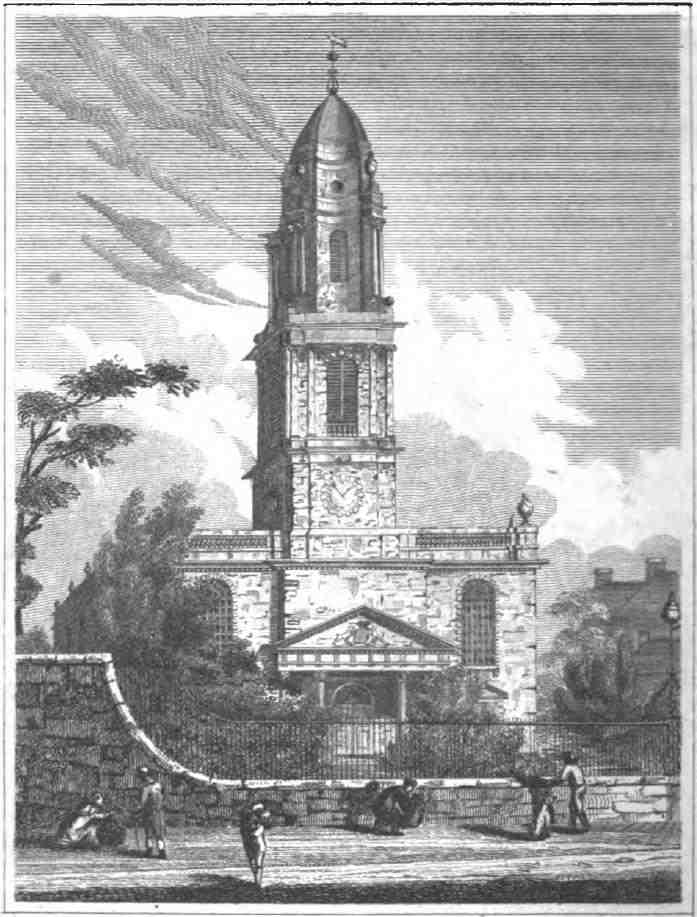 Child mortality rates were high, but we confidently know of three surviving sons of the marriage, Anthony, Edward and John - all born in Armagh and destined to become organists and teachers. According to George Petrie (of whom more below) Edward was the youngest, though the details on John's gravestone (not always to be trusted) suggest that he was the youngest (1776-1828). Edward was born in February 1773.

It seems most likely that Anthony and Edward (and maybe John if he's older than his gravestone suggests) would have had lessons from Robert Barnes who was Armagh Cathedral organist between 1759 and 1774 before being reassigned to Vicar Choral, due to his 'insufficiencies' as an organist! Barnes successor as organist, Dr Langrish Doyle, from 1776 to 1780, may also have given the boys some tuition.

Tragedy struck with the death of the boys' father around 1782. And so, at the age of nine, Edward, if not also John, went to live in Drogheda with his brother Anthony (1765-1851) who gave him music lessons for two years. Progress was so good that young Edward was asked by William Ware to deputise for him at the organ of St. Anne's Parish Church in Belfast while Ware was away in London.

Left: St. Anne's Church, Belfast. An engraving by John Thomson from George Benn's 1823
History of Belfast
. The low portico was replaced with tall Corinthian columns in 1832.
St. Anne's occupied the site of the present cathedral and at that time it possessed the only organ, a Snetzler, in Belfast.
It may be a boastful exaggeration, but it's recorded that during his visit to Belfast, the young Edward Bunting was found to be a better organist than Ware. Without further ado, Bunting was articled to Ware as his assistant in 1784.
The artist, archaeologist and folk song collector George Petrie (1790-1866), a friend of Bunting's old age, described the attitudes of the eleven-year-old-about-town and gives a most unflattering picture of the adolescent Bunting.
George Petrie:
In addition to his duties as assistant or sub-organist at the church, Bunting had also to act as deputy teacher to Mr. Ware's pupils on the piano-forte throughout the neighbouring country.

The zeal of the young master to fulfil his duties was often productive of the most ludicrous results. His young lady pupils, who were often many years older than himself, were accustomed to take his reproofs with anything but angelic temper, and I've heard him tell how a Miss Stewart, of Wilmont, in the County of Down, was so astonished at his audacity, that she indignantly turned round upon him and well boxed his ears.

After a few years spent in this manner, he became a professor on his own account, and as his abilities as a performer had become developed, his company was courted by the higher class of the Belfast citizens, as well as by the gentry of its neighbourhood. In short, the boy prodigy became an idol amongst them.

Courted and caressed, flattered and humoured, he should have paid the usual penalty for such pampering - that his temper should have become pettish, and his habits wayward and idle - he did everything as he liked, with a reckless disregard of what might be thought of it.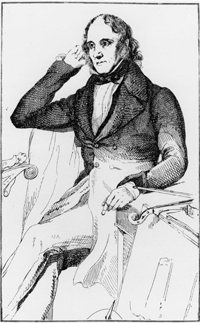 Wayward and pettish he remained through life, and for a long period - at least occasionally - idle, and, I fear dissipated; for hard drinking was the habit of the Belfastians in those days. But, while still young, not more than 19, an event occurred, which gave his ardent and excitable temperament a worthy object of ambition on which to employ it, and which necessarily required a cultivation of his powers, to enable him to effect it. The event I allude to was the assemblage at Belfast, in 1792, of the harpers from all parts of Ireland.

Right: A PDF with a complete transcript of George Petrie's
Portrait
of his friend Edward Bunting, published in the
Dublin University Magazine
, January 1847.

Before reaching that assembly of harpers in Belfast (usually, if somewhat inaccurately, referred to as the Belfast Harp Festival), it's interesting to note that during Bunting's time in Belfast - around 35 years - he stayed with the McCracken family in Rosemary Lane.

It was a family at the very centre of the social and political problems of the time, and the young Edward Bunting, while close to them and involved in political debate, seems to have remained outside most of the actual intrigue.

Just one year before the Harp Festival, Bunting had talked politics in the Donegall Arms with a company which included such notables as Thomas Russell, Wolfe Tone and Henry Joy (an uncle of the McCracken family in Donegall Street).
It was a committee of Henry Joy, Dr. James MacDonnell, Robert Simms and Robert Bradshaw (the Secretary and Treasurer) which set about organising the Great Harpers' Festival, 11-14 July 1792. All four were members of the Belfast Reading Society (shortly to change its name to the Belfast Society for Promoting Knowledge), founded to set up a town library.
Belfast News-Letter
26 April 1792: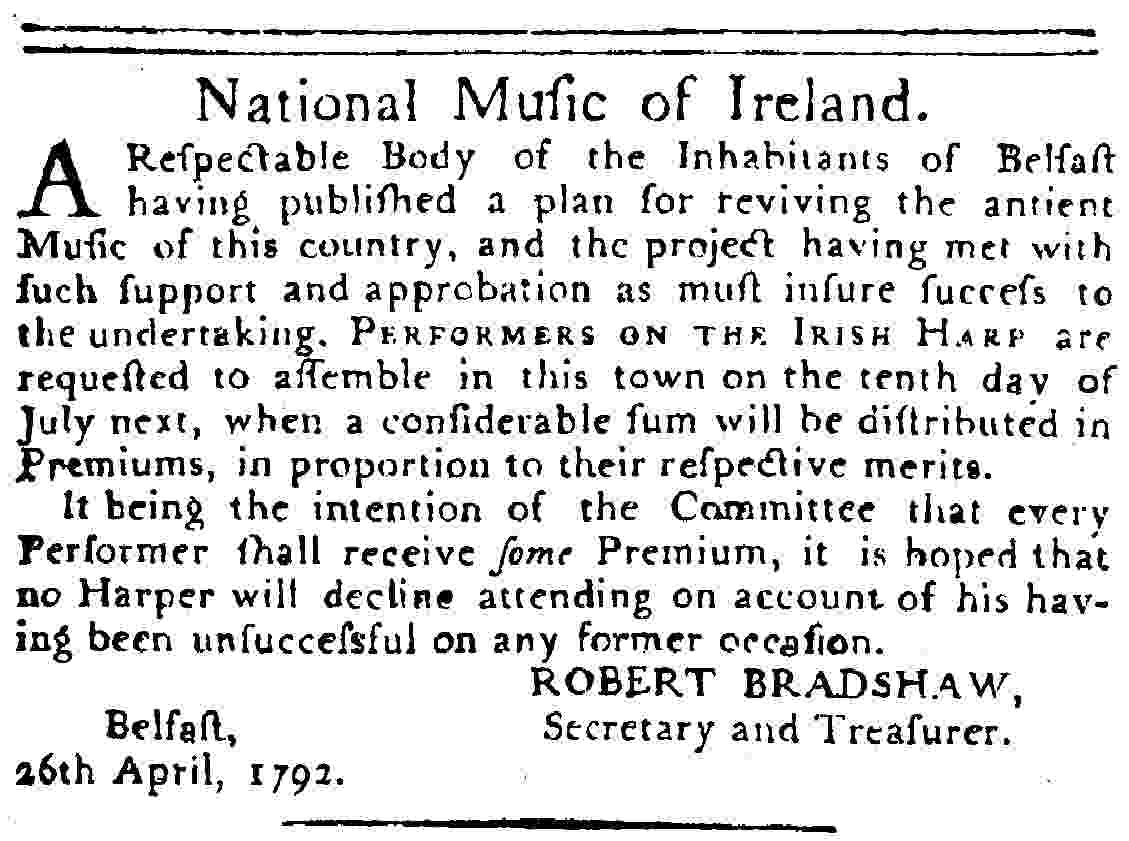 National Music of Ireland

A Respectable Body of the Inhabitants of Belfast
having published a plan for reviving the ancient
Music of this country, and the project having met with
such support and approbation as must insure success to
the undertaking, PERFORMERS ON THE IRISH HARP are
requested to assemble in this town on the tenth day of
July next, when a considerable sum will be distributed in
Premiums, in proportion to their respective merits.
It being the intention of the Committee that every
Performer shall receive
some
Premium, it is hoped that
no Harper will decline attending on account of his hav-
ing been unsuccessful on any former occasion.
This last paragraph refers to problems encountered at harp festivals held at Granard, Co. Longford in the 1780s. Many writers have questioned the altruism of the organisers (who were closely connected to the United Irishmen) and speculated about the coincidence of the Harp Festival with the third anniversary celebration of the storming of the Bastille, and a series of political meetings with Wolfe Tone and the United Irishmen.

Eleven harpers (including a Welshman), aged from 15 to 97, six of them blind, competed for a first prize of ten guineas.

They were:

Daniel Black, aged 75, Co. Derry (blind)
Charles Byrne, aged 80, Co. Leitrim
William Carr, aged 15, Co. Armagh
James Duncan, aged 45, Co. Down
Charles Fanning, aged 56, Co. Cavan
Denis Hempson, aged 97, Co. Derry (blind)
Hugh Higgins, aged 55, Co. Mayo (blind)
Rose Mooney, aged 52, Co. Meath (blind)
Arthur O'Neill, aged 58, Co. Tyrone (blind)
Patrick Quinn, aged 47, Co. Armagh (blind)
?? Williams, age unknown, Wales
Right: An engraving of Denis Hempson.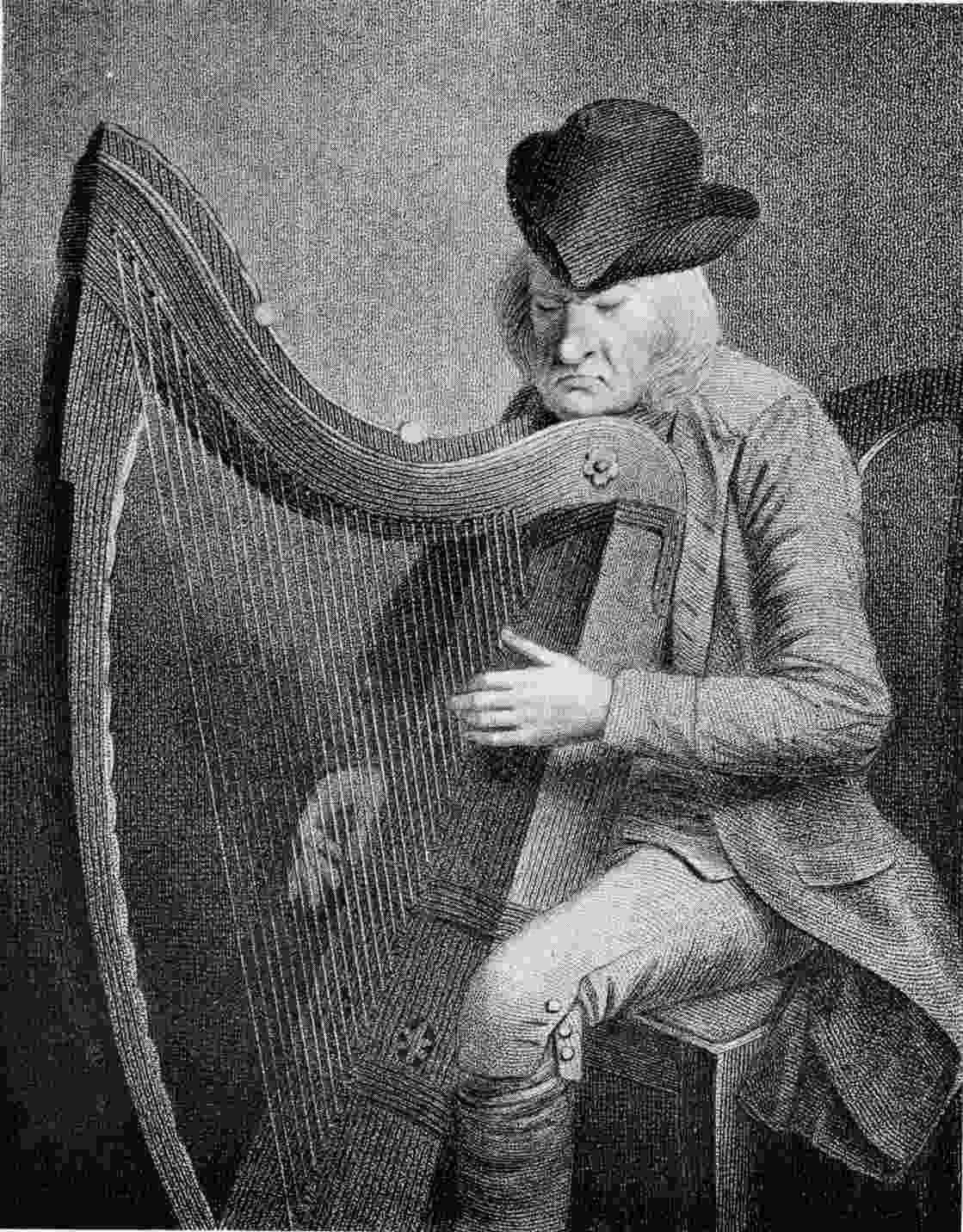 Bunting, then aged 19, was one of three "practical musicians" (the other two, William Ware and John Sharp, either didn't show or simply 'took a back seat') who were asked to note down the music as the harpers played in the Assembly Rooms on the first floor of the Exchange in Belfast.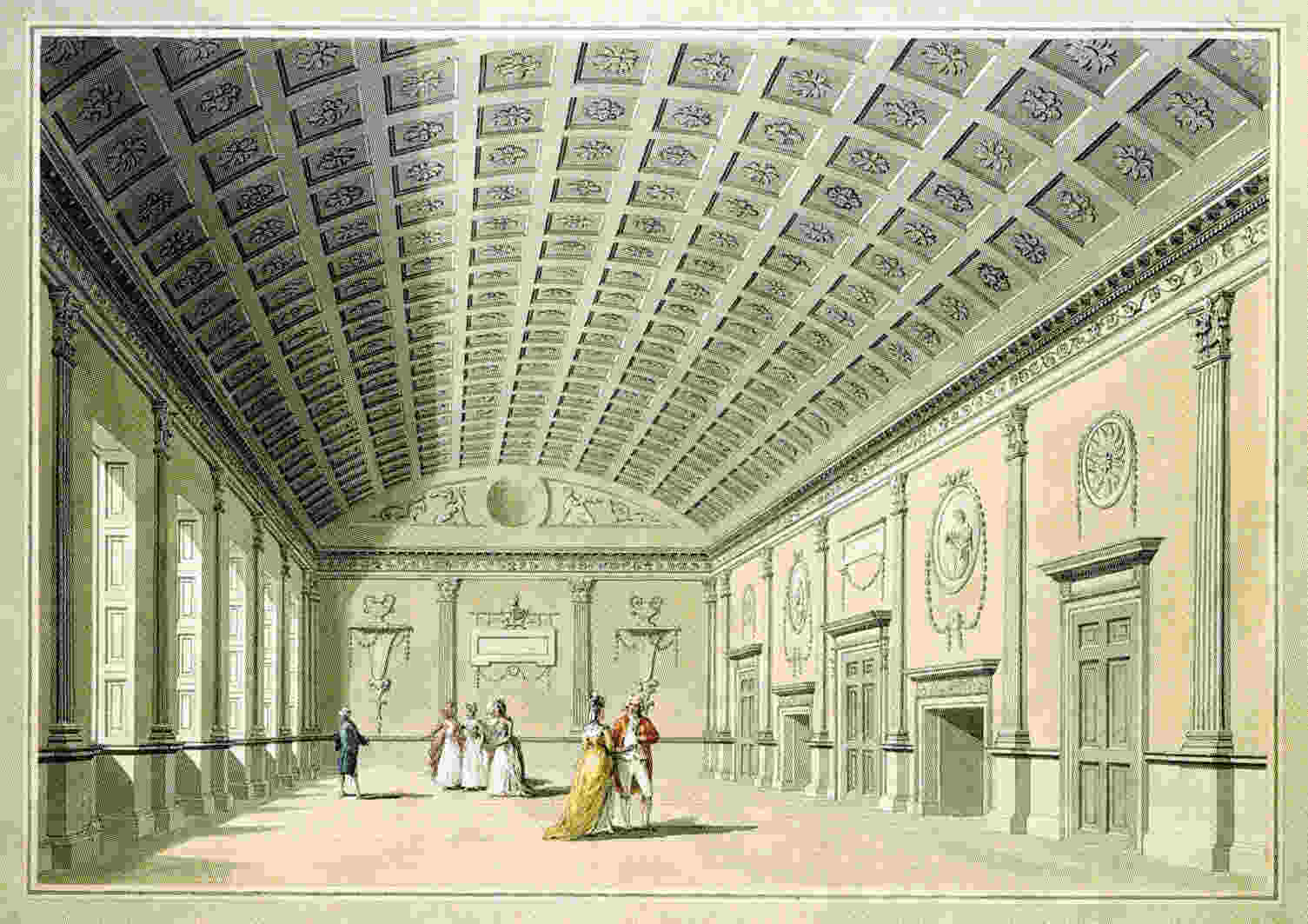 Left: This 1790 aquatint of the Assembly Rooms in the Exchange is by Thomas Malton "the Younger" (1748-1804).

Originally an arcaded market-house, the Exchange was built in 1769. Lord Donegall then invited the London architect Sir Robert Taylor to add this elegant first floor Assembly Rooms in 1776.

I was appointed to attend the Festival and to take down the various airs played by the different harpers. I was particularly cautioned against adding a single note to the old melodies which would seem to have been preserved pure and handed down unalloyed through a long succession of ages.
Wolfe Tone
's diary entries, coloured by his hangovers, record the event in less than enthusiastic terms!
July 11th:
Rise with a great headache; stupid as a mill horse … All go to Harpers at one; poor enough; ten performers; seven execrable, three good, one of them, Fanning far the best. No new musical discovery; believe all the good Irish tunes are already written …

July 12th:
Rise again with a headache resulting from late hours … lounge to harpers …

July 13th:
Rise again with headache … Belfast not half so pleasant this time as last; politics just as good or better; everything else worse … generally in low spirits … the Harpers again, strum, strum, and be hanged …

However, Bunting
was
fired with enthusiasm for the music he had heard. He began to compile his first collection and during the years immediately after the Festival he made journeys to Galway, Derry and Mayo to gather a number of airs.
In 1796, he published his first book
A General Collection of the Ancient Irish Music
: sixty-six native Irish Airs "never before published". See it
here
, courtesy of the Irish Traditional Music Archive. The first edition was "Printed & sold by Preston & Son, at their Wholesale Warehouses, 97 Strand [London]", and pirated editions soon followed, including those in Dublin by Hime, 24 College Green, and Power, 4 Westmoreland Street.
Martha McTier (letter to Dr. Drennan, December 1797):
Have you heard Bunting's Irish music? …To me they are sounds might make Pitt melt for the poor Irish - not a copy is now to be got - but I hear they are very unjustly going to reprint them in Dublin [a reference to pirated editions].

Martha McTier (letter to Dr. Drennan, February 1798):

Have you got the Irish music - it is the rage here - it would be worth your while to try if you could hear him [Bunting] play his Irish music - sugar plumbs or sweetys is his greatest temptation, for he despises both money and praise and is thought a good-hearted original.

The book stands as the earliest standard authority. View it with regard to its after-effect in popularising and saving Irish music, it must be classed as an epoch-making book. Not that its circulation was very extensive, for indeed it brought little profit to the young man who gave it to the world.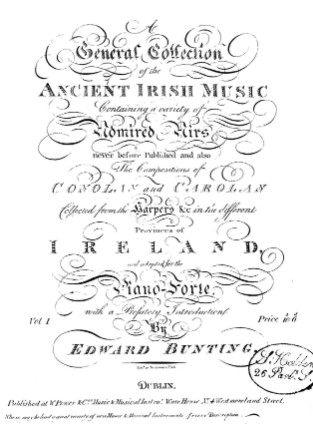 The subject of the compiler and of his enthusiastic supporters in Belfast was accomplished indirectly through the medium of others who followed in Bunting's track and gleaned the reward of his labours. In short, he gave the material and inspiration to Moore for his Irish melodies which are known and sung in every country of the civilised world.

"Gave the material" is not quite the right way to express it! When Moore's first volume appeared, eleven of its sixteen melodies were derived from Bunting's collection and Moore continued to draw extensively upon the collection in subsequent volumes - much to Bunting's extreme disapproval!

Thomas Moore: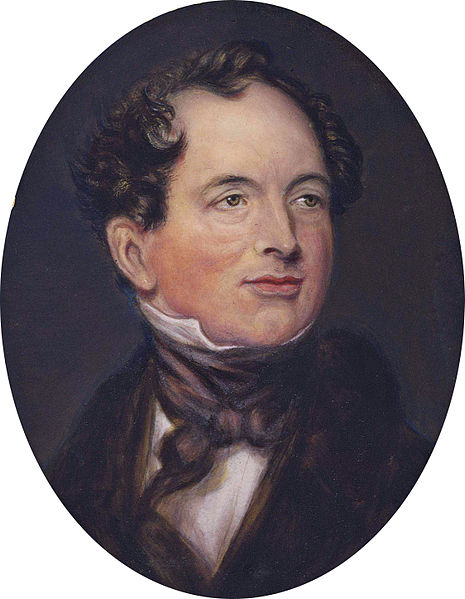 Considering the thorn I have been in poor Bunting's side by supplanting him in the one great object of his life (the connection of his name with the fame of Irish Music) the temper in which he now speaks of my success (for some years since he was rather termagant on the subject) is not a little creditable to his good nature and good sense.

Speaking of the use I made of the first volume of airs published by him he says: "They were soon adapted as vehicles for the most beautiful popular songs that perhaps have ever been composed by any lyric poet."


He complains strongly, however, of the alterations made in the original airs, and laments that "the work of the Poet was accounted of so paramount an interest that the proper order of song writing was in many instances inverted, and instead of the words being adapted to the tunes, the tune was too often adapted to the words: a solecism which could never have happened had the reputation of the writer not been so great as at once to carry the tunes he designed to make use of, altogether out of their old sphere among the simple tradition-loving people of the Country with whom in truth many of the new melodies to this day are hardly suspected to be themselves."
He lays the blame of all these alterations upon Stevenson, but poor Sir John was entirely innocent of them; as the whole task of selecting the airs and in some instances shaping them thus, in particular passages, to the general sentiment, which the melody appeared to me to express was undertaken solely by myself.

Had I not ventured on these very admissible liberties many of the songs now most known and popular would have been still sleeping with all their authentic dross about them in Mr Bunting's first Volume.

The same charge is brought by him respecting those airs, which I took from the Second Volume of his collection. "The beauty of Mr Moore's words," he says, "in a great degree atones for the violence done by the musical arranger to many of the airs, which he has adopted."
Above: Thomas Moore (1779-1852), from a portrait by Sir Thomas Lawrence.
Right: Sir John Stevenson (1761-1833) from an 1825 engraving. He arranged many of Moore's
Irish Melodies
.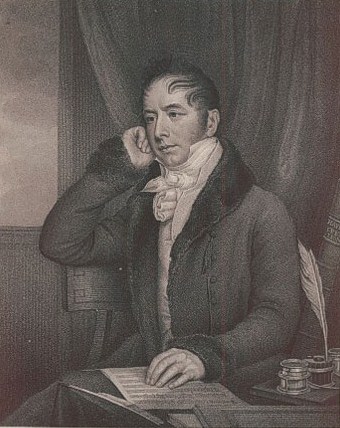 Bunting only came round to a more generous attitude to Moore at the end of his life - and after many years of feeling cheated by both Moore and Stevenson.




If Bunting's book wasn't exactly a best-seller, then life in his adopted household would certainly have provided a suitable plot for one!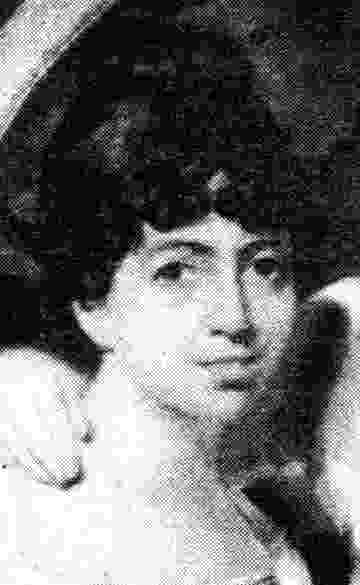 Henry Joy McCracken (named after his maternal uncle) was executed after the abortive 1798 rebellion but Bunting continued to reside with the McCracken family in Rosemary Lane (now Rosemary Street), apparently taking no active part in these happenings.

Henry's sister, Mary Ann, remained one of Bunting's closest friends and advisers till the end of his life. She was two years older than Bunting.

Left: Mary Ann McCracken (1770-1866), from a miniature painted around 1801.

By the turn of the century, Bunting had succeeded William Ware as
the
Belfast musician. In 1801 he promoted eight weekly summer subscription concerts in the Donegall Arms in High Street along with a concert of excerpts from Handel's oratorios in St. Anne's Church. There were more concerts the following year and later - and probably others which were not advertised in the newspapers.
In 1806 he became organist at the Second Presbyterian Church, Rosemary Street - only the second organ in Belfast.
RH pic: Organ and Choir Loft, Rosemary Street, from S. Shannon Millin's History of the Second Congregation of Protestant Dissenters in Belfast, Belfast 1900. Illustration by J. Vinycomb.

Tradition has it that the organ was formerly erected in St George's Church, Windsor, and had been played by Handel. Over the years there were various repairs to the organ and a major rebuild in 1857. When the congregation moved from Rosemary Street to All Souls' Church, Elmwood Avenue, in 1896, the organ followed a couple of years later.

We are happy to inform the public, that the first organ which has been introduced into a Protestant Dissenting Meeting House, in Ulster, will be touched by the masterly hand of Mr. Bunting on Sunday next [7 September 1806].

On Sunday last, the new Organ in the Second Congregation was opened by Mr. Bunting. The instrument was conducted with chaste gravity suited to the simplicity of Presbyterian worship; and the finest effect produced by an admirable finger directed by pure taste.
That "admirable finger" seemed to have had more business sense when organising concerts than when publishing music.

Bunting's concert promotions included the two visits to Belfast in 1807 and 1808 by the great Italian soprano Angelica Catalani (1780-1849), only 26 years old on her first visit. Over the years, Bunting and Catalani met on a number of occasions. Once, she was so delighted with Bunting's performance of some of the Irish airs that she took a diamond ring off her finger and presented the ring to Bunting.

Another anecdote from many years later was recalled by George Petrie:

Catalani - "Well, my dear Mr. Bunting, how glad I am to see you looking so strong and well".

Bunting, with a shrug - "Ugh, ugh, no madam, I'm growing fat and lazy like an old dog as I am".

Catalani, looking alarmed and thoughtful - "Ah, indeed, Mr. Bunting - and I too am growing fat and lazy, like an old dog as I am - no, that's not the word - like an old bitch, Mr. Bunting, like an old bitch!"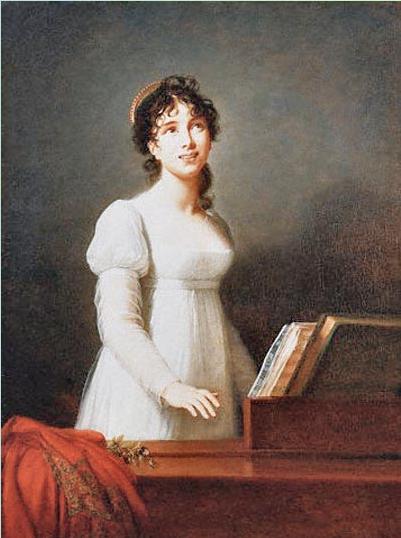 Angelica Catalani
painted by Elisabeth Louise Vigée-LeBrun in 1806
Edward, like his brother Anthony, earned some money as an agent for the sale of pianos - mainly for the firm of Broadwood.

But there was no money to be earned from his second collection of Irish Airs published in 1809 as
A General Collection of The Ancient Irish Music
, despite an unattributed "original poem", surely by one of his "eminent poets" (see below!), lauding his work in the
Belfast Commercial Chronicle
, February 1807. See the PDF on the right.
The first collection had been of harp melodies; this new one (see its Prospectus on the right) was to include songs with English verse by "eminent poets" and "A Historical and Critical Dissertation on the Egyptian, British and Irish Harp".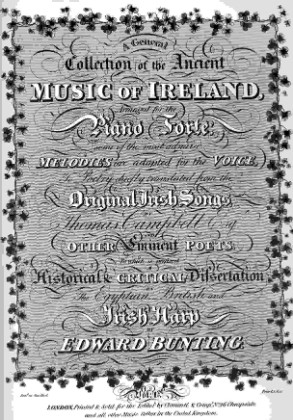 Moore's first volume of
Irish Melodies
had been published in 1807 and Bunting's second collection was rushed out to rival Moore's ready success.
But what chance did "eminent poets" like Miss Mary Balfour, who ran a school for young ladies, or Mr. Boyd "the celebrated translator of Dante" or Stott, a Co. Down bard labelled by Lord Byron as "grovelling Stott", have against Thomas Moore?
Nevertheless, it was a beautifully produced volume. Before George Petrie passed judgement he pointed out that the 1809 publication, in the opinion of the musical world, placed Edward Bunting "in the foremost rank of British Musicians", and as the "most accomplished of those of his own country".
See it
here
, courtesy of the Irish Traditional Music Archive.
Left: Title page of Bunting's second volume, 1809.

This alas! was the only reward it procured him. Like his former collection, its sale barely paid the expenses of its publication. It was too costly, too repulsively learned with a long historical dissertation on the antiquity of the harp and bagpipes prefixed, to give it a chance of suiting the tastes or purses of the class of society which had bought the earlier work.

Bunting was at length glad, for a trifling sum, to transfer it altogether into the hands of Messrs. Clementi; and like its predecessor the work is now rarely to be seen in Ireland.
During this time, and throughout the rest of his life, Bunting paid frequent visits to London where he met writers and musicians and where he gave performances of Irish music on the piano. Just as John Field had done in earlier years, Bunting was probably demonstrating pianos - Petrie states that he was an especial favourite at Broadwood's and on his last visit to London in 1839, the firm presented him with a grand piano from its factory.


Bunting's stature both in appearance and in Belfast society was such that a visitor to Belfast in 1812 could not fail to notice him.
J. Gamble, Esq.: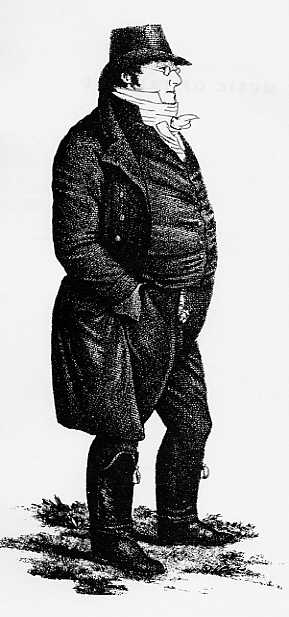 Music was the favourite recreation in Belfast and many were no mean proficients in it. They are probably indebted for this to Mr. Bunting, a man well known in the musical world.

He has an extensive school here and is organist to one of the meeting-houses; for so little fanaticism have now the Presbyterians of Belfast, that they have admitted organs into their places of worship. At no very distant period this would have been reckoned as high a profanation as to have erected a crucifix.

I was highly gratified with Mr. Bunting's execution on the piano-forte. Mr. Bunting is a large, jolly-looking man; that he should fail to be so is hardly possible, for Belfast concerts are never mere music meetings - they are always followed by a supper and store of wine and punch.

Mr. Bunting is accused of being at times capricious, and unwilling to gratify curiosity. But musicians, poets and ladies have ever been privileged to be so.

Left: Edward Bunting, that "large, jolly-looking man."
Engraving attributed to William Brocas Jnr, and "most respectfully" dedicated "to the Harp Societies of Dublin and Belfast by their Obedient Servant James Sidebotham" of Lower Sackville Street, Dublin, 01 September 1811. See another version from the National Library of Ireland
here.
In 1813, that capricious and jolly-looking man organised a
Belfast Music Festival
which began in the Theatre on 19 October and ended in his Rosemary Street church four days later: a bargain offered as five concerts for two guineas with a benefit concert for Mr. Bunting himself at which he played a Mozart piano concerto.
Not only was this Festival a unique event in the history of Belfast but it was the first time Handel's
Messiah
was given in anything like complete form in Belfast - and this, over 60 years after the first performance in Dublin.
Bunting was responsible for a wide range of classical music in Belfast - though strangely not the newly formed Anacreontic Society (1814) in which his brother John was a prime mover, presiding "at the piano-forte with delicacy and great judgement" (
Saunders's News-Letter
, Thursday 30 December 1819).
Contemporary music was reflected in the meetings of a party of amateurs who practised Haydn and Beethoven symphonies under Edward Bunting's direction. Apparently the
Eroica
symphony looked so ferocious that it was postponed by universal consent.
In 1817, Bunting parted company, not on the best of terms, with Belfast's Second Presbyterian Church and became the first-ever organist of the recently consecrated St George's Parish Church, formerly the Chapel of Ease, in High-street.
Right: St George's Parish Church, Belfast, drawn by Horatio Nelson from Dublin and published by Hardy in 1837.
Along with Bunting's frequent travels to London, there had been at least one visit to more foreign fields.
George Petrie: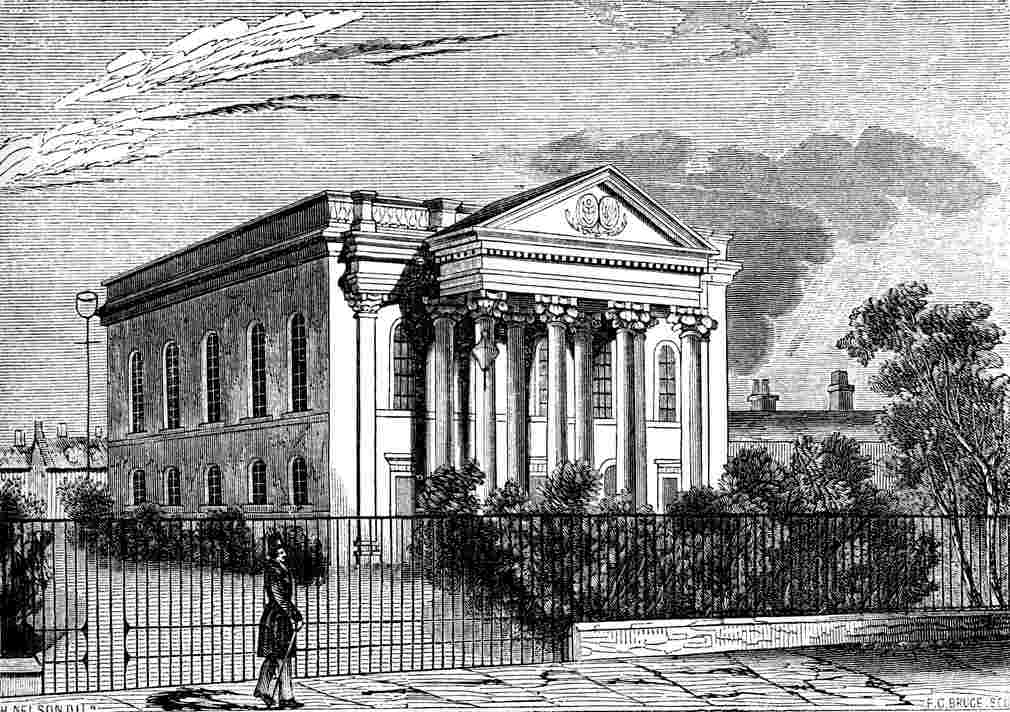 In 1815, he visited Paris, while the allied sovereigns were there, after the Battle of Waterloo. On this occasion his portly, well-fed English appearance procured him the honour of being harmlessly blown up, by a mass of squibs and crackers being placed under him as he was taking a doze on a seat in the Boulevard; the crowd of mischievous Frenchmen who surrounded him followed up the explosion with roars of laughter, and exclamations of 'Jean Bull'!

Here, too, he made intimacies with many of the most eminent musicians, whom he no less delighted by the beauty of the Irish airs, which he played for them. He surprised them by the assurance which he gravely gave that the refined harmonies with which he accompanied them were equally Irish, and contemporaneous with the airs themselves. "Match me that", said Bunting, proudly, to the astonished Frenchmen, as, slapping his thigh, to suit the action to the word, he rose from the piano-forte, after delighting them with the performance of one of his finest airs.

Led by his love for music and particularly of the organ, which was at all times his favourite instrument, he passed from France into Belgium where, from the organists of the great instruments at Antwerp and Haarlem, he acquired much knowledge, which it was our good fortune to have often heard him display on our own organ at St. Patrick's [Dublin].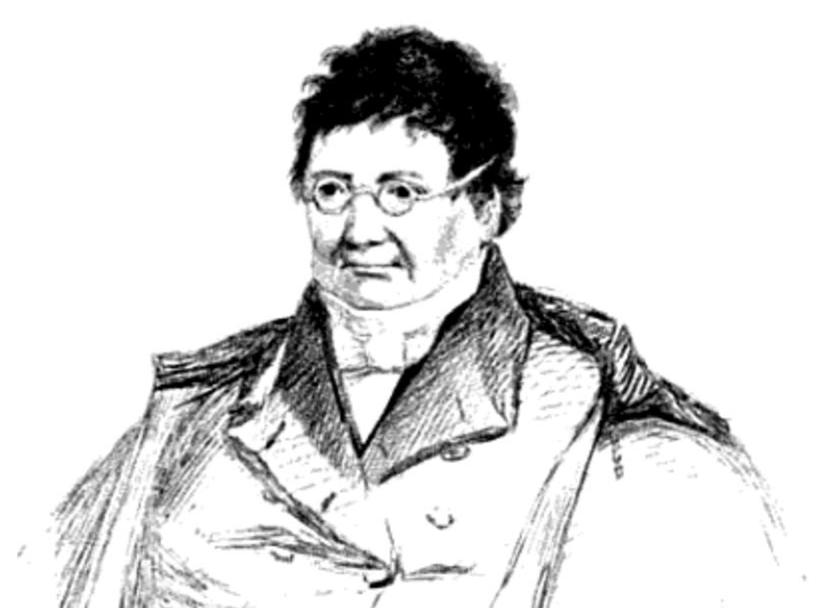 Sketch of Bunting by Henry Griffiths, published by James McGlashan,
Dublin University Magazine
, January 1847.
Bunting's appearance was quite distinctive and Petrie describes his "somewhat English face" as symmetrical, manly, independent, full of intelligence and character.

Well, all that about independence was about to be changed.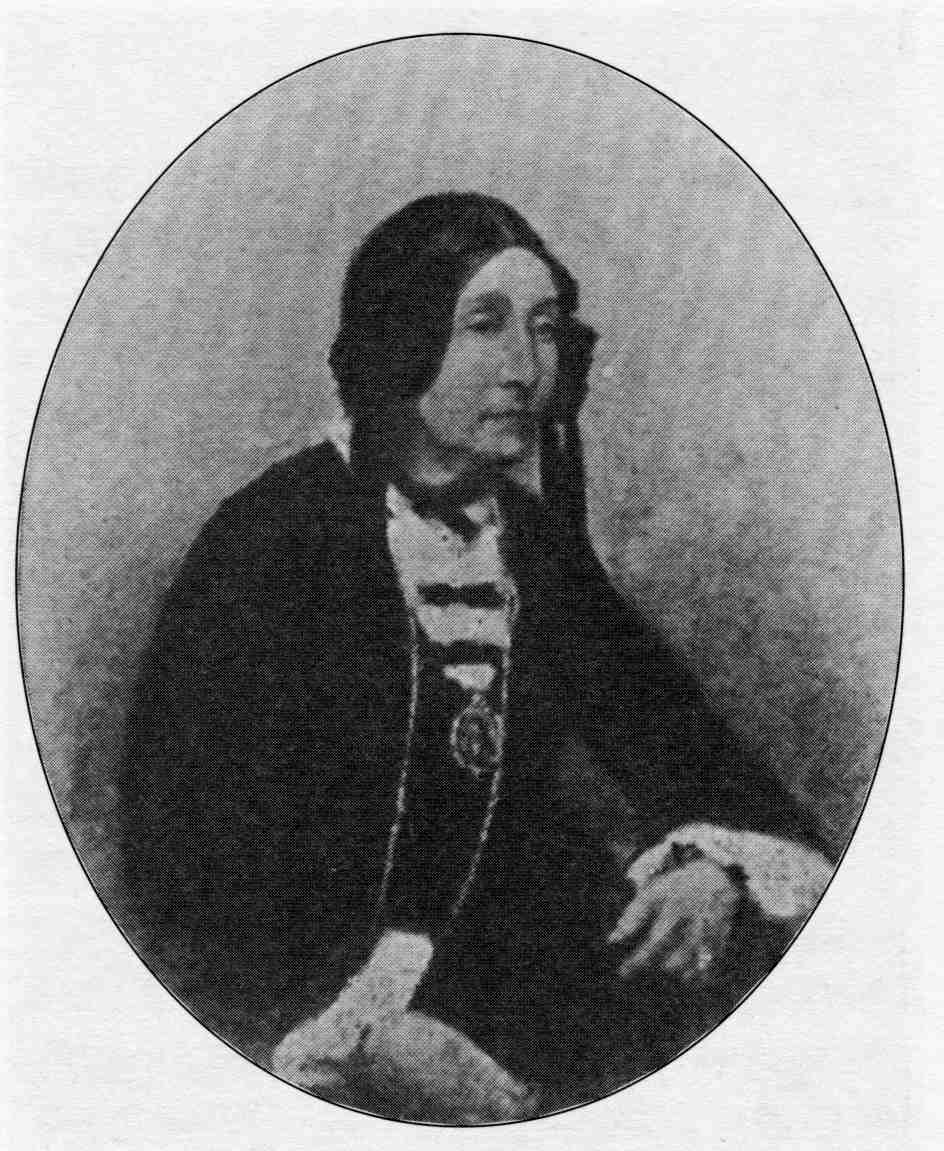 In 1819, at the tender age of 46, Bunting married Miss Mary Anne Chapman, daughter of the lady principal of a Belfast school. Just prior to the engagement, Mary Anne's mother took up a new post in Dublin. Mary Anne obviously wished to be near the family, for thither went the newly-weds.

Edward had to begin a whole new pattern of life.

His eldest brother, Anthony, had been based in Dublin for many years and with this contact and his many Northern connections - not least the influential McCracken and Joy families - he soon established himself as a respected teacher and was appointed organist of St. Stephen's Church.

There were other problems, not least a period of residence with mother-in-law.

Above: Mrs Edward Bunting, née Chapman, from Vol.IV of the
Journal of the Irish Folk Song Society,
"published for the first time by kind permission of Dr Lewis Macrory".
Right: a daguerreotype photograph of Bunting in his late 60s.
A problem was the fact that the newly-married couple, elderly husband and young wife, at first resided with Mrs. Chapman.

Bunting had not known since his early childhood the loving rule of a mother. The rule of a mother-in-law would naturally have been all the more irksome, and he was a man who, by his own avowal, suffered from irritability of temper.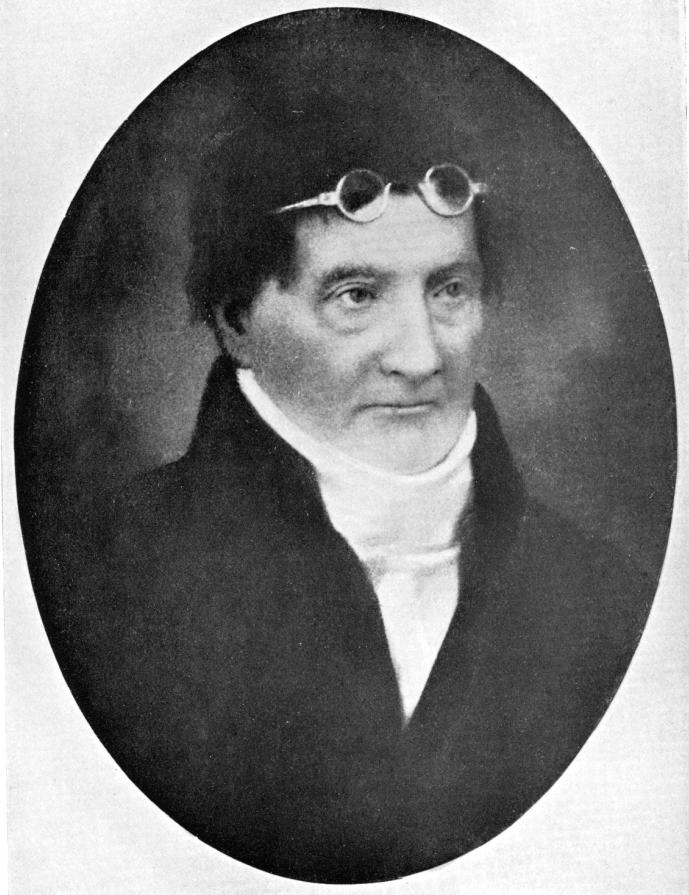 After a brief experiment, the joint residency was soon abandoned.
An intimate glimpse into the happiness of his married life is provided by a letter to Mary Ann McCracken. It is dated 29 December 1820 when his heart was still tender with rejoicing over his first-born child and only son, little Anthony.
Bunting:
My wife seems happy now to what she did during her mother's superintendence of the household, in consequence of my altered behaviour perhaps. My little darling son is grown handsome. All the people are delighted with him.
There were three children of the marriage and that picture of happy family life is probably the reason why Bunting disappears from sight for the next fifteen years or so. In 1827, with the assistance of the Attorney-General (a cousin of Mary Ann McCracken) he was appointed organist to Dublin's fashionable St George's Church


But in the mid-1830s he again turned his thoughts to the publication of Irish Airs - obviously with thoughts of posterity in mind but probably not a little influenced by Dr. James MacDonnell, his friend from Belfast who had helped organise the Harp Festival (MacDonnell was described by Sir William Whitla as "Born in the Glens of Antrim in 1762, MacDonnell graduated in Edinburgh in 1784 and lived till 1845. He was the leading spirit in the campaign ... [for] the Belfast General Hospital. He was the founder of the Natural History Museum ...").
Dr. MacDonnell
(Belfast, 26 October 1836):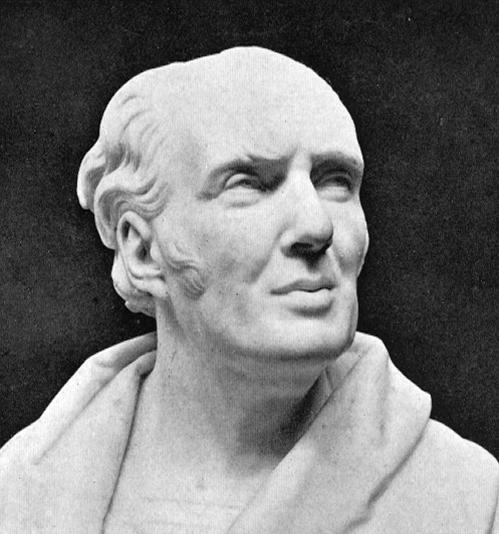 Dear Bunting,

You will not recollect my hand-writing, but I wish to bring to your recollection a subject we were speaking of when you were last here. It was about some songs or dirges.

I think you told me that you had gotten some of them which you had arranged and harmonised.

When you publish your music, which I now never expect to see, as I am so old and you so indolent, be sure to print some commentary upon the tunes stating all the conjectures that you can form about them …

Left: a bust of Dr James MacDonnell in the Ulster Museum, reproduced in Charlotte Milligan Fox's
Annals of the Irish Harpers
, 1911.
In fact MacDonnell
did
live to see Bunting's magnum opus which was published in 1840 as
The Ancient Music of Ireland, Arranged for the Piano Forte
. And despite the help of his wife, of George Petrie and of the young poet, Samuel Ferguson, the effort just about killed him.
Edward Bunting:
My labour at the Irish music is all but closed, which I'm sure you're pleased to hear!

I begin to fear for the sale of it; first the taste for Irish music is so wane, or rather weaned; and secondly the price which we must make (at one pound ten shillings each book) stands much in the way of selling a great number.

I truly think that in trying to restore a page in the history of man, the book has in some degree shortened my stay in this world. What will that serve me when I shall be asleep in the grave?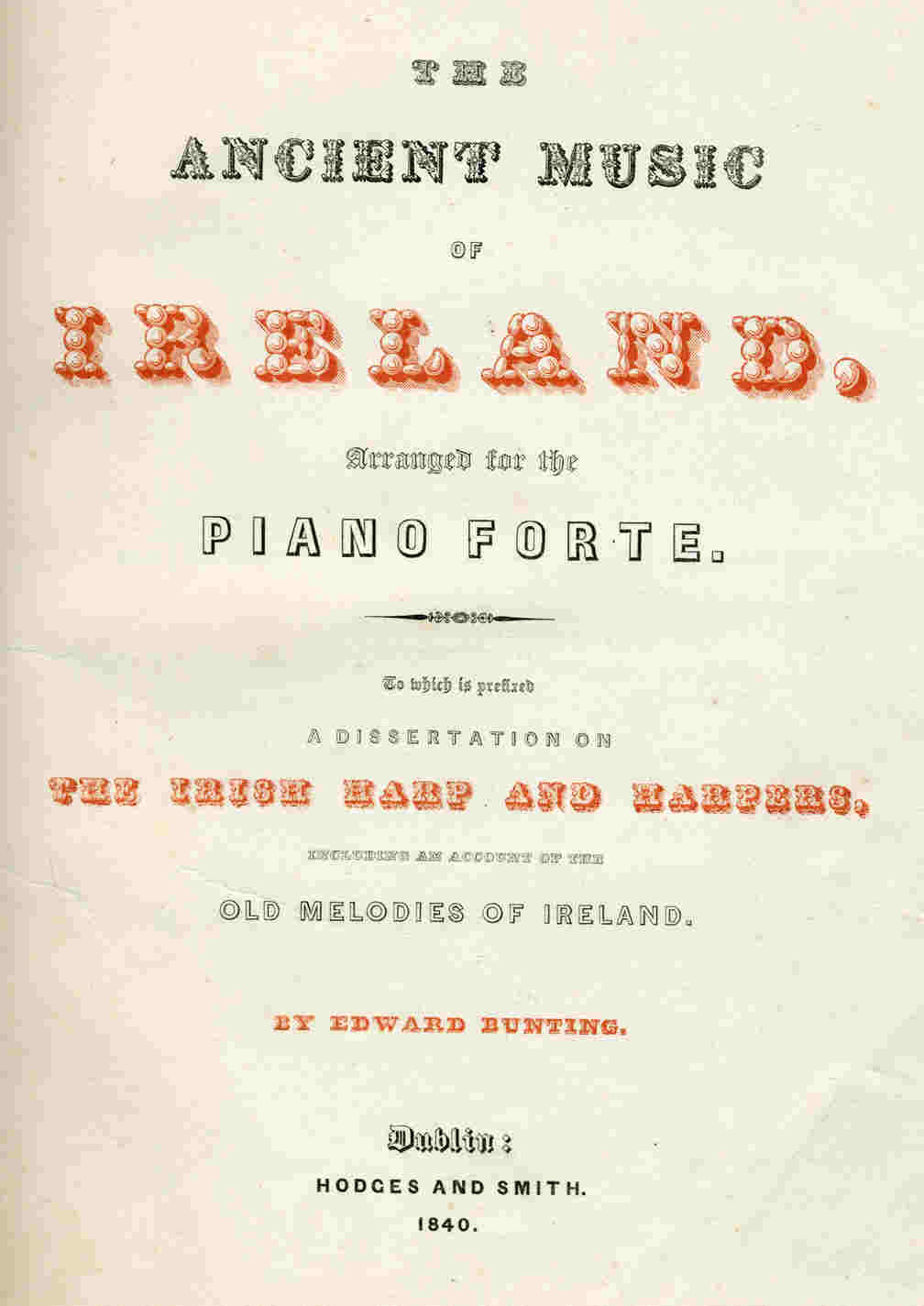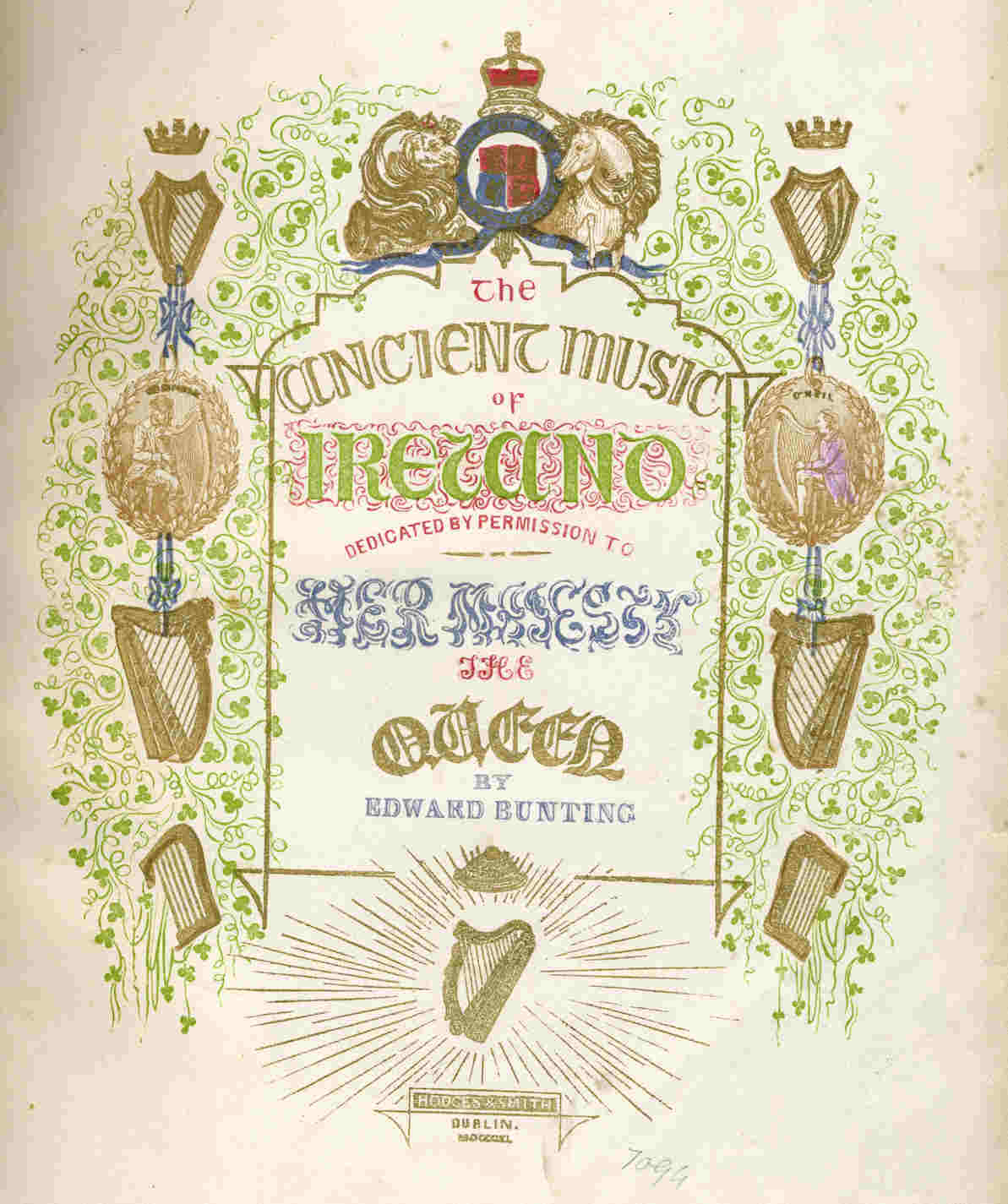 Above: Dedication to Queen Victoria from Bunting's Vol.3.
Left: Title page of Bunting's Vol.3.

Three years later, December 1843, at the ripe-enough old age of 70, Edward Bunting died - a crusty, bad-tempered old man, forgotten by all but a few loyal friends.

But for Bunting we would have lost a treasury of Irish music and an account of the last of the great harpers; yet over-riding all that, his work is more often belittled nowadays because of his conformity to the musical language and niceties of his time. It is a sad fate, but Bunting's collections are damned for the self-same reasons that this 19th century critic gave for liking them:
The Irish melodies, as performed by the old harpers, were very frequently barbarised by rude harmonies. Under Bunting's refined and educated taste, these were replaced by harmonies the most suitable and delicate that have probably ever been joined to the native melodies of any country.

While we have the melody or air religiously preserved without change or variation, in Bunting's arrangements, all harshness and crudity disappeared, and the result is a work of consummate art.

Bunting's piano arrangements are very much of their own period; the traditional melodies are adjusted and "improved"; new words are provided and the original ones discarded; original harmonies are lost - replaced by the conventional ones of the time. On the other hand, but for Bunting, so much might have been lost.
His legacy is more than just the three published volumes. The Queen's University of Belfast has the collection of his manuscripts and notes with all his workings and reworkings. Donal O'Sullivan and Míchéal Ó Súilleabháin, between them, have published the original manuscript versions corresponding to Bunting's three volumes, complete with the original Irish texts. Perhaps the last word should be left to the man who for many years was the harper in the Chieftains traditional music group.
Derek Bell:
I am most grateful to Bunting for collecting, preserving and saving these wonderful tunes from total extinction; and for at least occasionally trying to write down exactly what the harpers actually played, however fragmentary it all was; and since a little intelligence, knowledge and discretion can enable any sensible musician to get rid of Bunting's errors of musical judgement, I readily forgive him most of these.





Select Bibliography
Jonathan Bardon,
Belfast, An Illustrated History
(Belfast 1982)
Derek Bell,
Review of the Cork 1983 publication
(Belfast 1983)
George Benn,
The history of the town of Belfast
(Belfast 1823)
Edward Bunting,
A General Collection of the Ancient Irish Music
(London 1796)
Edward Bunting,
A Collection of the Ancient Music of Ireland
(London 1809, reprinted London and Dublin 1811;
the rare 1811 reprint republished in a facsimile edition by the Linen Hall Library, Belfast 2012)
Edward Bunting,
The Ancient Music of Ireland
(Dublin 1840)
Edward Bunting,
The Ancient Music of Ireland
(Dublin 1969 - all three original Bunting volumes reprinted
in one combined facsimile edition)
Nicholas Carolan,
Neal's Celebrated Irish Tunes
(Dublin 1986)
Charlotte Milligan Fox,
Annals of the Irish Harpers
(London 1911)
J. Gamble,
A view of Society and Manners in the North of Ireland, in the summer and autumn of 1812
(London 1813)
Janet Harbison,
Bunting and the Belfast Harpers' Festival of 1792
(Linenhall Review, Belfast 1986)
Janet Harbison,
Setting the scene in Ireland for The Belfast Harpers' Festival, 1792
(Linenhall Review, Belfast date?)
Roy Johnston,
Concerts in the musical life of Belfast to 1874
(Belfast 1996, unpublished thesis, Queen's University)
Roy Johnston,
Bunting's Messiah
(Belfast 2003)
Mary McNeill,
The Life and Times of Mary Ann McCracken
(Dublin 1960)
Collette Moloney,
The Irish Music Manuscripts of Edward Bunting (1773-1843)
Irish Traditional Music Archive, 2000
Donal O'Sullivan,
The Bunting Collection of Irish Folk Music and Songs
(Journal of the Irish Folk Song Society, Vols. XXII to XXIX (London 1927-39)
Donal O'Sullivan & Míchéal Ó Súilleabháin,
Bunting's Ancient Music of Ireland
(Cork 1983)
George Petrie,
Edward Bunting
(Dublin 1847)
Gráinne Yeats,
Féile na gCruitrí
(Dublin 1980)
Frank Bunting,
Edward Bunting (1773-1843) - Resolving his Family Background
(Dúiche Néill, Vol. 24, 2017, pp.152-183)